Receive a FREE Philips EasyClean (RRP £90) with any treatment booked via Comparethetreatment.com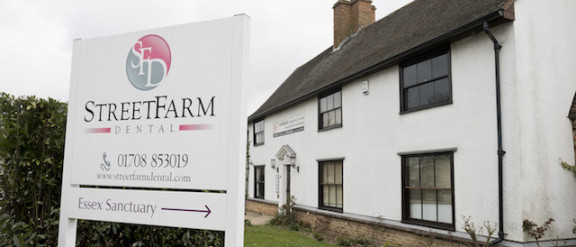 All the Staff at Street Farm Dental Studio are dedicated to providing an outstanding quality of dentistry for all patients at affordable prices. Read more
All the Staff at Street Farm Dental Studio are dedicated to providing an outstanding quality of dentistry for all patients at affordable prices. We are situated in South Ockendon, Essex, in a beautiful Grade II listed building with a very homely feel. Our dental rooms are fully equipped and our staff are highly skilled.
We welcome all patients to our cosmetic dental studio from young children to mature adults; we see emergencies to relieve toothache, routine treatments through to Dental Implants to restore a new smile.
We are experts in helping treat very Nervous Patients, and can also offer Intravenous Sedation. Rest assured we are very experienced and empathetic to patients' concerns and anxieties associated with seeing a Dentist.
We are a passionate and caring team dedicated to providing an outstanding and consistent experience to all who seek our services. Ours is a centre of excellence for both dentistry and beauty set in an environment of ultimate luxury. Please get in contact for more information on what we can do for you!
"I went to see Sarita as I noticed that I was looking tired and I had the usual wrinkles for someone in their forties. I wasn't sure what to expect… Read more
"I went to see Sarita as I noticed that I was looking tired and I had the usual wrinkles for someone in their forties. I wasn't sure what to expect as I did not want my face to be frozen and expressionless. Sarita immediately put me at ease, listened to my concerns and explained about the procedure and asked me what I was hoping to achieve as an end result. I feel I have a very natural look from Botox and that is exactly what I wanted. Sarita is very professional but also very friendly and warm. She has made me feel confident about myself and although I haven't gone 'public' about using Botox, people compliment me on my good skin and youthful look! I have seen other places closer to my address that offer Botox but I would miss out on the friendliness and professionalism that I find with Sarita. I have no worries with this procedure as I know I am in safe hands and would happily recommend Sarita to my friends. "
"After visiting Sarita I felt more confident and delighted with her service. She is a good example of excellence from the minute I met her. She listened to all my… Read more
"After visiting Sarita I felt more confident and delighted with her service. She is a good example of excellence from the minute I met her. She listened to all my concerns,was honest about results and expectations, took her time to explain every little detail about treatment I wanted to have. I would definitely recommend Sarita to all my friends and family . She is so knowledgeable, professional and delivers great work and results. "
"Sarita has certainly made a difference to me with the treatment she has provided. She has given me more confidence by slowing down the ageing aspect on my face by… Read more
"Sarita has certainly made a difference to me with the treatment she has provided. She has given me more confidence by slowing down the ageing aspect on my face by softening & eradicating wrinklesAs a practitioner, Sarita is both welcoming & friendly putting me totally at ease but mixed with this is that she is both professional & totally in control . It's always a joy to see Sarita& would not hesitate to recommend her to friends & acquaintances. "

West Road,
South Ockendon
Essex
RM15 6PL