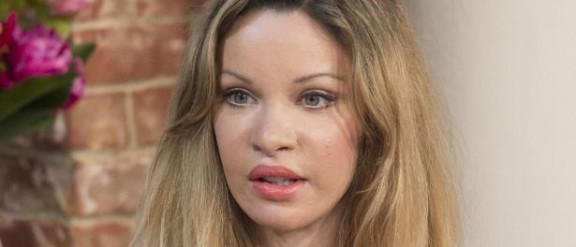 A glamour model has created a name for herself after undergoing hundreds of cosmetic procedures – including rhinoplasty and breast augmentation.
Alicia Douvall has hit headlines recently down to her love for anti-ageing treatments, where she spent around £1 million in her bid for a perfect body, according to The Sun.
Originally known for her work as a glamour model, Alicia, who is in her late 30s, quickly became the talk of the town after being linked to celebrities such as Simon Cowell and John Terry.
She also made appearances in reality TV shows such as Celebrity Love Island in 2006 and, more recently, Celebrity Big Brother in 2015.
Alicia, whose real name is Sarah Howes, revealed to the Daily Mail in 2013 that she had had a whopping 16 boob jobs and a number of nose jobs – as well as more than 300 other procedures.
The star admitted she had an addiction to cosmetic surgery and reportedly even received counselling to help her cope.
She claimed she has implants all over her body, adding that some are in places where you 'couldn't even dream' of having them.
Earlier this month, Alicia expressed fear that she had passed on her addictive behaviour to her eldest child, Georgia.
According to the Daily Mail, she explained how she often wonders if her daughter has taken her addiction 'down another road', who often exercises for up to four hours a day.
Appearing on a recent episode of Loose Women, Alicia has revealed she is determined to stay away from anti-ageing treatments, but admitted she is concerned about the impact it would have on her body.
Plastic surgeons have warned against patients seeking too much surgery, with risks including that of infection and the length of time spent under anaesthetic.
In the past, the British Association of Aesthetic Plastic Surgeons (BAAPS) has spoken out on this matter, emphasising that those wanting surgery should always be self-motivated.
It added that BAAPS members have undergone specialised training to achieve subtle changes that appear natural – and that surgeons will evaluate the patient to see if they are suitable for the procedure.
Related Treatments
Similar Articles