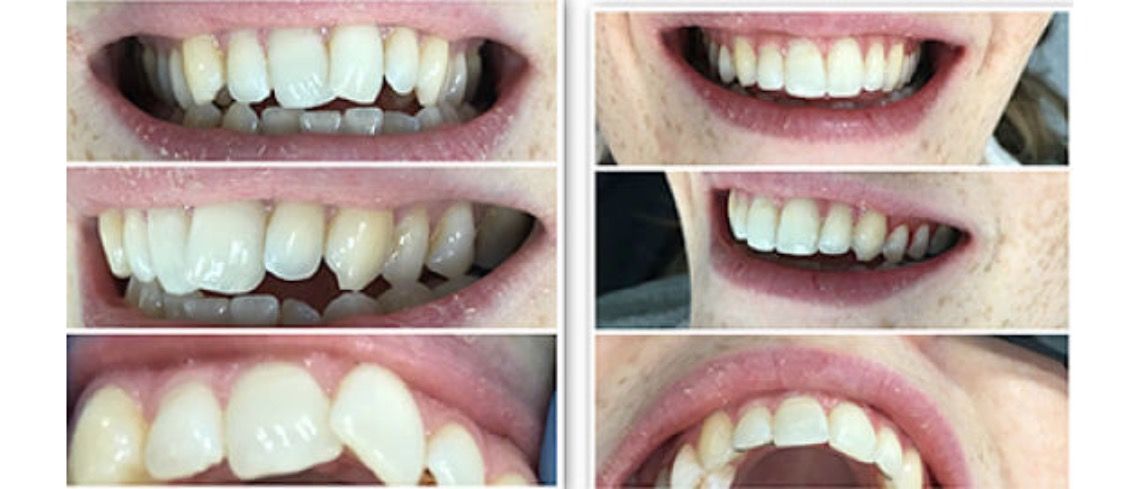 The 'must haves' for any wedding day are seemingly endless and vary from couple to couple but a stunning smile is surely one we all want to tick off for those of us tying the knot.

In a world where celebrity smiles are Instagrammed daily and shared for all of us to see and to envy, it's no wonder an increasing number of us are seeking cosmetic dental treatments in order to recreate the flawless and dazzling look – particularly for a milestone occasion.
And if you're planning your big day this year – like Prince Harry and bride-to-be Meghan Markle – and are less than happy with your smile, what are your options?
Meghan's megawatt smile is believed by our experts to be a natural one – and keeping things simple in the run-up to your wedding day is your best option, especially if the big day in not too far away.
An appointment with the hygienist will ensure a professional clean and can help eliminate those unsightly stains and, if your teeth are healthy enough, teeth whitening treatment (strictly at your dental clinic) can given you that much-desired dazzling smile.
And there may even be time to consider factoring in teeth straightening treatment to your pre-wedding countdown – you will be surprised how quickly these discreet braces can improve your smile for the day.

And braces are a great fix for those of us with gappy, crooked or overcrowded smiles.
So great in fact that 90% of adults who underwent orthodontic treatment revealed dramatic improvements in their health and wellbeing thanks to the confidence boost of an enhanced smile!

In a recent survey, 92% of brides say a smile is the most important wedding day accessory.

However, what if we have left it too late or simply haven't the time to get a crooked smile fixed before the date?

This was certainly the problem for one young bride who was disappointed when she was told she would not have her braces removed in time for her wedding.

A new smile was top of 'to do' list for 26-year-old claims manager, Leah Hollister and She had always felt self conscious about the cross over of her front teeth so wanted them straightened in time for her wedding to fiancée, Mike.

She says: 'I went for a braces consultation and they quoted £4,500 and couldn't confirm they would be off before the wedding – this was 12 months before the big day!

'I actually felt I had limited options after the price and timescale of braces, so I went to Windsor Dental in Manchester to enquire about veneers on my front teeth.
'As my teeth were overcrowded, they told me this wouldn't be the best option for me, especially when my teeth were healthy.'
After a thorough assessment, Windsor Dental's treatment coordinator, Stacy, recommended Cfast braces to Leah.

Leah explains: 'I told her I only had five months until my wedding and that I could afford it. She went on to tell me how fast some cases actually are and how reasonable the price was and it just seemed perfect for what I needed and wanted – although they told me to take time to think about it. They were not pushy at all!'

Her teeth were overcrowded – especially the front teeth – and Cfast perfectly suits this simple issue. Designed to correct only the front six teeth that show when we smile – otherwise known as the 'social six' – Cfast is gentle, minimally invasive and short-term.

The braces are safe and affordable and use tooth-coloured wires and clear brackets to gently straighten teeth in a controlled and predictable way and uses lighter forces than traditional orthodontics, which makes it more comfortable.
Leah says: 'I wasn't overly bothered about the braces being discreet – more what effect they could have – but it was a bonus when I found out they were clear.
'The braces only affected my speech for the first few days whilst I got used to them, then not at all. I couldn't eat popcorn or chewy sweets (which are two of my favourite things) but it was a blessing in disguise as it helped me be good before the wedding!

'My teeth feel a little sore for a few days after tightening but that's it! I was expecting a lot more pain than I experienced.'

And the best news is that it only took four months – and Leah was delighted to have the braces off earlier than predicted.

She says: 'I couldn't believe it! I was worried that wouldn't be enough time but Stacy and Dr Singh assured me that they would take them off before the day and wouldn't leave me stuck with them on! The braces actually came off a few days before my hen party, which was an unexpected bonus!'

And would she recommend having treatment?

She says: 'Don't wait, do it now! It's worth it! It's never to late to make yourself happy!

I've got back my confidence and, best of all, I smile in pictures, which I never used to.

'Everyone's commented on how nice my smile is and how straight and white my teeth look. I told people I was getting braces and they were shocked when I said they would be off before the wedding.

Leah's advice is 'listen to the dentist, they know best. Take a toothbrush with you wherever you go. Do it, you won't regret it. I used to just admire people that looked great smiling! Now I can too!'


Related Treatment
Similar Articles