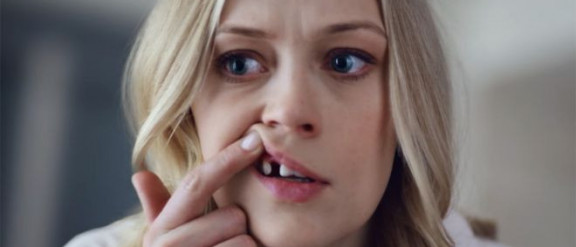 What gets us brushing when it comes to heeding the warnings of the risks to our oral health — the softly, softly approach with a sing-song and a dentist who wiggles hi eyebrows, or some hard-hitting images of a beautiful woman gap-toothed smile and her bleeding gums?
Very few of us enjoy being told what to do, or think, or how to behave. Let's face it, we spend much of our time following rules and taking orders — and dreams of wild antics and bad behaviour are often curbed by somebody's regulations or someone else's rules somewhere along the line.
Our health matters and nowhere more do we hear the cries of a so-called 'nanny state' and protestations about 'interference in personal decision making' than when health experts tick us off about bad habits and health risks.
Which brings us nicely to the debate raging about the current ad campaign for the mouthwash, Corsodyl.
Well known for it shock tactics, the latest marketing drive for the product features a woman losing her teeth.
On air until next month, the advert has her sitting in bed horrified when her teeth fall out into her hand. She wakes to find it was only a nightmare, but then spits out blood when brushing her teeth. Looking in the bathroom mirror, she reveals a gap where her front tooth should be.
The voiceover says: 'Because losing a tooth in real-life is worse than a bad dream.'
It's stirred up much controversy, with many viewers taking to Twitter to protest at the 'spitting blood' scene.
GSK has spent millions on its recent campaign, intended to highlight the consequences of ignoring the early signs of gum disease.
But is there an alternative way to get across the important message?
'Singing dentist' Dr Milad Shadrooh recently found fame with his series of hilarious YouTube dental-themed music videos in which he parodies famous songs to get across the dental health messages.
So, what does he believe works best in getting us to clean our teeth and look after our gums and so on?
Milad says: 'Prevention is a journey and, for it to work, you must get your patient on board or else they will jump off the train before getting to the final destination. I much prefer to be a smiling conductor than a scary one! Of course, shock tactics can engage the public, but we must gain their trust in order to help guide them to changing their habits for the better. For me, being nice and positive whilst delivering the oral health messages seems to be a better formula.'
Now a YouTube legend and TV celeb — having also made appearances on Lorraine! Daytime TV! and Good Morning Britain — where does he go from here? And just how did he become such a phenomenon?
Milad jokes: 'I wish I knew! My wife and I were just talking the other day about how an "off the cuff" jokey video I did in my surgery in five minutes has led to all this! Quite amazing really but I am very pleased with the response and the opportunities it has led to.
'The support I have received from our industry has been unbelievable and I couldn't have done it without everyone sharing the videos and talking about them. Dentistry in the UK is getting harder and more stressful with all the constant regulations, bad press, threat of litigation, pressures within the NHS framework. I think my videos were a breath of fresh air and positivity and it shows the general public that us dentists can have a sense of humour, too!'
We can only imagine what that's done to his appointment book!
Milad laughs: 'Things have definitely got busier and treatment uptake has gone up! I guess patients think I know what I'm talking about now that I've been on TV!
'But it's been with the children and their parents that I've had the best feedback, with many kids requesting selfies and even autographs on football shirts! I feel like the Justin Bieber of dentistry!'
And finally, what we've all been wondering — does he ever serenade his patients?
He chuckle: 'Haha, occasionally, but I don't know what's worse, the sound of my voice or the sound of the drill!
'As a dentist, you get to know your patients, what they like, what they don't like, their specific anxieties and how they like to overcome them. If singing a funny song can help someone, I will do it! For others, they just love to see the "eyebrow shuffle" which is definitely my USP!'
To see his 'eyebrow shuffle' and catch up with all of his hilarious tuneful parodies, click here.
To ask Milad (in his more serious mode) a question, go to our Ask the experts page here.