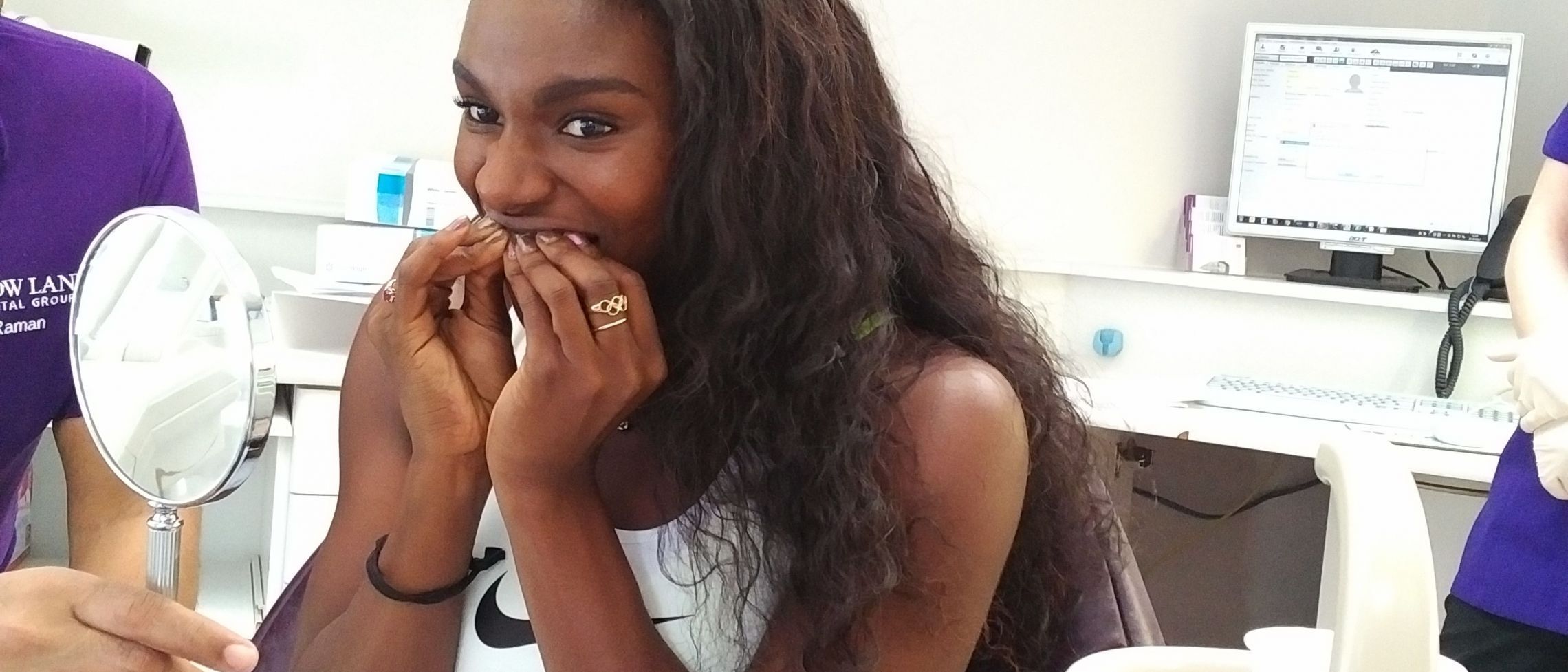 World Athletics Championships Dina Asher-Smith and her Invisalign journey
Dina Asher-Smith is a British sprinter who has won British records for both the 100 metres and 200 metres. In the 4 x 100 metres relay, she won a bronze medal at the 2016 Olympic Games and was silver medallist in the World Athletics Championships in 2017. She was also the 2016 European Champion at 200 metres. Having just won the 200m sprint in the World Athletics Chhampionships 2019 there seems to be no stopping Dina.
Dina started Invisalign treatment to straighten her teeth just before 2017 World Athletics Championships and has been wearing her tooth straightening aligners day in, day out for both training and racing. In fact, she was wearing her aligners when she won her silver medal for Britain.
As well as being a fast mover she is a fast healer. She broke her foot in February prior to the World Athletics Championships and it was completely healed by June. She was race fit and a medallist by August.

Here we look back on her Invisalign treatment back in 2018.
At her first Invisalign appointment Dina said "I had train track braces as a child but didn't wear my retainers so my teeth have moved back to their original position. I wanted to revise my smile to ensure it was as media-fit as I am race fit. However, it isn't acceptable to wear braces when you are in the public eye, so I wanted to have Invisalign treatment to realign my teeth – incognito! I wear them for 20 hours a day - I train in them, I run in them, I race in them. "
"I have told everyone I am having treatment, but they stare at my teeth and say 'where are your braces?' I tell them I am wearing aligners not traditional braces, and they peer at me really closely to see if they can see anything".
Sprinting to the finish line
"It is easy to train and race wearing my aligners; I have had no issues at all with them in. At the start I was changing them for a new set every two weeks, but because I have had them in for 20 hours a day, Raman Aulakh my orthodontist has advised me to change them for the next set every week, which will speed up my treatment considerably".
"I will be taking several sets of aligners with me to Australia so that I can continue the momentum of my treatment uninterrupted while I train and prepare for my big races in April – and hopefully you will see me smiling broadly on the winner's podium".
Why Invisalign gives Dina fast mover advantage
Invisalign aligners are transparent plastic removable covers, which are custom-made to fit snugly over the teeth and gently move them, week by week, to their final position. They do this safely and comfortably – while virtually no one can see that treatment is taking place, and without impacting your lifestyle.
Because aligners are flexible, and fit snugly and comfortably you can keep them in all day and all night, however because they are removable you can take them out before eating or drinking. Whether you are an adult or a teen it means you can take part in a contact sport, play a wind instrument or speak in public. So much so that they are worn by everyone from Olympic athletes to TV presenters – you'd just never know!
What to expect
A digital scan (or impressions) of your mouth is taken to help work out how your teeth need to move to their aligned position. Your dental professional will show you a personalised 3D animation so you can see what your smile could look like both over the course of, and at the end of your treatment. The scan data is used to create a treatment plan, and this is the instruction for the fabrication of tailor-made clear aligners for your top and bottom teeth. The series of sets of aligners are designed just for you to fit perfectly at every stage of your treatment. They bed down over your teeth and clasp them to encourage them to move towards their final position in your mouth. You wear these for a week or two, and then replace them with the next in the series.

Outcomes
Treatment with Invisalign can take as little as three months*, as the aligners can be changed to a new set every week or two (depending on your dentist`s recommendation) so long you wear them for the required 22 hours a day.
Invisalign treatment is clinically proven to be effective. In the hands of an experienced provider it can be used to treat mild to complex teeth straightening issues. This is because it follows the same principles as traditional orthodontics.
Did you know?
Advances in the Invisalign system now allow dental practitioners to offer one-week aligner wear instead of the previously recommended 2-week changes, which means shorter treatment time - up to 50% faster.
So if you are looking to make a change in the appearance of your teeth before The Commonwealth Games, a big wedding, or another milestone event, it may be possible to have straighter teeth in time for the big day.
As time is precious in our busy lives, it is also good to know that there are less dental appointments needed for Invisalign treatment – you are given several sets of aligners at once, and you just need to pop into the practice check on your progress – and make any necessary adjustments - every few weeks. This also makes the system great for those who travel regularly.
Straight teeth can also mean a healthier smile as they are easier to clean when they are less crowded, and because Invisalign aligners are removable, it is a doddle to brush and floss after eating – and there's no risk of food getting stuck in the metal wires and brackets of traditional braces.
Approximate cost
The cost of Invisalign treatment ranges from £2,500 - £5,500 depending on the complexity of the case. If only minor tooth movement is required, the cost could be even less.
Unlike veneers and other cosmetic dental procedures, there is no need to repeat Invisalign treatment to keep your teeth looking straight, meaning you can look forward to a healthier smile for life, and may even reduce the need for costly dental work in the future. However, patients who have completed the treatment should wear retention to make sure their teeth do not move back to the previous position.
Please visit www.invisalign.co.uk to try an on-line smile assessment to see if Invisalign could be right for you (within seconds), and find your local treatment provider below.
Want to find an Invisalign Provider in your area? Just use Invisalign's Find a Provider function here >

Visualise your new smile with Invisalign's Smile Visualiser here >