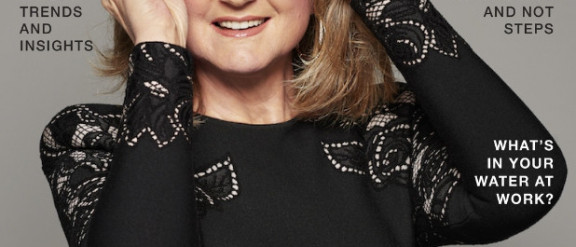 Huffington Post's Arianna Huffington says our relationship with sleep is at crisis point and that we all need to remember the power of a good night's rest.
The co-founder, president, and editor-in-chief of the hugely popular news and blog site is championing the health-giving benefits of sleeping well.
She says: 'No matter who we are, we share a common need for sleep. Though this need has been a constant throughout human history, our relationship to sleep, and our understanding of its vital benefits has gone through dramatic ups and downs. And right now that relationship is in crisis.'
With sleep deprivation linked to diabetes, heart attack, stroke, cancer, obesity and Alzheimer's disease, she says this has fuelled a new market.
She explains: 'People want more sleep. Hotel rooms are being transformed into sleep temples, schools are modifying start times to suit the sleep needs of teenagers, an exploding market in wearable technology has emerged that tracks our sleep, and a range of smart products — from smart mattresses to smart headphones — has entered our lives.'
While sleep is becoming more hi-tech, that doesn't lessen the importance it plays in our day-to-day lives.
While the business case for encouraging good sleep habits is important, this still leaves out the millions of people lying awake at night because of a sleep disorder.
Renée-Marie Stephano, President and Chairwoman of the Corporate Health & Wellness Association, adds: 'Thousands of people suffer from sleep disorders that, unfortunately, go undiagnosed and untreated. The good news is that advances in this multidisciplinary and growing field have led to new drugs and research and the development of new products to help people with these conditions.'
Arianna Huffington, through a partnership with the National Sleep Foundation, will lead a panel discussion on How Sleep is Revolutionising the Workplace at a Sleep Works Summit.
Visiting Professor Simon Ash knows all about sleep disturbances and dental sleep medicine. As a consultant and specialist orthodontist with more than 30 years clinical experience, he has a special interest in sleep-related breathing disorders, TMJD and bruxism and currently works in Harley Street and two private hospitals in London as part of a multi-disciplinary team managing snoring and sleep apnoea.
He says: 'My number one piece of advice for patients who are seeking treatments is to seek expert professional help and go for reversible non-surgical approaches wherever possible. Also be prepared to have a consultation with an experienced professional.'
He explains: 'Patients who have these sleep issues are very often looking for various treatment solutions but also have a fear of the unknown even though mouth-breathing, jaw parafunction or bruxism can present huge challenges in their everyday lives.
'The area of TMD has always been confusing and unpredictable so earlier in my career I avoided this area of dentistry until I suddenly noticed amazing results treating patients with functional orthodontic devices and the Somnowell mandibular advancement device.
Do you have a sleep disorder?

Snoring
Bruxism (tooth grinding/tooth clenching)
Obstructive sleep apnoea
Sleep talking
Sleep paralysis
People with a stressful lifestyle
Smokers
People with a high alcohol intake
People who drink six or more cups a day of tea or coffee
People who take medication for sleep, depression and/or anxiety


Signs ands symptoms

Do you have sensitive teeth?
Do your jaw muscles ache in the morning?
Do you have difficulty in eating, first thing?
Do your teeth show premature wear — signs of being shorter or chipping, for example?
Do you suffer from frequent headaches, facial, neck or shoulder pain?
Has your bed partner ever complained about you making strange grinding noises in your sleep?


Ask Professor Simon Ash a question today >