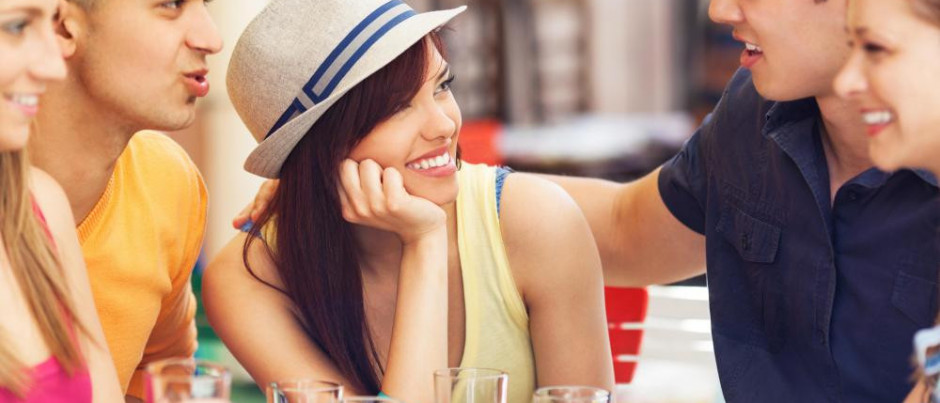 A smile is usually a big giveaway to happiness, contentment and inner peace but what makes a person smile is usually very personal to them.
From reaching the end of a good book, finding a runaway fiver on the street and even experiencing a traffic free morning commute, it's the little things in life which can make us smile.
As part of National Smile Month, the Oral Health Foundation have gone on a mission to find out what is most likely to put a smile on the faces of the great British public; and what we have found has revealed that what brings us most happiness does not have to cost us anything at all.
Here is a countdown of the top 10 things that bring a smile to our faces:

Eating Food — Ours is a chocolate cake please (sugar free of course).
Finding money in the street — Often leading to a free lunch or treating a loved one.
The thought of a lie-in — Combine this with a breakfast in bed and we're in heaven.
A night out with friends — This obviously includes catching up on the latest juicy gossip.
A stroll on the beach — Preferably somewhere warm and sunny, Australia will do.
Being welcomed home by a pet — There's just something about a wagging tail that we like.
Hearing our favourite song — Are we all secret Beliebers?
Looking at family photos — A wedding or reminiscing with our family and friends always brings back happy memories.
Giving or receiving a good hug — Levels of happiness may depend on hugger/huggie relationship.
And the number one thing which brings a smile to our face is……………
Hearing our children or grandchildren laugh — A simple but powerful thing which will never fail to melt everyone's hearts and light up our lives.
Honourable mentions have to go to some of the more unusual answers we received including; getting a like on social media, watching a favourite YouTube video and even, for some of us, watching somebody fall over.
It really seems that we can find a reason to smile at any moment of the day and being happy does not have to cost us a penny.
National Smile Month platinum sponsor, Wrigley's Extra, have also been taking a look at what makes the nation's children smile as part of their Smile Back Project. They have discovered, in news to cheer up traditionalists, children really are happier playing outside than being stuck in front of a screen
They surveyed 1,000 parents of children aged 11 and under to find 36 per cent said playing outside made their kids smile compared to 34 per cent who preferred to sit in front of the TV.
Speaking on behalf of Wrigley's Extra Julio Guijarro, Wrigley UK Marketing Director, said: "A smile is hugely contagious, it often makes others around us smile and instantly improves our mood, we should all remember it is something absolutely everyone possesses. What we smile about reflects so much about us and looking after our smiles is vital; we have to make our oral health a priority.
"The Smile Back Project aims to put a smile on the nations kids' faces by donating a minimum of £250,000 to Action for Children in order to create a series of oral health workshops in partnership with the Oral Health Foundation. We want to ensure that children have the confidence to smile throughout their whole life."
During National Smile Month the Oral Health Foundation wants to remind everyone of the importance looking after their oral health has on their happiness. They are reminding everyone to brush their teeth last thing at night and at least one other time during the day with a fluoride toothpaste, cut down on how often you have sugary foods and drinks and visit the dentist regularly, as often as they recommend.
National Smile Month runs until 16 June. The campaign is UK's largest and longest running charity campaign initiative aimed at increasing awareness of importance of oral health, and this year celebrates its 40th birthday.
National Smile Month 2016 is being supported by some of the nation's best-known brands and retailers. Wrigley's Extra, Oral-B as platinum sponsors of the campaign, with further support from Polo® sugar-free and Philips Sonicare.
Visit www.smilemonth.org for more information about National Smile Month or search for a treatment on Comparethetreatment.com