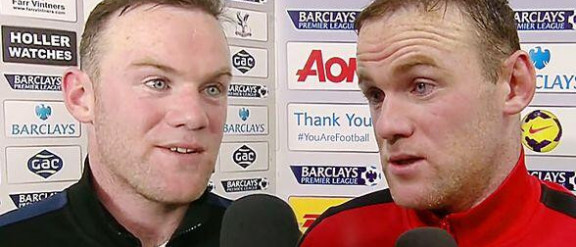 Wayne Rooney sparked rumours this week that he's had Botox treatment.
He set Twitter alight when he appeared in a video pleading with England fans to 'stay safe and sensible' in the run up to the team's Euro 2016 clash with Wales today.
England's captain has already admitted to having had a hair transplant in the past and this week his wrinkle-free forehead suggested he has undergone further cosmetic treatment to complement his hair restoration surgery.
Rooney recorded a heartfelt message in a short film clip asking supporters to avoid trouble on the terraces during the Euro 2016 match, immediately sparking comments on social media that he'd had treatment to smooth out his furrowed brow.
Several years ago, there was much media coverage when Rooney publicly admitted having hair transplant treatment to solve his male pattern hair loss.
Greg Williams, a plastic surgeon specialising in hair restoration and an expert with comparethetreatment.com, has said of Rooney's hair transplant: 'The more it's in the media — with personalities talking about it — the more on trend it becomes and ceases to be a stigma. Successful high profile cases, such as Wayne Rooney, has seen a boom in the number of men seeking aesthetic treatments to restore their hair. It should be as socially acceptable as having teeth straightened.
If that's the case, then will the England captain's Botox treatment inspire other men to follow suit?
Every year, the British Association of Aesthetic and Plastic Surgeons (BAAPS) publish new statistics on the UK's top most-wanted cosmetic treatments.
With more and more celebrities, such as Wayne Rooney, 'fessing up about the work they've had done, there's been a surge in blokes seeking age-defying treatments.
The latest stats reveal that male facial procedures are up by an average of 14-15.5% on last year.
And so, for any of you chaps still considering a cosmetic overhaul, here is the league table of Brits' most wanted treatments…
The top surgical procedures for men in 2015 (4,614 total. A rise of 13.5% from 2014)
Men had 9% of all cosmetic procedures in 2015.
In order of popularity:

Blepharoplasty (eyelid surgery)     976 — up 15%
Rhinoplasty                                                 812 — up 14%
Breast reduction                                      796 — up 13%
Liposuction                                                      586 — up 20%
Otoplasty (ear correction)                             521 — up 13%


Face/neck lift                                        372 — up 14%
Fat transfer                                          260 — up   8%
Brow lifts                                                         164 — up 15.5%
Abdominoplasty                               117 — up 11%
Breast augmentation                                     10 — Static


For more information about cosmetic treatments, click here: