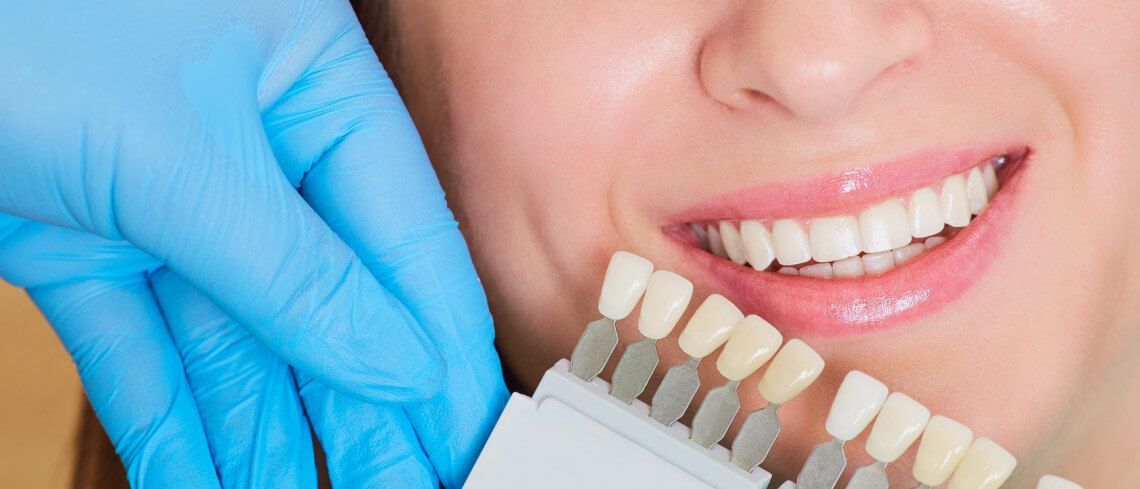 Teeth whitening is an increasingly popular procedure as patients try to emulate the 'Hollywood smile' they see on their favourite personalities from TV and film.
Whitening can have a dramatic effect on the way you look and feel. A healthy and confident smile is an important social asset and is regarded by many as one of the most attractive facial features. Research has shown that men and women with a clean, bright smile are seen as more attractive, successful and employable, as well as five years younger! The celebrity smile most often requested is that of Holly Willoughby.
Only dental professionals are legally allowed to carry out tooth whitening procedures. Treatments offered by non-professionals, such as in beauty salons, could potentially cause damage to your teeth.
The White Dental Beauty system, contains the highest percentage of professional peroxide available to achieve the maximum whitening effect. Used with your own personal bleaching trays (created from moulds to precisely fit the contours of your teeth) the peroxide gels are safe, effective and give fast results.
The trays are normally worn for an hour at a time rather than overnight. If you are too busy to wear the trays for a few days, it doesn't matter. Bleach your teeth according to your own schedule. Some people put the trays in after dinner and wear them for the first hour of watching TV or while doing the dishes.
As with any treatment there are benefits and risks:
The benefit is that teeth can be whitened and surface staining removed fairly quickly in a simple and safe manner. This type of whitening treatment has been used for over 40 years and during this time there have been no reported cases of adverse side effects.
The exact amount of whitening varies with the individual. Most patients achieve a change within one to five weeks. The darker your teeth, the longer they will take to get lighter.
The risks include sensitivity, increased short term mottling of the teeth and if the bleach is used for a prolonged period of time, the teeth can go slightly grey.
Some people notice white spots or banding appearing on teeth whilst undertaking the bleaching treatment. These white spots or banding were already present on the teeth, but as the teeth become lighter they become more visible. Do not worry. As the whole tooth itself becomes lighter these spots and bands will fade.
Sensitivity is usually slight and temporary. If this does occur, take a break from bleaching for a day and use the soothing gel that your dentist provides. I also recommend that you use a sensitive toothpaste to clean your teeth during treatment.
For the most effective result, you should try to reduce the amount of tea, coffee, and red wine you drink, and avoid eating berries or curries during treatment and for one month after. It is not advisable to smoke during the course of treatment and for up to eight weeks afterwards.
Do not use the bleaching treatment if you are pregnant. There have been no reports of adverse reactions, but long term clinical effects are unknown.
When the treatment is completed, be sure to keep the trays as you may wish to use them again for a top-up treatment in 18 — 24 months.
Dr Richard Denny
See more information on White Dental Beauty Teeth Whitening>
Related Treatment
Similar Articles