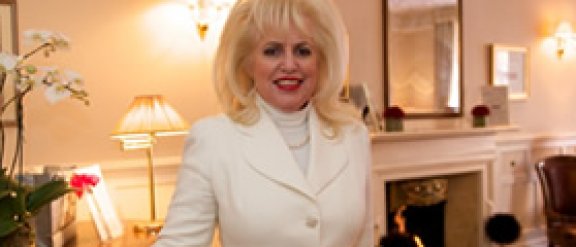 Passionate, professional and highly educated combined with superior client care, trust and proven results.
That's how Dr Rita Rakus sums up her team at her private medical aesthetics clinic based in London's Brompton Road.
With more than 20 years of experience specialising in non-invasive cosmetic solutions for face and body rejuvenation, it's no wonder that Dr Rakus – dubbed by the media as 'The London Lip Queen' – has attracted a following of famous names and faces to her Knightsbridge clinic.
Dr Rakus is one of the first experts to launch Ultherapy in the UK, runs the fifth largest Thermage practice in the world and has been awarded the Black Diamond Award by SOLTA Medical because of it.
She is also one of the busiest practitioners for dermal fillers and muscle-inhibitors in the UK.
Her Knightsbridge clinic is the first official centre for Pellevé in the UK and in 2012 received the Pellevé Glide Safe award for clinical and aesthetic excellence. The Dr Rakus Clinic also features regularly in the Tatler Cosmetic Surgery Guide and the Black Diamond HydraFacial recently won the Middle East Pool & Spa Award for 'Best Signature Facial'.
As well as providing Juvederm/Restylane and muscle-inhibitors for the treatment of lip enhancement, lines, wrinkles and excess sweating, Dr Rakus also provides state-of-the-art technology including Fraxel, Thermage, HydraFacial and Ultherapy.
The Dr Rakus Clinic provides personal treatments to patients assisted by specifically trained personnel. Treatment plans and consultations are private and advice is based on a tailored and one-to-one basis suitable for that person and to meet their expectations.
Patients at the Dr Rakus Clinic are also required to give all of their medical information so treatments can be carried out safely and effectively.
After the treatment, the patient is provided with advice and after care instructions as well as the opportunity to contact the clinic and have a follow up review appointment if needed.
I'm nervous – how can your team put me at ease?
The Dr Rakus Clinic offers both new and existing customers an in-depth consultation before nay treatment they wish to have where they can talk through any worries or concerns and to put their mind at ease about whether they are having the most suitable treatment for their desired look or goal.
During the consultation, Dr Rakus and her experts will advise on the most suitable treatment and plan for each individual and there is no obligation to have the treatment if the client doesn't feel that it is suitable for them.
The Dr Rakus Clinic has been operating for many years and has such a loyal and large following with numerous positive testimonials and reviews from happy clients.
Who else is in the 'dream team'?
Dr Galyna Selezneva heads up the Coolsculpting department and offers the newest, most innovative, non-surgical and natural way to get rid of those stubborn fat areas that no amount of dieting or exercise can treat. A clinically proven procedure that gets rid of unwanted fat cells by freezing them, the new CoolSculpt Advantage takes only 35 minutes and has very little or no downtime to give you a contoured and sculpted shape.
Mr Kambiz Golchin is a plastic surgeon at the Dr Rakus Clinic and uses the ActiveFX and DeepFX ™ lasers for dramatic skin rejuvenation in one single treatment and Cellulaze for cellulite treatment. He also specialises in the Angel Lift, a combination of FX with Vampire Lift and fat grafting. Mr.Kambiz Golchin is one of the most highly respected UK trainers for Allergan regarding Juvéderm Voluma specialising in facial volumisation.
Related Treatments
Similar Articles