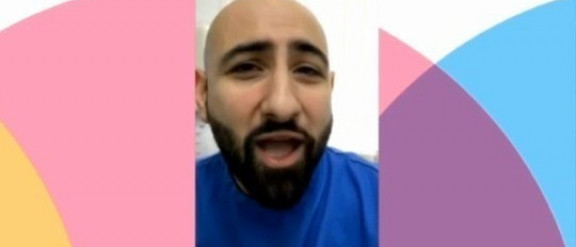 If you've ever lied to your dentist about flossing your teeth — and thought you'd got away with it, think again!
Singing Dentist and Comparethetreatment.com expert, Milad Shadrooh, has us sussed in the latest of a his series of funny YouTube dental-themed music videos in which he adapts song lyrics to get across a dental health message.
Basically, if you fail to floss, a dentist will know — the build up of yellow plaque will only give you away and will show up your poor oral health habits.
As he sings in Return of the plaque (a brilliant parody of Return of the Mack by Mark Morrison): 'You lied to me when you said that you'd floss every day…'
But, do you know, you're not alone. Too many of us are neglecting to factor in flossing to our daily teeth cleaning.
This week, a survey reveals that one third of American adults never floss, but don't be smug! Here in the UK, shockingly less than a quarter of adults use dental floss regularly.
In fact, again one in three people have NEVER flossed their teeth.
Also, uncovered in a poll last week were some of the bizarre things we use to clean between our teeth.
To mark National Smile Month, the UK dental charity, the Oral Health Foundation, asked people what they sneakily used to dislodge food after a meal.
And, it's not always floss or an interdental brush! We reach for all kinds of things, including cocktail sticks, business cards and bank notes to eke out leftover bits and pieces. Some of us even use the stem of an earring when we have nothing else to hand!
And, despite dentists recommending flossing over and over again, we're pretty bad at committing to it — not helped by the fact that it can be tricky to master the technique and can take time to get right.
There are lots of handy tools out there that are better than some of the odd (and sometimes dangerous) objects — scissors and paperclips included — that we use to clean in between our pearly whites.
Bacterial plaque constantly forms between our teeth and is impossible to reach with a regular toothbrush.
That's why your dentist recommends specific tools to do the job, such as TePe brushes (that come in colour-coded packets depending on the size of gaps between your teeth), floss and waxed tape.
And if you love a gadget then you really should take a look at the Philips Sonicare AirFloss Pro. It's the first flossing device that's clinically proven to improve gum health.
Also, don't be shy— you can always ask your dental team for some guidance and tips on how best to clean between those teeth — and never ever lie!
Want to hear more from the Singing Dentist? You can watch him sing here — or ask him a dental question here: