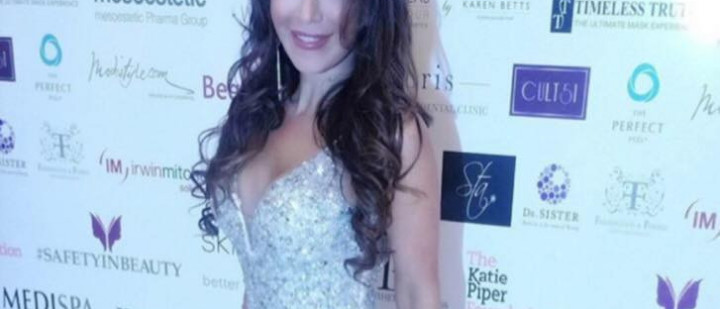 Celebs were out in force this week as Comparethetreatment.com expert Antonia Mariconda once again hosted her #SafetyinBeauty White Party that enjoyed another year of success celebrating its Diamond award winners
The London White Party hosted by The Safety in Beauty Campaign was a resounding success for a second year running.
The day kicked off with many guests being pampered and prepared to perfection as Exuviance UK hosted the Exuviance Skin Lab and Beauty Lounge at The Sanderson Hotel. As well as enjoying skin refining facials from leading london skin gurus at The Debbie Thomas Team, guests also enjoyed complimentary Gelish Nail Treatments, and make up by VOGUE editor Anna Wintour's number one UK-based make-up artist, NARIMAN.
Skinade made it an unforgettable welcome reception with the Brazilian Fantasy Dance Troupe getting guests to #ShakeYourSkinadeMaracas.
With complimentary bespoke mixologist cocktails named the Skin-A-Colada, the Skinade Team, sure know how to get the party started.
Big names joining the celebrations incldued Premier League footballer Saido Berahino, Arlene Philips, Karen Millen OBE, TV's Dr Dawn Harper, Zara Holland, Lizzie Cundy, Cally Beech, Casey Batchelor and many more fabulous supporters of #SafetyInBeauty.
The event also attracted the media spotlight with coverage in the Daily Mail, OK!, the Daily Mirror and many more.
#SafetyinBeauty founder and CEO, Antonia Mariconda said: 'Thank you to all our amazing sponsors and guests. The glamour and style is always a pleasure to see, and the support The Safety in Beauty Campaign continues to amass yearly is simply humbling.'
The rest of the evening continued in great spirits as The Beauty Tracker Safety in Beauty Diamond Awards Winners 2016 were revealed.
Congratulations to the following award winners and highly commended nominees.
Nurse of The Year Award Winner
Rachel Goddard
Highly Commended
Claudia McGloin
Sue Ibrahim
Lindsey McEnroe
Doctor of The Year Award Winner
Dr. David Eccleston
Highly Commended
Dr Patrick Treacy
Dr Tijion Esho
Dr Daniel Sister
Surgeon of The Year Award Winner
My Breast Group (Patrick Malucci, Simon Withey, Norman Waterhouse, Peter Butler)
Highly Commended
Sabrina Shah-Desai
Nick Parkhouse
Clinic of The Year Award Winner
EF Medispa
Highly Commended
Medizen
Air Aesthetics
Innovation for Pioneering Service in Safety Brand Award Winner
Accuvein
Best Industry Media Outlet Award Winner
The Consulting Room
Training/Educational & Professional Development (Advanced Beauty) Award Winner
Noveau Contour by Karen Betts
Outstanding Career Achievement Award Winner
Dr Dawn Harper
People's Choice Award — Most Inspirational Person Award Winner
Katie Piper
Training/Educational & Professional Development (Medical Aesthetic) Award Winner
BACN British Association of Cosmetic Nurses
Highly Commended
MATA
Society of Mesotherapy
Innovation for Pioneering Service in Safety Individual Professional Award Winner
Norman Wright PAPPS
Best Industry Safety Campaign Award Winner
British Association of Dermatologists for The Sun Awareness Campaign
Beauty Industry Professional of The Year Award Winner
Tracy Giles
Highly Commended
Lorena Oberg
Eryca Freemantle
Best Beauty & Aesthetics Industry Show/Event Award Winner
Olympia Beauty
Launched in October 2013 by Antonia Mariconda, the #SafetyinBeauty campaign is a response to the growing dissatisfaction and devastation caused by dubious treatments, and was formed by a group of like-minded professionals and experts.
The Safety in Beauty campaign seeks to:
Help, educate and empower consumers
Facilitate a better, safer, more transparent industry
Offer much-needed support
Give peace of mind to everyone seeking to improve his or her looks


The Safety in Beauty Campaign supports member of the public by allowing them limited FREE access to emotional, legal and medical advice and support.
The campaign is run by voluntary supporters and professionals who do not receive any financial recompense for the time and services they generously give for campaign objectives.
The Safety in Beauty Diamond Awards were created to recognise the hard work of dedicated brands and professionals within the beauty and aesthetic industry.
Beauty Tracker App
Irwin Mitchell and Antonia Mariconda jointly launched the Beauty Tracker App — The software helps to build a personal diary about beauty product and treatment usage.
The app is a free tool to use that helps consumers shop for quality beauty products and services.
The software flags any risks or possible complications from beauty treatments and products. It also advises, guides and provides assistance if there are problems with a treatment. Users can journal previous appointments and any problems with a treatment. It becomes an archive or personal beauty passport.