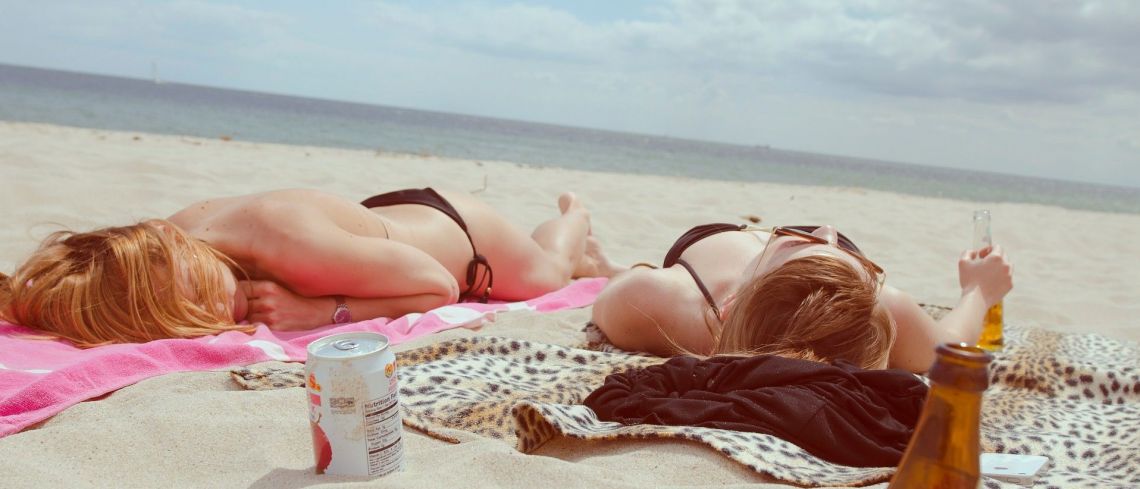 Loose Women's Stacey Solomon received praise yesterday for a video she shared via Instagram proudly displaying her 'imperfections' while in a bikini on holiday.
Encouraging women to be proud of their stretch marks and muffin tops, she says they 'tell a story of who we are'.
She writes: 'EVERYONE ON HOLIDAY WORRYING ABOUT HOW THEY LOOK! You're all perfectly imperfect and unique and beautiful. I thought I'd make a little holiday video celebrating my society labelled "imperfections" because actually I love them, they're part of me, and they have their uses! I think if we can all show off our insecurities then we will all start realising NOBODY escapes the world of perfection that we are all under pressure to keep up with and everyone can sleep a little easier at night knowing everyone comes in different shapes sizes etc etc and we all have the same extra ordinary bits that are seen as "imperfections" but they're not they all tell a story of who we are and why we are and where we are going! '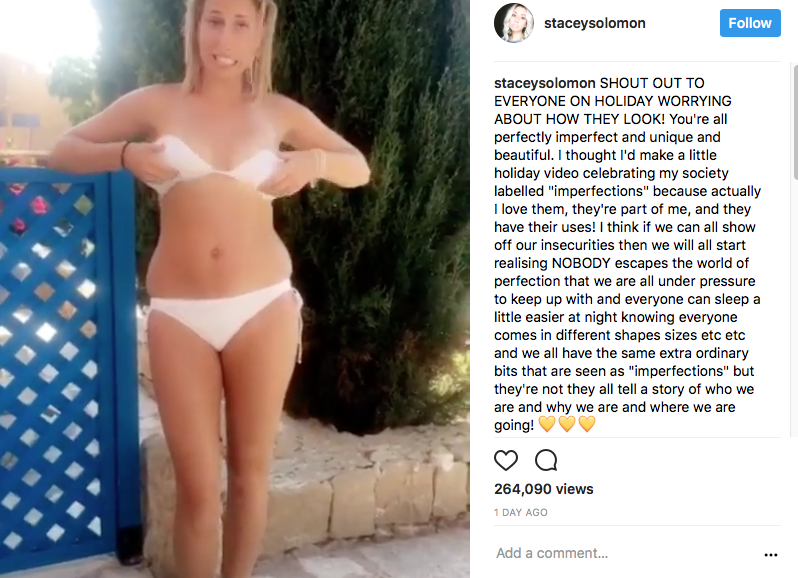 A recent Swimwear Survey of 1,300 women, conducted by UK fashion retailer M&Co, reveals that 18-24 year olds are the most insecure when hitting the poolside, revealing 56% buy swimwear cover-ups to 'hide their problem areas'.
Though the majority of female respondents don't feel comfortable around others in their swimwear, surprisingly 45% of 24-34-year old's feel the most unease, reinforcing that the younger generation appear the least beach body confident.
More than half of the 25-34-year old's would never share the popular 'swimwear selfie' on their social networks, revealing the Instagram millennial generation as lacking confidence in flaunting their summer bodies online.
Recently, a survey revealed that we are very much in love with a dramatic and curvier shape – and more than ever.
Plastic surgeons suggest this developing trend in buttock augmentation may be driven by the huge popularity in the body shapes of certain celebrities.
The curvaceous Kim Kardashian is world-renowned for her social media poses that show off her booty, leaving little to the imagination.
And it could be that preferences for a more voluptuous shape may be the consequence of such prominent exposure to reality stars and celebrities with curvier figures.
Interestingly, back in 2010, an Oxford University study suggested that women with big butts were less likely to have diabetes or heart problems.
And scientists also claim that the most 'much-wanted' female figure is one which has a waist-to-hip ratio of 0.7 – so, no matter what your dress size, it's that timeless hourglass look that everyone adores.
And Stacey's curves and voluptuous waistline is definitely a body to be proud of – check out her Instagram post and be inspired!
Related Treatment
Similar Articles