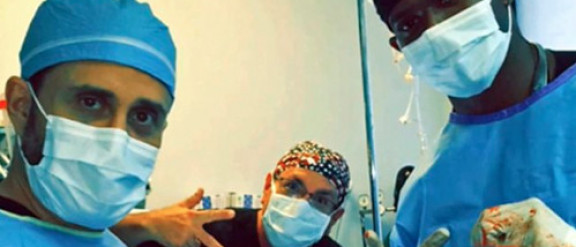 A plastic surgeon has criticised a new fad in the cosmetic treatment world — doctors sharing in-surgery photos and film clips of medical procedures on social media.
Surgeons in America and Australia are now sharing candid and graphic shots taken during cosmetic surgery on the image- and video-messaging platform, Snapchat.
So popular has it made these doctors, that one plastic surgeon who posts live videos on Snapchat during procedures is now getting his very own reality show on a cable network.
'Dr Miami' aka Michael Salzhauer, reportedly has more than 600,000 daily Snapchat viewers and was recently running against DJ Khaled and Kylie Jenner for 2015 'Snapchat of the Year'.
He switched to Snapchat when he was censored on other picture-sharing platforms and has thousands of followers.
And, in Australia, one Dr Kourosh Tavakoli is hot on his heels. He has his mobile switched to Snapchat and trained on his own face, announcing the operations he will perform that day.
His followers watch as patients are prepared for surgery and come out the other side with bigger breasts, perkier bottoms or straighter noses.
And, although patients give consent to the images (so long as their faces aren't shown) it's raised alarm bells here in the UK and questions about marketing cosmetic procedures and plastic surgery as entertainment, and targeting the young women and girls who make up the largest percentage of Snapchat users.
Consultant plastic surgeon and comparethetreatment.com expert Marc Pacifico said: 'I have significant concerns and reservations about this — on a number of levels. There is the consent aspect — and whether the patients really understand what pictures may be taken and how they may be used. Also, there is the overt marketing and cavalier image that is being portrayed on what can be very major surgery.
'My worry is this will downplay the risks — physical and psychological — and impact that surgery may have.
'Finally, there is no great benefit to cutting consultation times. If anything, it is better to have more and lengthier consult times to ensure the patients are properly informed and can make a proper informed choices.'
The latest social network of the moment, Snapchat has doubled its active users from 100 to 200 million globally. The video sharing platform has dominated the younger generation, allowing you to send videos and pictures, both of which will self destruct after a few seconds of a person viewing them.