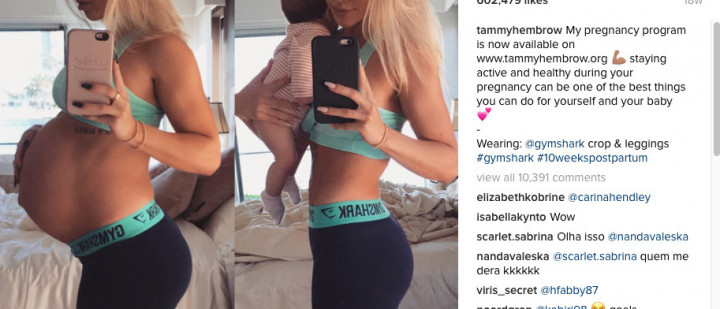 News is that celebrity mums, flat-as-a-board stomached only months after having their baby, are fuelling a surge in the demand for 'yummy mummy' cosmetic surgery.
Despite the numbers of us seeking plastic surgery being down this year – according to new statistics from the British Association of Aesthetic Plastic Surgeons (BAAPS) – young mums looking to regain their pre-pregnancy bodies are on the increase.
Gwyneth Paltrow and Victoria Beckham were cited as prime examples of new-mum-bodies-to-emulate.
But, more recently, bikini model and Instagram fitness legend, Tammy Hembrow has nailed the post-pregnancy 'snapback' look.
The mum-of-two, who now has her own pregnancy programme, is an amazing example of a great pre-pregnancy bod and shared her 'before baby was born and after' pics on her Instagram account, notching up an incredible 602,479 likes.
And her Instagram photos are proving to be the inspiration for many of us as we head to the plastic surgery clinic, looking to achieve the same toned tum with cosmetic procedures.
According to this month's newly released BAAPS statistics, abdominoplasty (tummy tuck) is the sixth most requested cosmetic procedure for women, with some plastics surgeons saying that new mums are making up a large proportion of their patients.
Aiming to regain the figure we had before we had children is all very well, but it's important to be aware that piling on the pounds after surgery can ruin any long-term effect of surgery. Some surgeons advise to wait until we've completed our family before we invest in a new body.
If you are considering starting – or adding to – your family, it may also be wise to postpone breast lift surgery until your childbearing days are over.
Pregnancy and breastfeeding can also stretch breasts and reduce their volume and you will only reap the true benefits of surgery long term if you wait and avoid the risk of putting paid to those much-desired aesthetic results.
Although dieting and a strict exercise regime can help reshape a post-pregnancy body, many of us struggle to lose that apron of fat beneath the belly button.
A tummy tuck removes excess fat and skin and tightens muscles to create an abdomen that appears firmer.
The 'pinch' test

Stand up straight
Pinch the skin just above your belly button
Pull the skin downwards to your pubic bone area. Is it easy to stretch your skin down to this area (just above where a caesarean scar would sit)? – If the answer is yes, you may be eligible for tummy tuck surgery, if it doesn't, then a mini tummy tuck may be more suitable.
Find your nearest Tummy Tuck practitioner
Related Treatments
Similar Articles