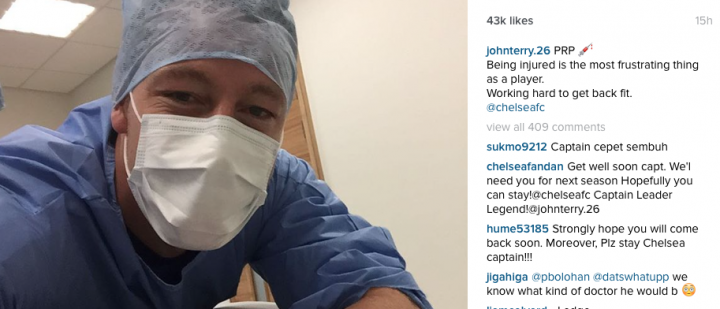 The interesting news for football fans this week is that Chelsea captain John Terry is undergoing platelet-rich plasma (PRP) therapy in a bit to recover from injury before the end of the season.
Sky News reports that the Chelsea defender has missed his side's last two Premier League games, having aggravated an Achilles injury prior to the 4-0 win over Aston Villa earlier this month.
It's a relatively new technology in sports medicine — and now used to speed up injury rehab — but, since the 1990s, it has been used in dental and oral surgery to aid soft tissue recovery as well as following plastic surgery.
But, as we know at Comparethetreatment.com, its properties translate seamlessly to the world of aesthetics with many people harnessing the wonders of PRP therapy as an anti-ageing treatment.
Because the natural healing power of PRP rejuvenates and refreshes ageing skin, it is perfectly placed to encourage skin regeneration and repair for those of us looking for instant rejuvenation.
Many consider it a natural approach to improving the condition of tired and ageing skin that has:

Lost elasticity
A decreased ability to retain moisture
Lower levels of hyaluronic acid
Reduced levels of collagen.


As Comparethetreatment's lip queen, Rita Rakus, notes, it can 'improve the overall texture and tone of your skin naturally. PRP skin rejuvenation therapy is specifically designed for you, by you.'
Meanwhile, the former England international posted a photo of himself undergoing a session of PRP therapy on Instagram.  He wrote: 'Being injured is the most frustrating thing as a player. Working hard to get back fit.'