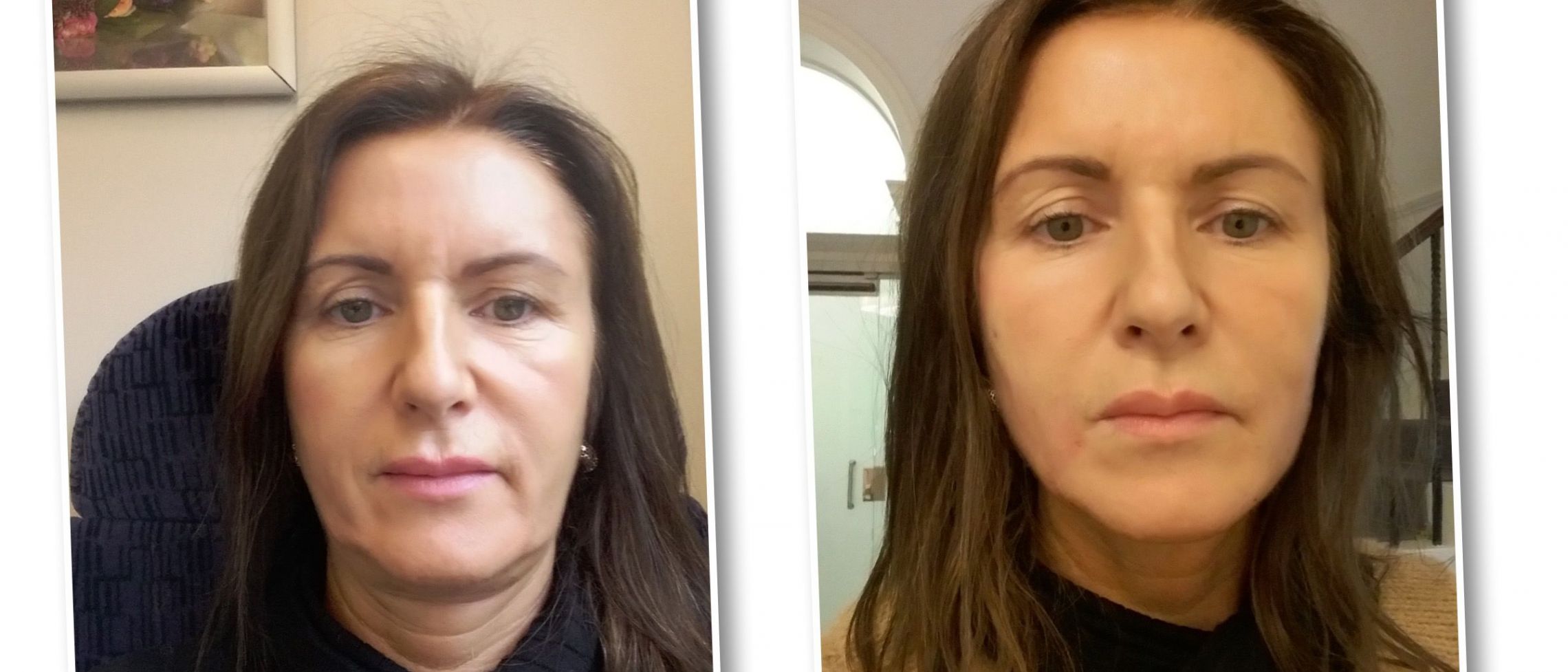 A 44-year-old mum and self-confessed 'sun queen' is delighted with her fresh-looking face and flawless new appearance, thanks to a non-surgical facelift.

Maria Murphy, a support key worker from Broadstairs in Kent, felt her skin was beginning to age – with her face becoming 'a little baggy'.
As a single mum of two and with a busy working life, Maria always found the time to take care of her skin but felt she needed more, which is why Silhouette Soft appealed.
It's a procedure that offers more natural-looking rejuvenation by lifting the areas of sagging skin in the mid face area, the jowls, the neck or the brow with fine sutures.
Silhouette Soft comes in the form of resorbable suture with resorbable bidirectional cones and leaves no scarring.
With very little downtime and none of the risk that comes with going under the knife, the non-surgical treatment offers a 'quick fix' too, taking less than an hour to carry out.
Maria says: 'My beauty regime is fairly straightforward – I use make-up remover and cleansing wipes and I always moisturise, but I admit I'm a bit of a sun queen so I was looking to get rid of those fines lines and wrinkles that come with sun exposure. Also, I am getting older and felt I was a bit "baggy" in the face and the fact that Silhouette Soft was non surgical was appealing.'
Silhouette Soft is minimally invasive and can only be performed by a specially trained doctor or dentist.
Celebs who have undergone the treatment include former rock chick, Meg Mathews, and EastEnders actress, Gillian Taylforth.
Local anaesthetic is applied to the face so patients do not feel a thing. Once numb, a Silhouette Soft thread is introduced just under the skin.
The sutures goes in to the subcutaneous tissue and lifts the tissue. This is how the volume is restored. The collagen production gives the skin a renewed appearance and helps the volume created last longer.
Marias says: 'I had never heard of Silhouette Soft until I had it done. It was painless and everyone made me feel really comfortable. I only had a local anaesthetic and I didn't need painkillers following the treatment, although I did have to sleep on my back for a week or so after treatment, which was a small price to pay.
'The changes were not immediate – they are very subtle and several people commented how well I looked. Now, looking back at old photos, I can see – with time – the improvements. Areas of my face have been lifted.'
The results of Silhouette Soft can last up to 18 months. The procedure only takes between 30-60 minutes to perform, earning it the nickname of 'the lunch break facelift' – and, what's more the effects of the treatment get better in the ensuing weeks.
Collagen diminishes in all of us as we age, so patients also love the fact that the treatment stimulates their bodies own collagen production, gradually, for three months after treatment.
And as the collagen increases, so does volume in the cheeks and jowly areas; it restores a more youthful shape to the face.
Now, Maria is keen to have her neck lifted with the procedure.
Silhouette Soft can be used to treat various parts of the face, including:
Contour
Lower jaw/jowls
Cheeks and cheekbones
Eyebrows
Neck.
Recommendations following treatment include:
During the week following treatment, do not undergo any dental surgery, and avoid facial massages or any intense beauty treatment
For the first few weeks, avoid any contact sport
Preferably sleep on your back
In the event of pain, take a pain reliever according to your doctor's prescription.
Related Treatment
Similar Articles