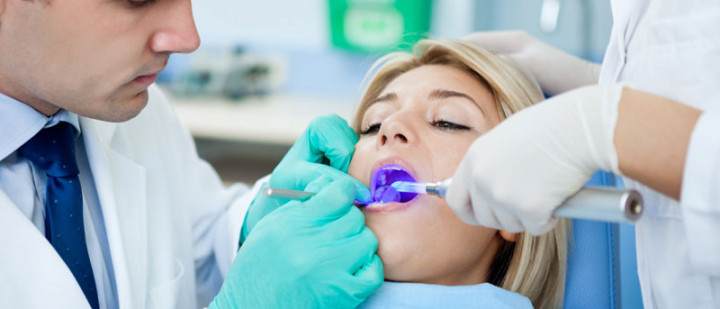 With the New Year upon us, many of us are considering how we can change our lifestyle to make 2021 a better year healthwise.
A smile makeover is a straightforward and effective way to improve our looks and boost confidence.
According to Dr Zaki Kanaan, a highly experienced and respected implant and cosmetic dentist, the most important aspect for any smile makeover is to try to be as minimal and conservative as possible with the treatment and its progression.
He recommends: 'Always start with the simplest, least invasive option first – such as teeth whitening, followed by bonding and recontouring and finishing off with thin porcelain veneers, if needed, to complete the smile makeover you've been looking for.'
So, according to one of London's leading cosmetic dentists, what are the three best treatments to make any smile fresh for the New Year?
Zaki says: 'It would definitely be our hygiene and fresh breath treatment with one of our hygienists, following by some Zoom! teeth whitening and our wrinkle relaxation treatments, which are all hugely popular and in demand at this time of year.'
Zaki's clinic is K2 Dental, a leading centre for general and family dentistry, with a special emphasis on orthodontics, cosmetics and dental implants that's based on the Fulham Palace Road in London.
And K2 is offering all patients the Zoom! light-activated and home teeth whitening treatments and wrinkle relaxation treatments at a discounted price in order to celebrate the 'new year, new you' spirit.
The practice uses the latest world-class technologies, as well as cutting-edge techniques from around the world.
Zaki and his wife, Dominique Kanaan, lead the team. They both have numerous awards and accolades to their name as well as years of experience and are well known for their caring and gentle approach before, during and after treatment.
Zaki explains: 'My wife, Dominique and I are both the principle dentists. Her brother John is our associate. Robiha is our resident hygienist. Magda and Elena are our dental surgery assistants and Grace is our front-of-house receptionist. We also have several visiting specialists who carry out root canal treatments, periodontics and other surgical procedures.
'They're a highly motivated and dedicated team who always puts the patient first and at the centre of our practice.
And should you have any fears or you are a nervous patient, K2 has plenty of experience to manger them.
Zaki explains: 'Both Dominique and I have done a diploma in hypnosis and most of our patients feels we are both gentle in our approach to treatment. For the very nervous patient, we have various in house sedation services, including intravenous sedation that will put even the most nervous of patients at ease.'
He adds: 'Our ethos is to provide state of the art dentistry to our patients and to treat them as we would treat our own family. We work with total transparency with regards to fees, which are all explained up front.
'Teeth whitening, adult orthodontic services and dental implant therapies are our most popular treatments and these are exactly the areas where we excel!'
Zaki's three essentials for every dentist

Loupes. These are the, small magnification device that is used to see small details more closely by zooming in to see teeth close up with cutting-edge precision
Cameras. An intraoral camera and an SLR help dentists to communicate effectively with patients. They also capture 'before and after' pictures of treatments
Dental implants. These have revolutionised how dentists can replace missing teeth with stable, long-lasting and natural-looking fixed teeth.
book a consultation with K2 Dental

This article was updated on the 31st january 2020.
Related Treatments
Similar Articles