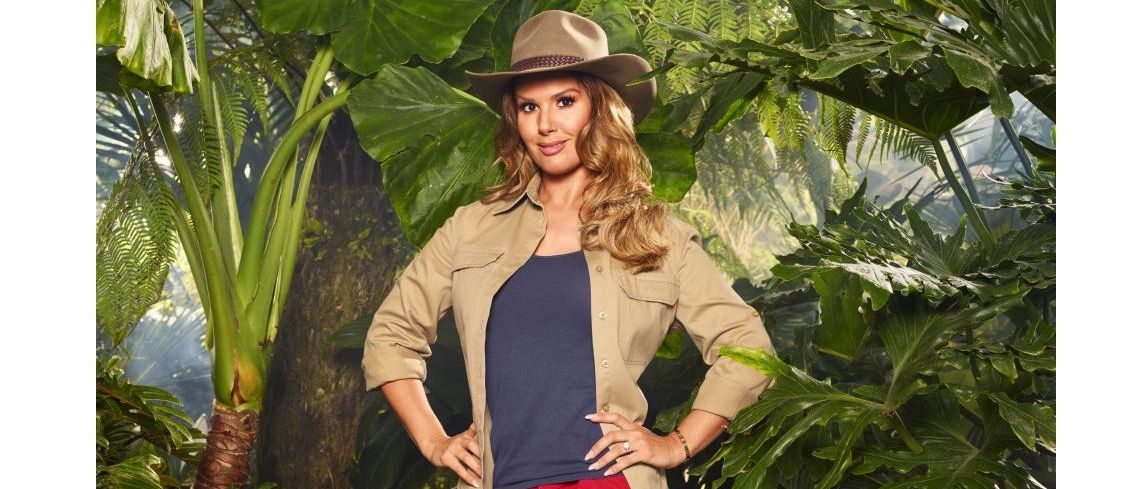 Having just arrived in the jungle at the weekend, the I'm a Celebrity…. Get Me Out of Here! contestants will be coming under close scrutiny over the next three weeks of the TV reality show.

From personality clashes to baring flesh in the camp shower, bravery under pressure to facing creepy crawlies, there won't be much that slips past viewers as the celebs are stripped of creature comforts and challenged to live together in the Australian jungle.

But for Rebekah Vardy, the 35-year-old wife of England and Leicester footballer Jamie, it won't be the first time this year she has stripped back and challenged the public perception of WAGs (wives and girlfriends) – a term she finds 'derogatory'.

Earlier this year, she showed all in a post-pregnancy photo dressed only in Calvin Klein pants and a bra.

With a prominent roll of tummy and stretch marks, Rebekah, who has courted criticism in the past for being outspoken and 'brash' was pictured holding her three-month-old son, Finley, her fourth child.

She said at the time: 'There is so much unrealistic pressure on women these days to get their figures back overnight because there are so many women in the public eye who seem to be able to do that.'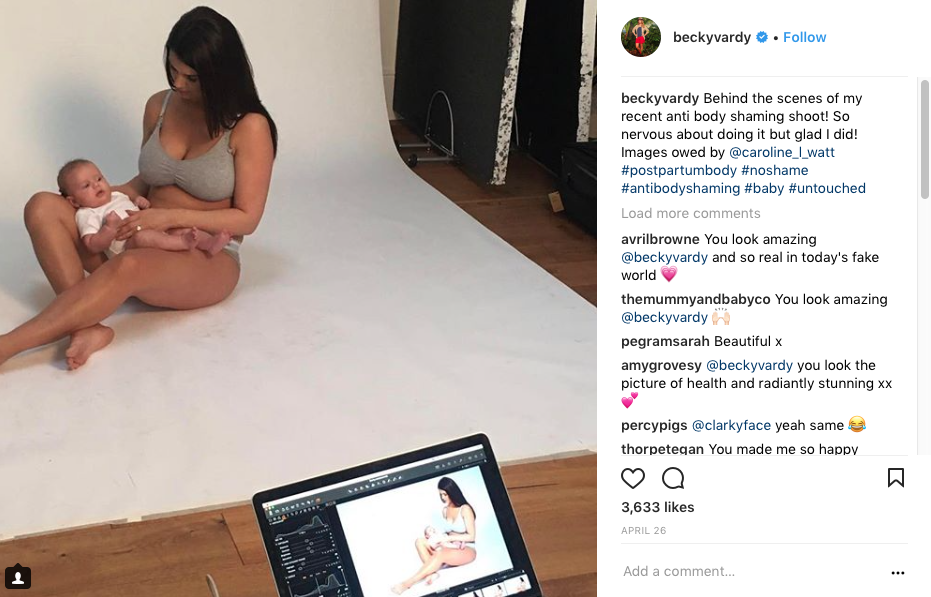 However, despite the numbers of us seeking plastic surgery being down in 2017 – according to statistics from the British Association of Aesthetic Plastic Surgeons (BAAPS) – young mums looking to regain their pre-pregnancy bodies are on the increase.

Most popular procedure
Abdominoplasty (tummy tuck) is the sixth most requested cosmetic procedure for women, with some plastics surgeons saying new mums are driving up demand.
Aiming to regain the figure we had before we had children is all very well, but it's important to be aware that piling on the pounds after surgery can ruin any long-term effect of surgery.

Some surgeons advise to wait until we've completed our family before we invest in a new body.
If you are considering starting – or adding to – your family, it may also be wise to postpone breast lift surgery until your childbearing days are over.

Pregnancy and breastfeeding can also stretch breasts and reduce their volume and you will only reap the true benefits of surgery long term if you wait and avoid the risk of putting paid to those much-desired aesthetic results.

Although dieting and a strict exercise regime can help reshape a post-pregnancy body, many of us struggle to lose that apron of fat beneath the belly button.

A tummy tuck removes excess fat and skin and tightens muscles to create an abdomen that appears firmer.
There are two types of tummy tucks – with the standard tummy tuck, a long incision will be made into the abdomen. This incision runs above the pubic area in a curved shape. A second incision is also made to remove your belly button. Once the incisions are made, the surgeon pulls the tummy muscles together and stitches them into place. Any excess fat will then be removed, and the belly button will be re-positioned. Excess skin is also removed and your remaining skin pulled into place. The incisions made at the beginning of the procedure are finally closed using surgical stitches.
A modified tummy tuck takes place below the belly button, meaning that the belly button is not affected. The excess fat and skin are removed and the tummy muscles tightened as in the standard procedure.
Battle scars
Stretch marks – the 'battle scars of birth' occur when blood vessels show through ruptures in the dermis.
Clinical trials show that the much-loved Bio Oil can reduced scars in 50% of users in eight weeks.
However, if you're looking to go down the route of cosmetic treatment, Dermaroller treatment can be used to improve the appearance of stretch marks.
ULTRAcel's effective resurfacing and skin tightening treatment can also help to achieve healthy and fresh looking skin by targeting scarring and stretch marks.
Alternatively, Strawberry lipo can help to reduce localised areas of fat and smooth stretch marks and TriLipo can tighten the skin, remove and reduce fat deposits, reducing the appearance of stretch marks, and cellulite.