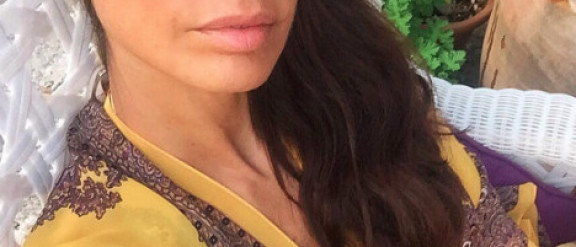 TV presenter and model Melanie Sykes reckons 'a lot of women's insecurities can mainly be body issues'.
The 45-year-old TV presenter and model opened up about her own insecurities and views on cosmetic surgery in a revealing blog post on her website.
She confesses to 'heavy and bulky thighs', a bottom 'as flat as a pancake' and cellulite but says she's happy with her body.
But writes: 'The only thing I have cosmetically changed is my boobs. I breastfed both my boys and when they were a bit older, around eight and 10 years old, I started training and going to the gym and getting really fit.
'My body started to look quite athletic and the boobs were just looking worse and worse, and not in keeping with my new found shape. So, I made the big decision to get them done. They are a little bigger than the originals and a damn sight perkier.'
Writing in a blog post on her website, Mel, who describes herself as a 'happy bunny' says: 'My down days, thankfully, are not the norm but of course I have them. It may be hormonal, at times I might be feeling lonely. I could just be rundown or I might just be having an insecure day. It happens to is all.'
Although adds: 'I think a lot of women's insecurities can mainly be body issues. I am often asked which bits of my body I don't like and the answer is, I know I am a healthy person, so I do think I am lucky.
'I do look alright and most importantly, everything works. But, yes of course no one looks at themselves and thinks perfection. I will never have a J-Lo bottom, mine is as flat as a pancake and no matter how many squats, donkey kicks and lunges I may do in the gym it does remain flat.'
Speaking about a recent shoot she did, Mel said: 'Unfortunately, on my last shoot, I'd had a mini operation on my eyelid two weeks before and then went on holiday and swam every day, instead of my usual gym workouts. So I did look different, much softer than I usually do. There's nothing like a shoot and being half naked in front a roomful of people to make you feel insecure and all I could focus on was "do my thighs look to big for this outfit". When you do a shoot, the clothes are generally very small sample sizes. I always feel so exposed on set and I never get used to it in all these years.
'So, of course I have my down days and insecure days, I have my baggy top days, probably a few times a month. I have my low confidence days and low-energy days where I don't want meet up with people. Sometimes I feel pale, tired or spotty and when people expect you to look $1 million all the time, of course I have those days where I don't feel I can possibly live up to it.'
You can read more of Melanie's blog here http://www.melaniesykes.com/down-days-insecurities/
Read about Breast surgery and find a surgeon here >