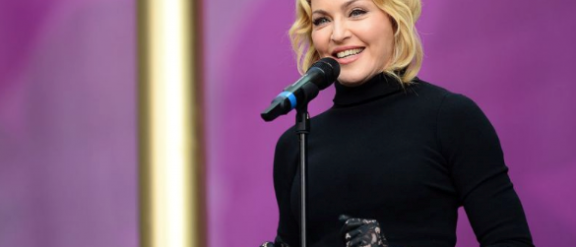 The 57-year-old singer has reportedly rarely shown her hands in public these last few years. Rumour has it her so-called 'Madonna mitts' were showing signs of ageing with wrinkles and sunspots. But, she recently underwent a remarkable new cosmetic treatment to give her hands a more youthful appearance. Mesotherapy provides the skin with a special cocktail of nutrients such as hyaluronic acid, vitamins, minerals and amino acids to boost its appearance significantly. As a result, skin regains its natural elasticity, shape, glow hydration and radiance. We hear from aesthetic practitioner Dr Philippe Hamida-Pisal who is president of the Society of Mesotherapy of the UK, about how this A-list cosmetic treatment is within your reach
How long has this treatment been around?
This particular treatment has been available in France for more than eight years. In the
UK, however, it is more recent and it has only been used for a little more than two years. The main reason for it is that mesotherapy is not yet part of the medical degree in the UK (which is the case in France since the 1980s). This makes the understanding, promotion and propagation of this technique easier and much faster. In the UK, the institution in change of spreading the word and regulating the use of mesotherapy is the Society of Mesotherapy of the UK (SoMUK), which also aims to achieve an academic recognition of mesotherapy.
How does this compare to other skin rejuvenation treatments?
Mesotherapy cocktails achieve progressive, long-term results, as opposed to a quick fix, commonly the case with other treatments. Mesotherapy reactivates the fibroblasts that start to produce more of the skin's own collagen. It also nourishes the skin and improves its quality with the action of repeated needling. In this manner, we attain a double-action result that gives a long-lasting effect.
What parts of the body is it used for?
Aesthetic mesotherapy can be used for all parts of the body: alopecia, facial rejuvenation, neck, décolletage, cellulite and stretch marks. Anywhere where the skin has lost its tonicity and youthful look, mesotherapy can successfully be applied. At PHP Aesthetic-Wellness in Harley Street, London, we give extensive advice to our patients on the different applications of mesotherapy for each part of the body.
How much has the publicity re: Madonna helped raise its profile?
To have Madonna as an advocate of mesotherapy helps immensely giving this technique the place it deserves. It is worth noting that other stars such as Brad Pitt, Kim Kardashian and Jennifer Aniston have also used and spoken in favour of mesotherapy treatments.
What age is it aimed at?
The mesotherapy is aimed to all ages over 18 years old. It can be used on young skin (20-35) as prevention and over 35 years to cure and give back tonicity and a glow to the skin. Mesotherapy is incredibly helpful to get rid of hyperpigmentation caused by sun damage.
Are hands truly 'wrinkle-free' post treatment?
In some cases, they really are. But it generally depends on the initial diagnosis. After three sessions, we normally get very good results which need then to be maintained with one or two treatments a year.
How does it work?
The multi-puncture into the skin activates the fibroblasts, which have become less active as time passes and stopped producing enough collagen. That is one of the main reasons for ageing. So, in order to make the fibroblasts more effective again, we nourish the skin with several nutrients, such as vitamins, amino acids, minerals and coenzymes. All those substances will provide the energy for the fibroblast to start functioning again.
How long does it take to notice results?
It depends on the quality of the patient's skin; some patients notice the results straight away. But generally we are able to see striking results after two to three sessions.
Are there any risks?
Before treating the hands, it is very important to have a proper consultation in order to eliminate any medical conditions such as auto-immune disease, arthritis of the hands, amongst others. The second point is to use the right cocktails of injection. Many cocktails available in the UK are not CE marked, which means they are not safe for injection. It is very important to make sure the cocktails used are suitable for injection (some cocktails mention mesotherapy but they are for topical use only).
What preventive measures should we take to prevent skin ageing?
The basic prevention against ageing hands is the same as it is for the face, neck and décolletage: good moisturiser every day and sunblock. This will reduce the sun damage and improve the hydration, which in the long term makes an enormous difference.
Ask Dr Philippe Hamida-Pisal a question today >
Find a Mesotherapy practitioner near you >