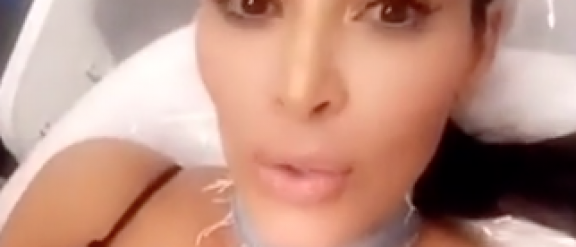 Kim Kardashian filmed herself at her plastic surgeon's surgery this week getting some non-surgical skin-tightening cosmetic treatment.
The mother of two social media celeb is keen to work out — and seek procedures — in order to keep herself trim.
Her appointment with Hollywood's Simon Ourian was documented on the photo and video-sharing website.
Beverly Hills-based Dr Ourian then posted the video on Instagram with the caption: 'Thank you, #kimkardashianwest, for posting this video on Snapchat earlier today. #Skintightening #nonsurgical #tummytuck.'
The Hollywood surgeon has also treated rapper Iggy Azalea, model Cara Delevingne, and pop diva Lady Gaga.
Kim Kardashian is reported to have said: 'Having a positive self-image has always been important to me because it affects so many aspects of my life: my work, my relationship with my husband and my life as a mom.'
She two children with third husband Kanye West.
Meanwhile, Kim Kardashian's dermatologist has opened up to W Magazine on his thoughts about the future of anti-aging procedures, reports www.inquisitr.com.
The Beverly Hills-based celebrity dermatologist, Harold Lancer, revealed that facelifts are a thing of the past, and that lifting with a needle and thread is the hot new thing.
'I think in terms of the newest thing, in an effort to replace cosmetic surgery, it will be lifting with threads and strings. The Silhouette Instalift and some newer advances include PDO microthreads under the trademark name of Noba Threads. And that's using smaller insertional threads to do this.'