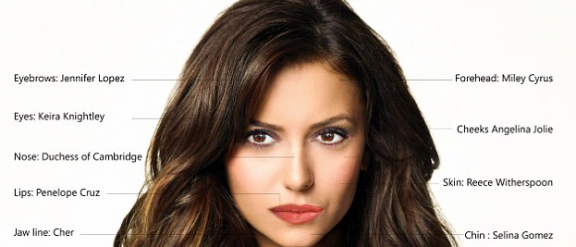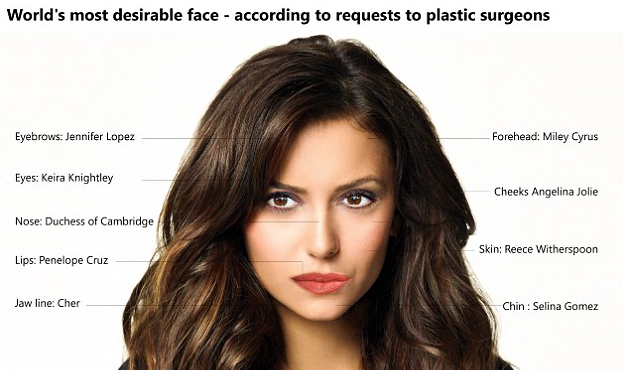 Is the world's most desirable face?
A plastic surgeon has put together a photofit of the 'world's most desirable face' based on his own patients' requests.
By combining the celebrity facial features most requested by women undergoing cosmetic surgery, he created the world's 'most wanted' female face.
The Duchess of Cambridge's 'mathematically perfect' nose is the facial feature women most want, according to Harley Street cosmetic surgeon Dr Julian De Silva.
The second most popular feature was actress Keira Knightley's eyelids.
His image was based on the requests of some 1,000 patients who underwent various cosmetic procedures.
Dr De Silva has kept a log of the most popular requests over the last 10 years showing the celebs and the features on women's 'wishlist'.
The composite picture combines the nine most requested features in one 'perfect face.'
The third most copied feature was Jennifer Lopez's eyebrows, followed by Penelope Cruz's lips in fourth and Angelina Jolie's cheeks in fifth place.
Sixth place went to Reese Witherspoon's skin, followed by Miley Cyrus's forehead in seventh place, model Selena Gomez's chin was eighth and veteran singer and actress Cher came ninth with her jawline.
Dr De Silva said: 'You will often have a consultation with a patient who will present you with a picture of a well-known person and will say: "I want to look like that".
'Obviously, the challenge for me is to look at their facial proportions and advise whether this will be a good look for them after surgery.'