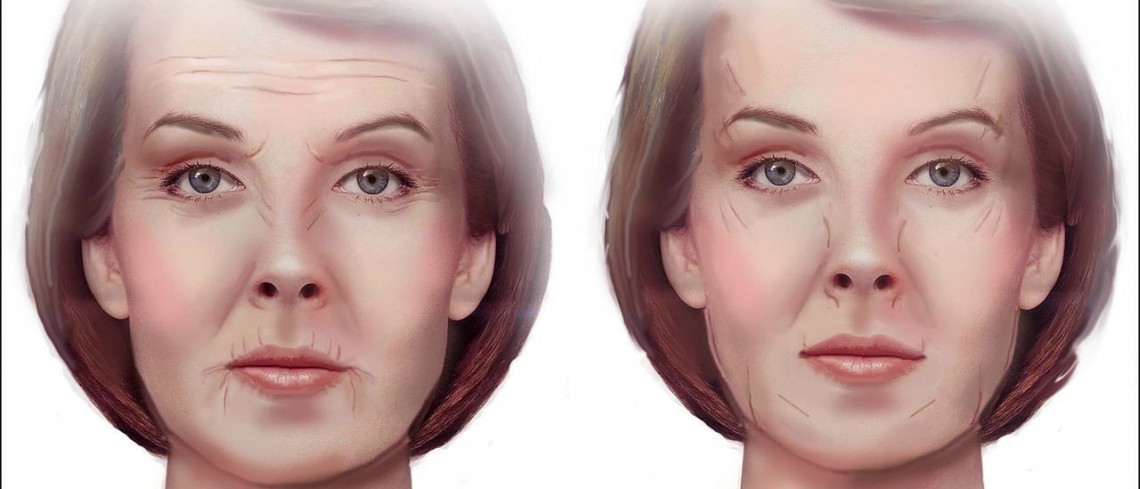 Facial wrinkles could be the result of the position in which you sleep, a new study suggests.

While skin distortion from facial expressions causes many of the wrinkles we see on our ageing faces, this recent research suggests wrinkles also result from 'mechanical distortion' during sleep.
Compression, shear and stress force factors result in facial distortion when we sleep on our sides and stomach.
These sleep wrinkles tend to be perpendicular to expression lines and don't respond significantly to animation, according to the experts.
Common sleep wrinkles include the lateral oblique forehead crease, radial orbital crease, lateral (vertical) malar crease, medial cheek crease, nasal/lip crease, corner lip crease, oblique marionette crease, preauricular crease and inferior vertical cheek crease, according to the study.
The study — published in the Aesthetic Surgery Journal — indicates that this all leads to the development of sleep wrinkles over time.
'Sleep wrinkles form in response to distortion created when the face is pressed against any sleep surface. They tend to worsen over time due to repetition combined with thinning of the skin and decreased elasticity as we age,' explains plastic surgeon and lead author Dr Goesel Anson.
Sleep wrinkles are also influenced by the amount of time spent in various positions.
While our initial sleep position is a conscious decision, we change positions throughout the night unconsciously.
The number of shifts decreases as we age from 27 to 16 per night, with an average of about 20 position shifts. The lateral (side) sleep position is the most common in studies averaging 65%, with the remaining 30% in the supine (back) position, and 5% in the prone (stomach) position.
While some sleep wrinkle patterns can reinforce facial expression lines, most sleep wrinkles tend to be perpendicular to expression wrinkles. Most sleep wrinkles can be seen on the forehead, lips and cheeks.
Unlike facial expression wrinkles caused by muscle contractions, sleep wrinkles that are formed because of mechanical compression during sleep can't be eliminated using Botox.
Award-winning celebrity aesthetics surgeon, Dr Vincent Wong, is also a comparethetreatment.com expert. Here, he reveals his top three treatments for smoothing sleep lines, wrinkles and creases:

Dermal fillers (hyaluronic acid) to directly plump up the skin and restore any lost volume/shift as a result of the mechanical distortion
Skin rejuvenating treatments with non-crosslinked HA, e.g. Xela Rederm and Redensity , to help increase the collagen and elastin levels.
Radiofrequency treatments to help tighten the skin.
Top tips to avoid sleep wrinkles
Use sunscreen
Quit smoking
Eat healthily
Use moisturiser
Invest in a specialty pillow
And, not an easy, one — try to avoid sleeping in the lateral and prone positions!


To view the complete study, visit the
Aesthetic Surgery Journal
site.