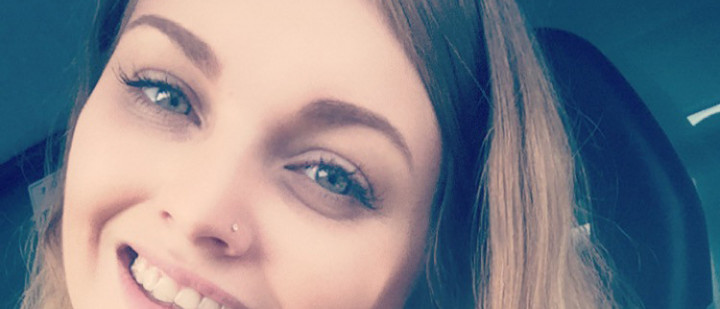 Why Kristy Price knew her smile needed fixing
Why did you opt to have your teeth straightened?
I never really thought too much about my teeth before I started working in an environment where I became surrounded them. It made me start to notice that mine weren't as great as I once though they were. Being the face of a private orthodontic practice — where people do notice my smile and teeth — I decided that I wanted to improve my smile.
What was wrong with your teeth?
My upper front two teeth are quite small and the left side of my smile is a little lower than the right side. I also have a slight deep bite and a lot of tooth wear on my upper front teeth.
Why Invisalign?
I chose Invisalign as it felt that it was less invasive than traditional braces. It fits in well with my lifestyle, meaning that I can take them out when I'm going out for dinner or on a night out. It also allows me to understand what other patients in the clinic are experiencing.
How far into your treatment are you?
I started my treatment at the end of April and was planning for Invisalign i7, which consists of seven aligners. Once we completed the assessment both myself and orthodontist — and comparethetreatment.com expert — Raman Aulakh decided that more aligners were needed to get me the 'perfect smile'. I have just started my set of 30 aligners (Invisalign Full).
Do you take them out for special occasions?
I try not to take them out too much as I know that if I'm not wearing them for 22 hours a day then I'm the one delaying my treatment. But it is nice to have the option to take them out if I need or want to.
Has anyone noticed you're wearing them?
They really are invisible and, unless I tell people that I am having Invisalign treatment, then they don't notice at all.
Does it affect your speech?
When I put in my first set, I did have a lisp but this went away after the first few days.
Have you had teeth straightening before?
This is the first time I have had orthodontic treatment.
Does it hurt?
I would say that it is more of an achy feeling that I get. I can feel it applying pressure to certain teeth, which causes them to feel sensitive when my aligners are out.
Do you think it will make you feel more confident?
Once I have finished my Invisalign treatment, I am going to have my teeth whitened and my upper front teeth built up so that they are a normal size. I can't wait to see the end results. I know that once all the work has been completed, I am going to be smiling all the time.
Is there a special occasion coming up for which you wanted a new smile?
There are a few special occasions in particular that are coming up that made me decide to start treatment. But it's nice knowing that, once it's all completed, I will have a lovely smile that will hopefully last way in to the future.

The Expert's opinion
So what do you think of Kristy's treatment plan?
Kristy's treatment is a very interesting case, it will require both orthodontics and some filling to get the ideal result. We plan to put the teeth in the right place before the white fillings are done on the worn upper teeth.
How do you approach cases like this?
Well it's all in the planning phase and it's great to have digital software for smile design and ClinCheck which help to visualize your end point before you start.
Ask Dr Raman Aulakh a question today >