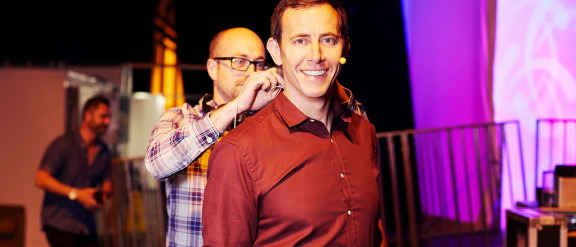 Celebrity dentist and his TV presenter patient both having orthodontic treatment in full view of the public
More and more men are considering the importance of their appearance — particularly to further their careers.  Two such men are dentist Hanel Nathwani and his patient, Andy Friedlander who is a TV presenter and a commentator at major sporting events.    Both are undergoing treatment to straighten their teeth because it is important for their jobs.  Dr Nathwani spends all day correcting
the smiles of his patients — many of whom are celebrities - and felt it was time to attend to his own dentition as it was under constant scrutiny.   How could a dentist recommend fixing his patient's teeth when his own were irregular?  Like Dr Nathwani, Andy Friedlander's smile is perpetually on display on television and in the press and his motivation for correcting his teeth was definitely a career move.  In fact in an increasingly competitive careers market, the first impression made at any business meeting can be make or break.
Yet it is not just to further their business prospects that men are looking for ways to improve their appearance. The results of a recent survey1 revealed The UK's 'ideal' male smile is a composite of Robert Pattison's lips, David Beckham's teeth and Orlando Bloom's chin.  However striving for the male ideal is troubling many men and another study showed that dissatisfaction with their facial appearance prevents 76% of men from having their photograph taken and 27% going on a date.2
Whilst we can't change features without resorting to cosmetic surgery, changing the appearance of the teeth (and often the position of the lips and jaw) is an aesthetic intervention which is perceived to be much more acceptable to men thanks to advent of new, discrete orthodontic treatments.  This is because Invisalign is a virtually invisible treatment and instead of using brackets and wires stuck onto the teeth, moves teeth using a series of custom-made clear aligners.
The fitting process is rather like being measured for a suit.  The aligners are tailor-made for each patient using impressions taken of the teeth which are converted using 3D analytical technology during the treatment planning phase.  As Dr Nathwani commented:
"My male patients in particular love seeing a prediction of the way their teeth will look at the end of their treatment on the screen.  I show them every stage of the process as the teeth move into position incrementally before their very eyes".
The scan data is fed back to Align Technology and is used to make the series of aligners which are changed every other week, encouraging all three elements of the smile — teeth, chin and lips - to transform until they are in text-book alignment.    The aligners are removed for eating and drinking which also makes them more acceptable to men, according to Dr Nathwani:
"Men, who often find flossing a faff, don't have to worry about removing trapped food or braces impinging on their love lives" Dr Nathwani concluded.
The discreet nature of Invisalign (often no one knows the patient is undergoing treatment) means it is one of the most popular orthodontic treatments available for adults (including a number of celebrities such as Andy Friedlander — not that you'd know they were having treatment).
As Andy Friedlander commented:
"I have appeared on national TV and commentated at major sporting events without anyone knowing I was wearing my Invisalign aligners.  Clear speech is vital to my career as a broadcaster and so it was vital to me that my diction was not affected in any way by my treatment.  In fact I would say that if anything my speech is clearer as the aligners make me enunciate more carefully. "
He added:
"HD TV also picks up minute details  - which was why I wanted straighter teeth in the first place — yet no one has picked up on the fact that I have my aligners in.   However the secret is out of the bag now and millions of viewers will be able to witness my transformation as the weeks go by!"
Andy concluded "Good bye English teeth, hello impeccable smile".   You can follow Andy's progress on @andyfrielander.  Meanwhile Dr Hanel Nathwani who is treating Andy Friedlander can be found at www.dr-hanel-nathwani.com
To find out how Invisalign can create celebrity-worthy smiles: visit www.invisalign.co.uk