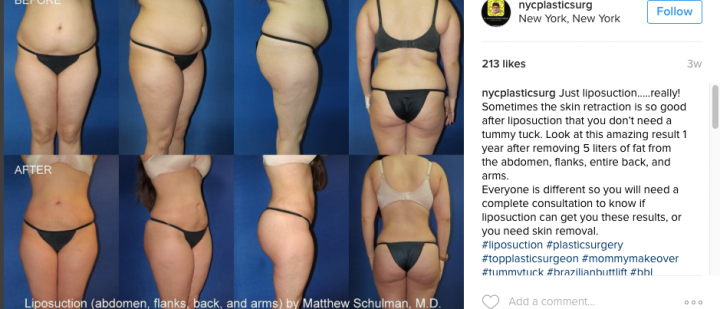 A New York plastic surgeon is gaining a cult following on Instagram with his before and after pictures of Brazilian butt lifts.
Dr Matthew Schulman has accumulated more than 20,000 followers on @nycplasticsurg where he shares graphic photographs of procedures and even shares pictures from the operating table.
'Procedure porn' is a growing trend on social media led by accounts such as @drpimplepopper, run by dermatologist Dr Sandra Lee, and plastic surgeon Michael Salzhauer's @therealdrmiami.
But, consultant plastic surgeon and comparethetreatment.com expert, Marc Pacifico, says: 'I have significant concerns and reservations about this — on a number of levels. There is the consent aspect — and whether the patients really understand what pictures may be taken and how they may be used. Also, there is the overt marketing and cavalier image that is being portrayed on what can be very major surgery.
'My worry is this will downplay the risks — physical and psychological — and impact that surgery may have.'
Plastic surgeon Dr Matthew Schulman has developed a cult following on Instagram, where he shares pictures of his Brazilian butt lifts, pictured before and 14 months afterwards.
The New York surgeon has accumulated more than 20,000 Instagram followers as a result of his candid photos.
Schulman also broadcasts operations live on Snapchat.
Buttock augmentations have seen a dramatic rise in popularity as women try to recreate the looks of curvy stars such as Kim Kardashian and Beyoncé.
Cosmetic surgeon and comparethetreatment.com expert Gary Horn says: 'There is certainly a rise in buttock reshaping surgery. This trend started about five years ago and patients asking for this surgery are generally between 20 and 40 year old.
They are of course trying to look like celebrities.'
From 2014 until 2015, there was a 12.6% rise in invasive cosmetic procedures for both sexes, with a 20% leap in the number of liposuction procedures.
Earlier this summer, a survey revealed we are very much in love with a dramatic and curvier shape — and more than ever.
Researchers carried out the population survey to solicit opinions on the most attractive female buttocks.
Posterior (from behind) and lateral (from the side) photographs were edited to illustrate varying proportions, based on the ratio of the waist and hip measurements.
The surveys were distributed by social media platforms. Nearly 1,150 responses were received, from similar numbers of women and men.
Results suggested that preferences have evolved toward a more voluptuous shape for the female behind which, authors claim, may be the consequence of prominent exposure and desensitisation of the general population to reality stars and celebrities with curvier figures.
For plastic surgeons aiming to meet the growing demand for cosmetic gluteoplasty, or buttock augmentation, it's important information, with the study's authors suggesting that 'information derived from this study has the potential to guide gluteoplasty practices and techniques'.