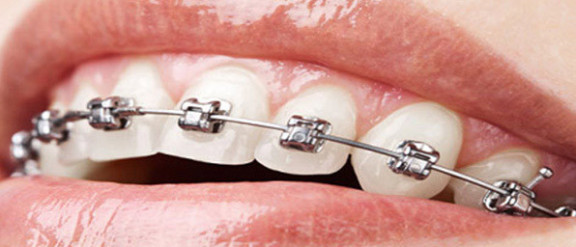 Metal Braces can be silver or gold coloured. Metal brackets are very strong and can withstand most types of daily interaction.
How long will I have to wear my metal fixed braces?
Dependant on how much work needs to be done fixed braces usually take between 12 and 24 months but they can take longer if the problem is severe. Your dentist or orthodontist will be able to advise you on the best brace for your teeth. A failure to follow instructions or damage to the brace can cause delay in the treatment.
How often will I have to see the dentist while I have my metal fixed brace?
You will be scheduled to see your dentist for brace adjustments. This will usually be every six to eight weeks to make sure everything is working properly. It is extremely important that you attend these appointments otherwise the brace may take longer to work.
Will my mouth hurt between visits?
Your mouth is sensitive to change so it will take a few days to adjust to wearing a brace. At first your teeth may feel uncomfortable due to the pressure a brace puts on them. Sometimes it can feel uncomfortable and tight against your teeth after adjustments. Painkillers usually help subside this. When initially attached they may be a little irritating to your gums, but patients normally get used to it. Cheeks and gums grow tough and adapt.
Parts of the brace can cause discomfort with your gums and lips, causing sore spots. Your dentist can provide you with clear wax to place over these parts. However, if this doesn't work after a few days, we advise returning to your orthodontist.
Should I look after my mouth more when I have a metal fixed brace?
It is important to take the time needed to keep your teeth and braces clean. By doing this you will avoid problems such as dental decay, inflamed gums and tooth decalcification. Decalcification is the loss of calcium from the surface of the teeth which will leave white spots after the brace is removed.
Keeping a dental examination routine with your dentist is crucial whilst going through orthodontic treatment. This way your teeth will stay healthy throughout the whole process.
What happens if I damage my metal fixed brace?
As soon as any damage or loss happens to your brace, you will need to tell your dentist before any routine appointments you have scheduled. If you are not wearing your brace, or it is not in the correct position this can affect your treatment and it is more likely that your teeth will return back to their old position. 

To find an orthodontist practitioner near you follow this link>