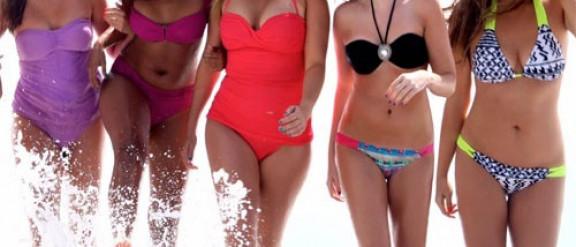 Have you ever wanted bigger breasts but don't want the implants, or possibly a tighter tummy without the liposuction? There are many new cosmetic treatments available, most that do not require invasive surgery, providing men and women solutions to their problem body parts.
Flatter stomachs:
Our midsection is prone to three common conditions: excess fat, loose skin and stretch marks. On the most dramatic side of the spectrum, an abdominoplasty or tummy tuck is a surgical procedure designed to combat all three problems. For those closer to their desired new weight, liposuction can also be considered. However these procedures may seem a little costly and with four to eight weeks recovery time, it may not be a viable option.
For a completely non-invasive approach, a new procedure called Vanquish uses radio frequency energy to heat fat cells to 120 degrees, killing them. Ideal for specific target areas, such as love handles, or the entire abdomen, this procedure uses an applicator that hovers over the skin, making it painless. Four to six treatments are usually required over one to two weeks to destroy cells permanently.
Is loose skin, either from ageing, weight loss or pregnancy more problematic with you? Ultherapy is an ultrasound treatment that stimulates collagen and elastin growth for two to three months, resulting in firmer skin. This is the only non-invasive treatment available to lift skin above the eyebrows, on the neck and under the chin. There is no recovery time, with the procedure taking 30 to 90 minutes. Only one session is usually required.
For those with pesky stretch marks, fractional laser treatments such as Fraxel can stimulate collagen and elastic-fibre growth to minimise their appearance. If the marks are pink in tone, this laser can also diminish the colour, making them less noticeable.
Fuller chests:
It recent years, the trend for larger breasts has appeared to diminish, with many patients seeking a more natural appearance. Due to the change in demand, surgical implants have been adapted into a "teardrop" version that mimics the silhouette of an actual breast.
If you'd prefer not to have implants, fat transfer injections may be the procedure for you. By removing excess fat from another part of the body, such as the stomach, this can be reinserted back into the breasts. Unlike implants, fat is a natural filler so your body will not reject this substance. There is minimal scarring and it eliminates the need to have an implant replaced at a later stage.
If this still doesn't appeal to you, there are specific weightlifting exercises you can do to improve posture. Push ups, pull ups, seated cable rows and exercises that target the lower back, such as the incline bench press, can give your chest a lifted appearance.
Shapely behinds:
With celebrity icons such as Kim Kardashian breaking our internet, enlarging the backside is now an increasingly popular request. The most sought after cosmetic procedure is the Brazilian Butt Lift. This is the process of removing unwanted fat from elsewhere in body and using this to smooth, shape and elevate the buttocks. The procedure can take two to three hours and comes with a four to six week healing time.
If this isn't for you, exercise routines such as squats and lunges, with barbells and dumbbells, are great for shaping the bottom. Wide or narrow stances must be taken, with deep and partial plyometric movements to ensure that all three main glute muscles are targeted at the same time.
Toning legs:
Currently the cosmetic market has limited resources for toning legs in particular. However, there are procedures available to sculpt the thighs, knees and calves.
Aqualyx is a procedure suitable for generally fit people with stubborn fat deposits on their legs. This can be injected into target areas, locking on to fat cell walls, forcing the cell to release fatty acid. This in turn causes the body to metabolise and fatty deposits to subside. Local anaesthesia is mixed in the solution to make it relatively painless. A warming sensation, itching and slight burning can be common side effects.
For sagging skin on the legs, Ultherapy is an ultrasound procedure that significantly tightens the skin on the thigh and knee areas. These improvements tend to continue for six months after the procedure.
Sculpting arms:
With more celebrities going under the knife to sport youthful arms, the upper-arm lift has risen dramatically, with a 4,000% increase since 2000.
Whether you have thin skin, age related muscle loss or have excess skin due to weight loss, a brachioplasty is the only surgical solution available to reshape the underside of sagging upper arms. If this problem isn't severe enough for surgery, it may be advised that you undergo Ultherapy to tighten mild skin droops.
If your problem concerns mild to moderate arm fat, Coolsculpting is an non-invasive method available. This procedure freezes fat cells to eliminate them without causing damage to any surrounding cells or tissue. After one treatment, fat tissue is reduced by around 20%, with results being their best at 2 months. Even though this treatment can reduce fat, it cannot improve skin laxity.
Exercises that sculpt arms include working both the front and back of the arm, or the biceps and triceps. By preforming two exercises with no rest in between, such as incline bicep curls and overhead arm extensions, you are able to work both muscles at the same time.