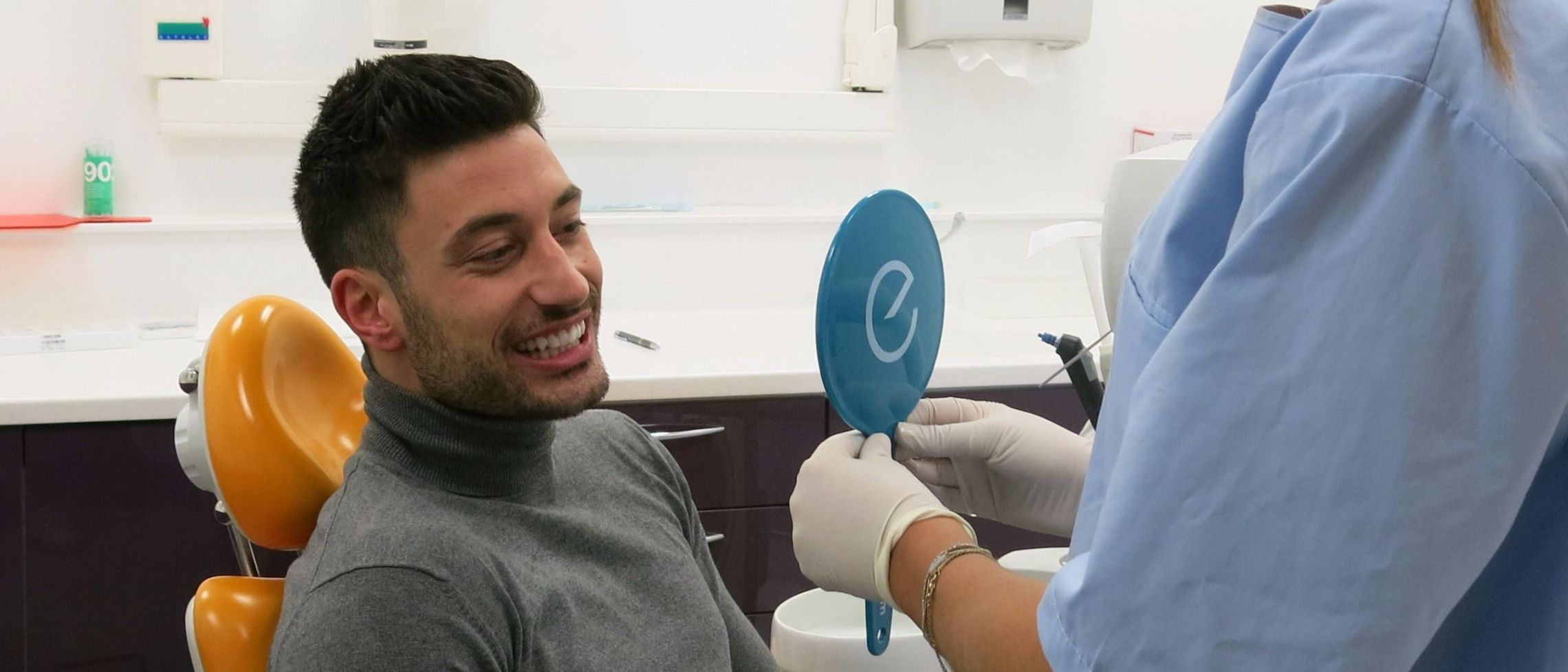 Many of us enjoy a little star gazing – even if we may not always admit publically to doing so. We might even be inspired to emulate the looks of those we admire after viewing the aesthetic enhancements which are trusted by stars of stage and screen and whose careers rest on the way they present themselves.
With the press and internet offering us more access than ever to view the 'before and after' results of the rich and famous, it would appear that A-listers are swapping wall-to-wall veneers for more naturalistic teeth straightening in order to achieve those much-coveted red carpet smiles. And, many of us are following in their tracks, heading to dental clinics to straighten our teeth and improve our smiles.
With the proliferation of mobile devices enabling us to scroll through galleries of celebrity photographs and read about their experiences on social media, it's interesting to learn that teeth-straightening treatment is top of so many wish lists. This is largely due to the fact that a newly aligned smile can be achieved discreetly and effectively – thanks to near-invisible and removable systems such as the Invisalign system – and as a result demand has rocketed.
The stigma attached to wonky smiles and crooked teeth can sadly attract cruel jibes online from internet trolls hell bent on appearance shaming. This could be one of the reasons why many media personalities often undergo unobtrusive treatment to fix their teeth. When discretion is the main priority, removable Invisalign aligners have a key advantage over traditional wires and brackets - Invisalign aligners are clear and hardly noticeable - great for those in the spotlight, appearing in front of the camera on our high definition screens! In addition to this, with Invisalign aligners there is minimal disruption to your daily life. It has minimal impact on speech and you can eat and drink what you want because the aligners are removed beforehand.
From singers to presenters, sports heroes to reality TV stars, a whole range of our favourite celebs are joining millions of patients for whom the Invisalign system has helped to give a better smile in an aesthetically driven world. Many may well have chosen the system because they want to keep it secret from the public but, among those currently honing their smiles and happy to share the experience are TV's Loose Women host TV host and Daily Mirror columnist,
Saira Khan who explained: "I was having my teeth straightened because I am actually very self-conscious about my protruding teeth, which motivated me to seek Invisalign treatment to help me to increase my confidence about my appearance".
Also in the spotlight is Strictly Come Dancing's Giovanni Pernice who is relying on Invisalign to help him to move forward with a new smile. He reveals he has his former on-screen dance partner, ex-Coronation Street star Georgia May Foote to thank for introducing him to the prospect of straightening his teeth. The professional dancer says the actress gave him a pep talk that inspired him to overhaul his image and that included Invisalign and he hopes to unveil the new look when the next series of Strictly airs in the autumn.
As he explained "I always say the smile is one of the most important parts of a person and I wanted my teeth a little better. A smile, especially when you work in television, is one of the most important things. In a few months, my smile will be even better thanks to Invisalign - you will see me with a different smile."
Britain's Got Talent judge Amanda Holden also recently admitted in the press to having Invisalign treatment to straighten her smile, whilst TV presenter of X-Factor and The Voice online, Luke Franks, is also embarking on Invisalign treatment. He will be vlogging about the experience on his own channel on YouTube. The multi-channel presenter confesses he is hugely self-conscious about his wonky teeth and that one tooth in particular, which is twisted and juts out, affects his confidence every time he sees himself on screen. He says: "I know two well-known people who regularly appear on TV who are having Invisalign treatment, so knew that it was possible to continue to work without it appearing that I was having my teeth fixed."

Similarly singer Tabby Callaghan, an X-Factor finalist explained that "My teeth were very crooked. I'd even say on occasion they looked a bit like fangs. I hated seeing my teeth on TV, so I resorted to pouting a lot in pictures – mainly to hide them! The treatment fitted easily with my career. Invisalign gave me total freedom – it's not like a cast on a broken leg which you can never remove, you can take the aligners out as and when you need to". Although it is advised to wear them for 22 hours day and night.
Meanwhile following in the footsteps of Laura Trott and Jason Kenny, Dina Asher Smith, who scooped an Olympic bronze medal at Rio for her part in the women's 4x100m relay, is managing to combine her Invisalign treatment while training and racing for greater medal success.
Beauty blogging is becoming big business and many of us are tuning in online and turning to the internet experts who try, test and rate the complete range of beauty enhancements, treatments and procedures. They offer tips on nailing the perfect manicure, open our eyes to make-up techniques and spill secrets for the perfect pout – and they are now sharing their own teeth-straightening experiences. YouTube vlogger Lex Croucher and journalist Gabrielle Dyer are all big influencers when it comes to choosing Invisalign as a route to a better smile in their public facing roles. They are also all being encouraged to use the Invisalign app to track their progress.
As Lex Croucher tweeted: "I've wanted clear braces for SO LONG and after years of wearing them down, @invisalign_uk have agreed to work with me!! brace face 2017"

The Invisalign system doesn't just treat straightforward orthodontic cases; increasingly, it addresses complicated tooth misalignments with its advanced, custom-made, and virtually invisible clear aligner system. The aligners are worn over the top and bottom teeth, gently moving teeth incrementally according to a tailored treatment plan. The aligners should be worn 22 hours a day over the teeth but are removed to eat and drink and to brush and floss and, because they are almost invisible, this makes them an attractive treatment option for celebrities and their fans alike!
If you are looking for a smile with star quality please click here to find and book an appointment with your nearest Invisalign provider.
Related Treatment
Similar Articles