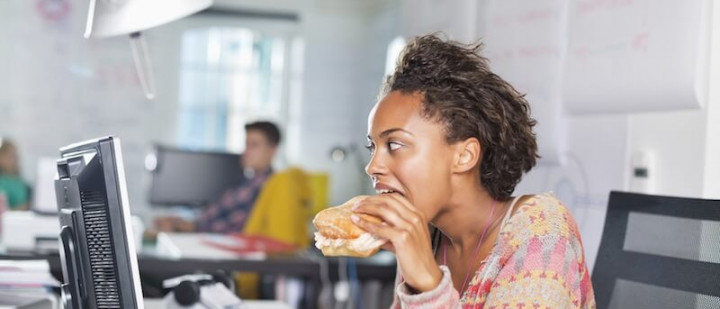 A new survey reveals that 41% of Brits are missing out on the traditional lunch hour – and the habit of snacking at our desks is damaging our oral health.
The research shows that 53% of us only manage to take up to 30 minutes' break during our working day, which means we often grab for sweets and cakes.
The British worker's lunch hour is dying out, with more and more of us working through our break, despite not being paid for it.
The survey of 2,000 British workers reveals that 42% of employees do not take their full lunch hour, with more than half (53%) admitting to taking even less than 30 minutes.
One in four of us are eating at our desk five times a week and 39% of those surveyed blamed 'too much work' as the reason for eating at their workstation.
Opting for convenience over health, time-pressed Brits admit to spending an average of £5 a day on lunch, choosing to eat sandwiches (59%), bring food from home (54%), or go for much unhealthier options such as burgers and fast food (8%), sweets (19%), pasties (7%) and cakes (15%) .
When taking a closer look at how respondents fared geographically, the poll found that the biggest culprits are the South East of England and East Anglia.
In the latter, 28% of employees average just 15 minutes or less for lunch, with only 31% taking a full lunch break in the South East.
In contrast, the most impressive area is Scotland, with 40% of employees taking their full lunch hour.
What we eat can negatively affect the health of teeth and gums and reduce the resistance to many oral conditions, including gum disease and oral cancer.
Frequent sugar attacks on our teeth will cause decay, which leads to cavities and increases the chances of needing fillings.
When sticky bacterial plaque builds up, it will lead to inflamed and bleeding gums that don't just pose a risk to our dental health.
Increasingly, scientists around the globe are discovering that bacteria and inflammation in your mouth can also affect the health of your heart, or may lead to dementia, diabetes and even rheumatoid arthritis.
So, avoid fizzy and sweet drinks during the day, and only drink milk or water with nothing added in between meals.
The Oral Health Foundation also acknowledges how our busy lifestyle means that eating habits are changing from the traditional three meals a day to more snacking or grazing while we are on-the-go – and their experts suggest now would be the perfect time to include chewing sugarfree gum in your oral hygiene routine.
The Foundation's Nigel Carter says: 'Chewing sugarfree gum is a really good and convenient way of looking after your oral health whilst on the go.'
Chewing sugarfree gum for 20 minutes after eating and drinking is a great addition to twice-a-day brushing because it helps neutralise those plaque acids, wash away food particles and remineralise tooth enamel.
The full breakdown of Britain's Lunchtime Habits is exposed here >