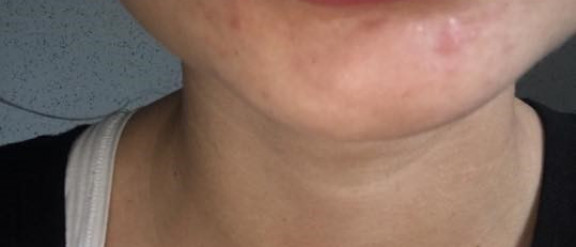 A beautician, who continued to offer teeth whitening illegally despite two warning letters to stop, has been prosecuted for offering the cosmetic treatment.
And a woman has posted horrific images of her lips having suffered third degree burns in another case of illegal teeth whitening.
The General Dental Council (GDC) successfully prosecuted Janine Gilchrist earlier this month for offering the cosmetic treatment at Bohemia & Sisters beauty salon in Wakefield.
Ms Gilchrist pleaded guilty and was sentenced to a 12-month conditional discharge and ordered to pay a contribution toward the GDC's costs of £260, as well as a £15 victim surcharge.
But last week saw another victim fall foul of the illegal practice, which is strictly to be carried out only by a dental professional.
A Facebook post by Abbie Kilbride, from Glasgow, went viral when she drew attention the third-degree burns she suffered — the painful results of illegal teeth whitening.
Abbie wanted to get her teeth whitened since having braces removed and, after noticing a couple of people on Facebook had been using a local woman, she decided to book in.
The woman — who remains unnamed — performed the cosmetic treatment in her own home.
Abbie writes: 'I sat there for just over one hour and every 10-15 minutes she would top up the gel on my teeth.'
'After I was finished, my whole mouth was numb. I just assumed it was because I had a gum shield in my mouth for over an hour, but when I looked in the mirror my lips were quite swollen and I was struggling to talk but the woman brushed it off completely and said it was normal and I should put LIPSTICK on and it would be fine.'
Abbie finally resorted to attending Glasgow Dental Hospital when the woman did not reply to her texts. The dental team, shock by the severity of her injuries, informed her she had suffered third degree burns. She is now on a special diet until her lips heal.
Urging people to share her Facebook post, Abbie writes: 'The moral of the story is DO NOT just go to anyone to get your teeth whitened. I was completely unaware that only a dentist can you this treatment so if you're booked in anywhere other than a dentist please, please stay away!'
In another successful GDC prosecution in Devon, Catherine Brophy appeared at Torquay Magistrates' Court where she pleaded guilty to unlawfully practising dentistry. As a result of the illegal teeth whitening she carried out, a victim suffered painful and sensitive teeth, as well as blistered and sore gums for a few days after the treatment.
Speaking about the two prosecutions, the GDC's Francesca Keen said: 'Illegal tooth whitening continues to be a big problem for us but, more poignantly, for the wider public. It is extremely positive to see that the courts continue to take this matter seriously and we will continue to prosecute any individual who is holding themselves out as being prepared to practise dentistry illegally.
'…individuals who receive dental treatment from anybody who is not registered with the GDC are at great risk of harm and this illegal practice poses a real threat to public safety.
'We strongly urge anybody considering tooth whitening, or any other dental treatment, to first consult our register of dental professionals before agreeing to such treatment.'
Tooth whitening is the practice of dentistry and, by law, dentistry must only be carried out by dental professionals who are registered with the GDC.
You can check your dental professional is registered by visiting www.gdc-uk.org.
A dentist should always assess you before carrying out teeth whitening to confirm whether treatment would be right for you.
Registered dental hygienists, dental therapists and clinical dental technicians can also carry out teeth whitening on the instructions of a dentist.