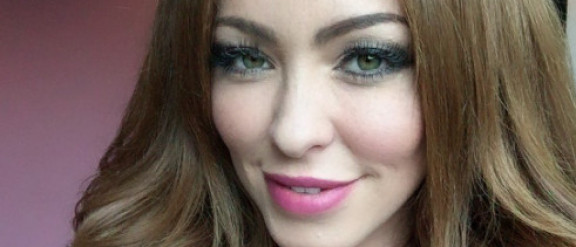 Atomic Kitten singer Natasha Hamilton recently revealed she had her braces fitted just before appearing on TV's Celebrity First Dates.
The former Celebrity Big Brother contestant tweeted about her Cfast cosmetic teeth-straightening experience as the show was screened last month.
She wrote on Twitter: 'Just remembered that I'd just had my "ª@Cfastortho brace fitted just before filming "ª@FirstDates I'm struggling to eat on it.'
She told her blind date — Gary, from Essex — that it was her first date in 10 years before opening up about her love life on the popular Channel 4 reality show.
Earlier this year, Natasha and her ex, 5ive star Ritchie Neville, announced they were separating just 18 months after the birth of their daughter Ella Rose — however, the pop stars continue to live together in Cheshire.
She said: 'We share food in the fridge, we don't share a bed. I suppose it will get weirder if we start officially dating — I'll have to stay out those nights.'
Ross Adams from Hollyoaks is also straightening his smile with the teeth-straightening cosmetic treatment. Cfast corrects top and bottom front six teeth alignment issues — or the 'social six' as they are commonly know i.e. the teeth that show when you smile. He recently tweeted: '@cfastortho 5 weeks today and seeing great results already! Absolutely delighted.'
This style of braces has created some beautiful celebrity smiles over the years, popular with celebs probably because a smile makeover can be achieved in as little as four months.
Among those opting for the cosmetic treatment are celebrity Holly Willoughby, singer Alexandra Burke and a number of reality TV stars, including those from TOWIE and Geordie Shore.
Find a Cfast practitioner today: