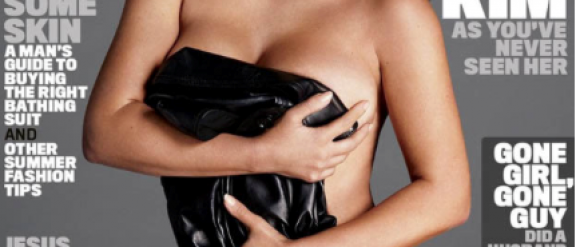 Celebs such as Kim Kardashian, Beyonce and J-Lo are on trend with their curvaceous buttocks.
That's according to a new survey that reveals we are very much in love with a dramatic and curvier shape — and more than ever.
Plastic surgeons in the States suggest this developing trend in buttock augmentation may be driven by the huge popularity in the body shapes of certain celebrities.
The curvaceous Kim Kardashian, who graces the cover of GQ for the first time this month in her birthday suit to mark the mag's 10th anniversary, is world-renowned for her social media poses that show off her booty, leaving little to the imagination.
For plastic surgeons aiming to meet the growing demand for cosmetic gluteoplasty, or buttock augmentation, it's an important heads up, with the study's authors suggesting that 'information derived from this study has the potential to guide gluteoplasty practices and techniques'.
The researchers carried out the population survey to solicit opinions on the most attractive female buttocks.
Posterior (from behind) and lateral (from the side) photographs were edited to illustrate varying proportions, based on the ratio of the waist and hip measurements.
The surveys were distributed by social media platforms. Nearly 1,150 responses were received, from similar numbers of women and men. The responses were analysed in terms of age range, gender, ethnicity, and nationality of the respondents.
Nearly half selected a photo showing a '50:50 vertical ratio' — with the most prominent portion of the buttocks situated at the midpoint.
The results suggest that preferences have evolved toward a more voluptuous shape for the female behind which, authors claim, may be the consequence of prominent exposure and desensitisation of the general population to reality stars and celebrities with curvier figures.
The researchers write: 'Respondents prefer a more dramatic appearance in the posterior view with a smaller waist and a larger and a more voluptuous buttock. However, in the lateral view, a less enhanced shape is preferred.'
These preferences may help to guide plastic surgeons in planning their approach for the growing number of women seeking cosmetic gluteoplasty.
According to statistics in America, nearly 12,000 women there underwent buttock enhancement in 2015 (using fat injection or implant placement) — an increase of nearly 30% compared to 2014.
Interestingly, back in 2010, an Oxford University study suggested that women with big butts were less likely to have diabetes or heart problems.
The research discovered that 'big behinds are preferable to extra fat around the waistline, which gives no such protection. And in the future, doctors might prescribe ways to redistribute body fat to the hips to protect against cardiovascular and metabolic diseases such as diabetes'.
Dr Gary Horn is an international cosmetic and reconstructive surgeon at Europe's top buttock reshaping clinic and an expert at comparethetreatment.com. He said: 'Yes, there is a rise in buttock reshaping surgery and this trend started about five years ago,
Patients asking for this surgery are generally between 20 and 40 year old. They are, of course, trying to look like celebrities.'
To ask Dr Gary Horn a question, follow this link.