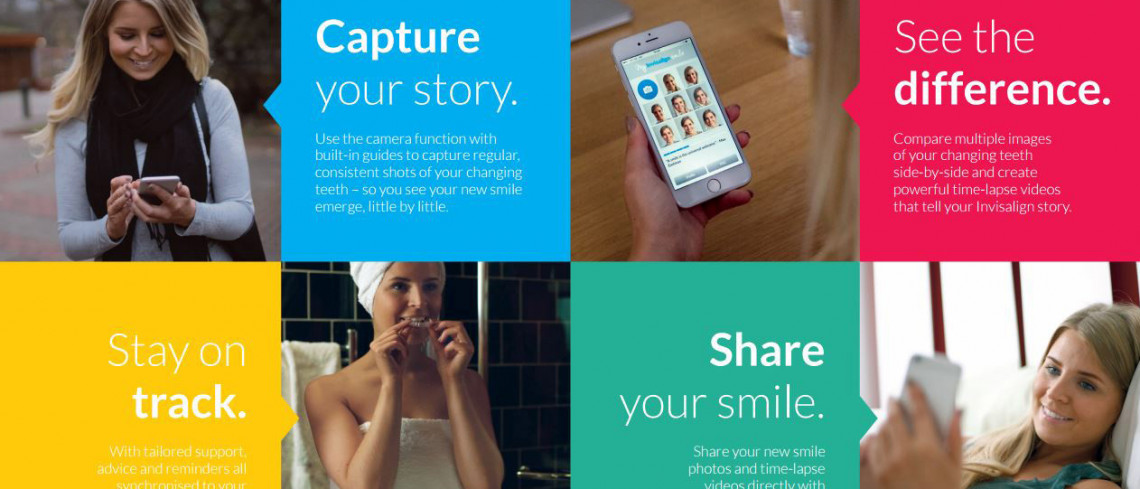 The UK's first dedicated app that allows you to watch how your teeth are straightened has been launched.
Free to download, the app 'My Invisalign Smile' is available to those of us undergoing Invisalign teeth straightening. It features a number of functions that make keeping track of orthodontic treatment easier, interesting and fun.
Invisalign aligners are changed in two weekly intervals and the app's image function includes a built-in guide to allow users to capture consistently positioned camera shots of their face, their smile and their teeth until their final, corrected position.
These shots build up into a gallery that means you can compare the development of your smile to see how it is taking shape. App users can even create a time-lapse videos that displays the teeth transformation story as it unfolds, capturing progress.
You can even share your photos and videos on social media!
The app also provides those in treatment with regular tailored support, advice and reminders (including prompts to change their aligners every two weeks or attend their next dental appointment) synchronised with their individual treatment plan, so that they stay on the right track throughout their treatment.
The Invisalign system works by repositioning teeth little by little, using a series of custom-made transparent plastic aligners's. They are tailor-made to each persons prescription so they fit perfectly and correct the alignment of the teeth over a period of months.
They are changed in two weekly increments to an aligner of a slightly different shape and size, moving the teeth little by little towards their final desired position.
The Invisalign aligners are worn for an optimal period of 22 hours a day, but because they are removable wearers can take them out for short periods, including when they want to eat or drink.
My Invisalign Smile is free to download from the Apple App Store and Google Play.
Find an Invisalign provider today >