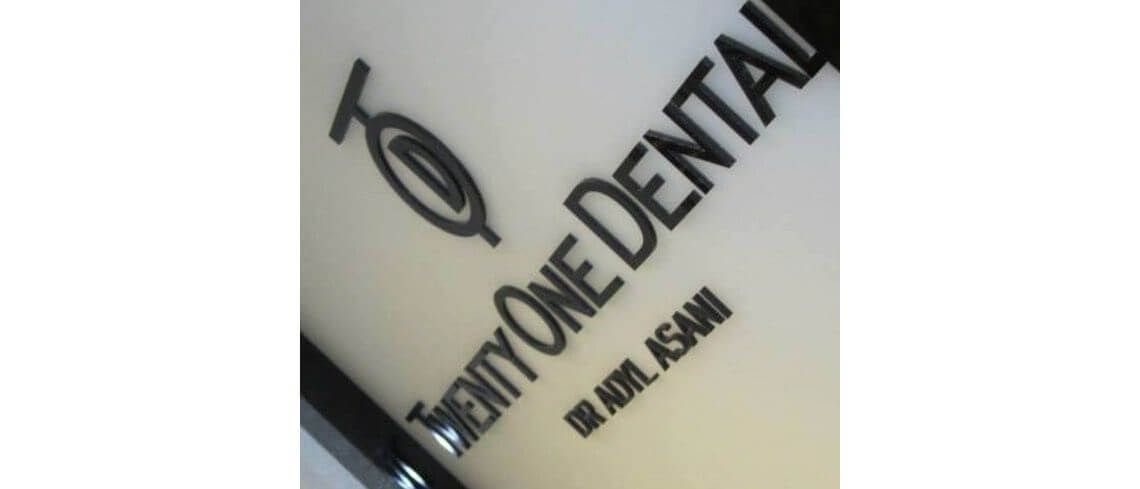 An insight into TwentyOneDental, Multi Award Winning digital dental clinic and an opportunity to meet the Clinical Director, Dr Adyl Asani himself !
A Brief Summary About Us
Welcome to TwentyOneDental, an Award Winning Premier Digital Dental Clinic.
We pride ourselves on providing outstanding patient care, resulting in an unmistakably unique patient experience.
Our Clinical Director, Dr Adyl Asani has drawn together two teams of highly trained, skilled and talented dental professionals, to ensure that our patients receive only the very best dental care. We utilise the latest state of the art digital equipment and techniques, which have been shown to provide superior quality results. For example, our clinical director routinely uses a dental operating microscope. This allows enhanced vision for the dentist and ultimately allows us to save tooth tissue and place incredibly accurate restorations. We use digital X-rays that lower the dose of radiation and can be viewed in amazing detail. In addition, our medical history forms are completed digitally on an iPad.

Upon entering the clinic, our friendly dental concierge will greet you and invite you to relax in our beautiful boutique surroundings prior to your appointment, with a beverage from our refreshment list. For children, milk is presented in a mini milk bottle with straw and we have iPads loaded with educational apps for their use. Adults are also welcome to use the iPads located in the patient lounge. During your treatment, we welcome you to enjoy your own music via our SONOS system and TV or movies are available during treatment. Our patient service team and clinical care team are here to ensure your comfort during your visit to us.
Adyl's core belief is that not only can Modern Dentistry make you look and feel better, but that the prevention of Dental Disease and Maintenance of a Healthy Mouth from an early age is crucial, following many studies showing that Good Dental Health and Regular Dental Visits, can actually save your life and allow you to live longer. Adyl is an avid promoter of making dental visits for children fun and engaging.
Over the past 20 years, Adyl has built up an admirable reputation in Hove, with his professional yet personable approach. He is particularly known for his extremely sensitive and caring manner and working in association with his patients in understanding their desires and striving to achieve the best possible result. His attention to fine detail and precise nature, are attributes that Adyl is highly regarded for by many of his patients.
He is committed to continually improving his knowledge and keeping abreast of the latest advances in Dentistry, through Postgraduate Education Courses on Cosmetic Dentistry, Dental Implantology and Orthodontics as well as Core Subjects such as Infection Control, Radiology and Safeguarding Children and Vulnerable Adults.
Adyl and his highly experienced team members all have the same ethos:
1. To listen to you and understand your concerns.
2. To provide dentistry of excellent quality which is tailored to your needs.
3. Make you feel absolutely comfortable and at ease throughout the whole treatment process.
We offer a wide range of treatments from general dentistry, tooth coloured fillings and hygiene, to cosmetic treatments such as crowns, veneers, teeth whitening, implants and teeth straightening. We cater for everyone and welcome families with children of any age.
Call us now for a FREE no obligation consultation and ask us any questions you may have (including any fears or worries) about any treatment and to discuss our finance options available to you.
We really do care about our patients. Take a look at our testimonials to see for yourself, but before you do click on the video below and meet Adyl then take a journey with us around the clinic.
The Clinical Director, Dr Adyl Asani is known for his television appearances over the years, including the well known Sensodyne commercial, DENPLAN Mouth Cancer and many more.