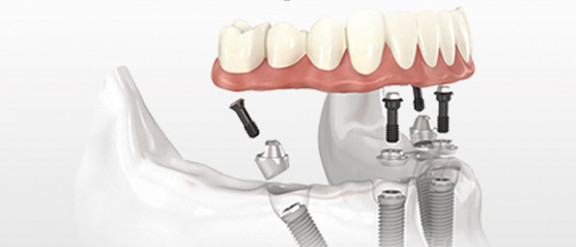 All-on-4 Dental Implants
Why would I need an All-on-4 dental implant?
You may require the All-on-4 dental implant if you are in need of securing a loose denture, so that they stop moving within your mouth. The All-on-4 method uses the existing jawbone and four strategically-placed implants to give you a better smile within the same day.
What's involved in All-on-4 dental implant treatment?
Implants are embedded into four strategic places along the jawbone using a minimally-invasive procedure. This maximises the bone quality. Within the same day, a dental bridge can be attached to the newly embedded implants resulting in a much improved smile instantly.
Am I suitable for All-on-4 dental implants?
You can have All-on-4 implants if you want to replace missing teeth with implant-supported dentures. This treatment will significantly improve to use of your dentures, since they will be securely attached to implants embedded in your jawbone. All-on-4 implants are advised for those who have a thin jawbone ridge and may not be able to support traditional implant placement.
What can All-on-4 dental implants do for me?
All-on-4 teeth can give you all the benefits of a dental implant treatment but all on the same day. Unlike other procedures, you will not need to wait for a healing period to end before you can enjoy the full benefits of your implant. The treatment can be completed without the use of complicated procedures such as that in a bone graft. Using minimally-invasive methods, the implants use your existing jawbone, resulting in less downtime and a more cost effective solution to your problem.
How long does All-on-4 implant treatment take?
To ensure that everything can go smoothly on the day you come in, planning is essential. Even though you will see results of the treatment within the same day, full completion takes between 3 to 4 months. However, this is still less than the conventional methods that tend to take 6 to 12 months.