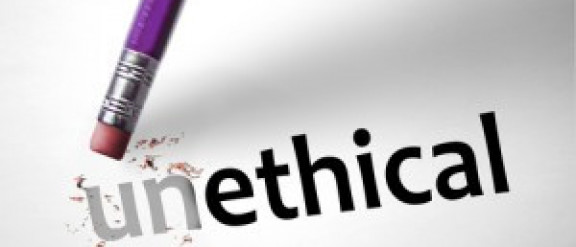 Posted by Dr George Druttman CAP City Dental


In today's world all the professions are considered with scepticism and suspicion. It is therefore particularly important for the public to be clear about what is ethical within a profession, in this case … Dentistry. Firstly a few 'definitions': Ethical = ' in accordance with the principles of conduct that are considered correct , especially true of a given profession or group'.
It's all very well Dentistry being considered a profession, but what does 'acting as a professional' mean?  In my view acting 'professionally' really means that you always consider your patient's/client's interests above your own, even though it may be financially or commercially disadvantageous to you.
The 'Hippocratic Oath' formulated in the 5th Century BC  relating to the practice of Medicine applies no less to Dentistry, another of the 'healing professions', stating:

I swear to fulfil to the best of my ability and judgment, this covenant:…
I will respect the hard-won scientific gains of those physicians in whose steps I walk, and gladly share such knowledge as is mine with those who are to follow.
I will apply, for the benefit of the sick, all measures which are required, avoiding those twin traps of over-treatment and therapeutic nihilism.
I will remember that there is art to medicine as well as science, and that warmth, sympathy, and understanding may outweigh the surgeon's knife or the chemist's drug.
I will not be ashamed to say "I know not," nor will I fail to call in my colleagues when the skills of another are needed for a patient's recovery.
I will respect the privacy of my patients, for their problems are not disclosed to me that the world may know. Most especially must I tread with care in matters of life and death. Above all, I must not play at God.
I will remember that I do not treat a fever chart, a cancerous growth, but a sick human being, whose illness may affect the person's family and economic stability. My responsibility includes these related problems, if I am to care adequately for the sick.
I will prevent disease whenever I can, for prevention is preferable to cure.
I will remember that I remain a member of society, with special obligations to all my fellow human beings, those sound of mind and body as well as the infirm.
If I do not violate this oath, may I enjoy life and art, respected while I live and remembered with affection thereafter. May I always act so as to preserve the finest traditions of my calling and may I long experience the joy of healing those who seek my help.


 So what is ethical & indeed, professional behaviour in Dentistry and what is not?
Ethical Dentistry:
A patient attending for a 'check-up' is entitled to be given a full and accurate diagnosis of his/her dental and oral health, function and aesthetics at that time.
If there are problems in any of these 'areas', resolutions should  be presented, with  alternative options where possible.
The fees must be clarified , yet it is not for the dentist to make any judgments as to what the patient can or cannot afford.
All information as presented must be disclosed to the patient clearly and understandably at the time of examination . It is not acceptable to ' inform him / her  at a later time'.
If the practitioner is not able to carry out  a particular type of treatment that may well benefit the patient best ( egg. implants , root canal treatment , orthodontics etc.), that patient should be referred to a practitioner best suited to provide such treatment. For example, if the best, most  appropriate or alternative treatment option  is not available or cannot be provided by an NHS practitioner , then he /she should not just consider referral to a 'dental hospital' BUT also offer the patient the opportunity of being seen by an appropriate 'private' dentist or private specialist.
Any patient 'in pain ' (particularly if it is established as 'severe') should be seen by any dentist , as soon as possible ( which really should mean  'on the day') irrespective of the patient's ability to pay or not , or , indeed, the busyness of the practitioner. Relief of pain is paramount and  should never  be dependent on 'time availability' or 'affordability'
If something 'goes wrong' with a procedure ( and even 'professionals' are human !), the  practitioner MUST be open and honest , admit his/ her fault and offer / institute remedial  treatment even if it means referring the patient to someone else; perhaps even at his/her own cost.
There is rarely only ONE solution to a problem. The individual patient's needs, psychological , life style and financial need always to be taken into account when offering  a treatment plan . Albeit ALL  the options should still be 'presented'.
Every  treatment approach needs to take into account longevity and prevention of future problems. Every  effort must be made with every patient to instil  preventative care and approach.


Unethical Dentistry
A  patient attends regularly and a 'condition' is ignored  or its treatment is persistently 'put off'… and so unbeknown to the patient….it  gradually worsens . This is 'supervised neglect'.
A patient attends for  a dental check-up and ………. the evaluation is not thorough and pathological  conditions are 'missed'!
The practitioner  recommends treatment that the patient  REALLY does not need , nor could it be justified = 'overtreatment'. This is a 'dangerous' area … particularly in relation to 'aesthetics'.
The elements of dental 'function' and even 'aesthetics' are not  looked at or commented on . Patients often do not even 'know' that they may have a problem that can be treated !
If the best or most appropriate treatment cannot be performed or offered by the dentist  , he/she  does not offer a referral to a competent colleague who is able to offer that treatment.
The treatment suggested is one that provides the best 'financial reward' for the practitioner ,  rather than the optimum treatment for the patient ( totally 'unprofessional')!
The practitioner is not as open and transparent as possible with the patient about the  'risks' of the offered treatment option or indeed of the 'financial costs' involved.
The practitioner  is not prepared to take responsibility if he or she does something wrong and, particularly  so , if he /she attempts to blame others.


Consider all of this when you decide whether to put your dental and oral health in the hands of a particular dental professional
Visit CAP City dental's profile today >