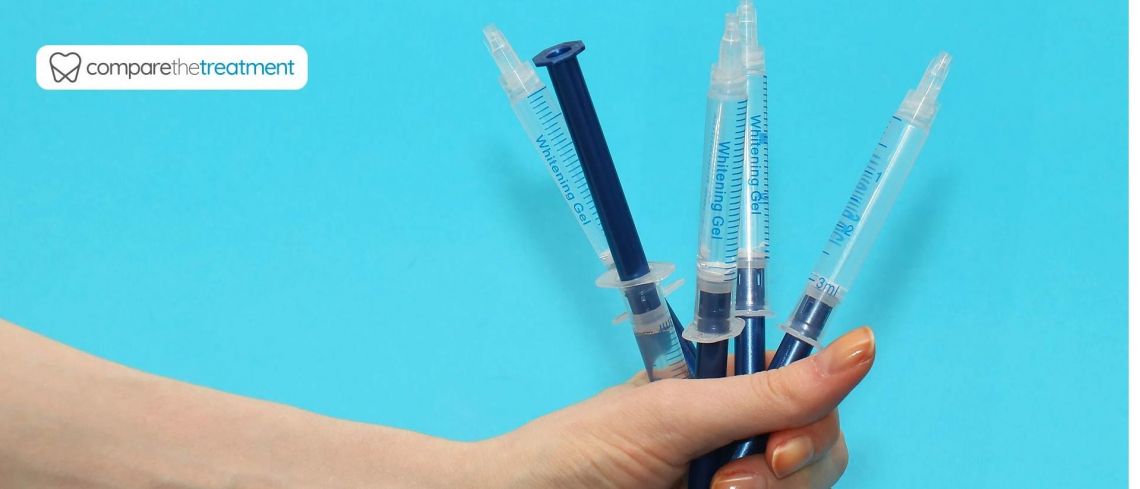 More than 60% of teeth whitening treatments available to buy online exceed the legal level of hydrogen peroxide.
This is according to the latest research carried out by Which?, prompting warnings against purchasing products from online marketplaces.
An alarming 21 out of the 36 teeth whitening products tested contained illegal levels of hydrogen peroxide, one of the active ingredients used during teeth whitening.
But high levels of the bleaching agent can cause gums to burn and permanent damage to the teeth.
Dangerous levels
The investigation exposed a number of gel-filled syringes, strips and pens that all contained dangerous levels of hydrogen peroxide – but all were widely available for the public to purchase at the click of a button.
The worst offender had more than 300 times the legal level.
In recent months there's been a number of videos surface on social media sites such as Tik Tok, demonstrating 'cheap' ways for people to whiten their teeth at home.
Yet illegal levels of hydrogen peroxide can do more damage than good. Which? put together a video that shows the full effects – by applying one of the online products onto a rump steak.
Massive impact
Dr Rhona Eskander is a cosmetic dentist at the Chelsea Dental Clinic and an expert at comparethetreatment.com.
'My main problem is the lack of diagnosis when people buy these over-the-counter products,' she says.
'They are assuming that they have a healthy mouth and don't realise why their teeth are yellow. It could be a symptom of disease – for example gum recession or dental caries. So it's best you see a dentist so they can diagnose you properly and put you on the right treatment plan that may include whitening.
'Ultimately influencers have a massive impact on their audiences. This can be a really great thing but when it comes to medical advice they can't really give their opinion. It's really important to see if they are being endorsed by companies and if they have had scientific or medical guidance surrounding the claims they are making'
Health at risk
Sue Davies, is head of Consumer Protection Policy at Which? and calls for better protection surrounding product safety.
She said: 'It's worrying that our tests have revealed so many of these products sold on online marketplaces – and often hyped on social media – are breaking legal limits for hydrogen peroxide and putting the health of users at risk.
'It's clear that self-regulation is not working, leaving people exposed to a flood of unsafe products online. It is absolutely crucial that online marketplaces are given greater legal responsibility for the safety of products sold on their sites, so that shoppers are far better protected from dangerous and illegal items.'
Worst offenders
Six products could be bought online which contained more than 100 times the legal limit for hydrogen peroxide:
Teeth bleaching gel kit – 30.7% hydrogen peroxide, from Oral Orthodontic Materials store on AliExpress
Sunup teeth whitening gel – 29.7% hydrogen peroxide, from Expsmile store on AliExpress
Teeth whitening gel –14.3% hydrogen peroxide, from ZZ Shiny official store on AliExpress
Pro teeth whitening gel – 13.9% hydrogen peroxide, from BMT store on AliExpressCrest 3D Whitestrips – 13.2% hydrogen peroxide, from Yougo flagship store on Wish
Professional bleaching kit – 10.6% hydrogen peroxide, from Dear Beauty Official store on AliExpress
Related Treatment
Similar Articles