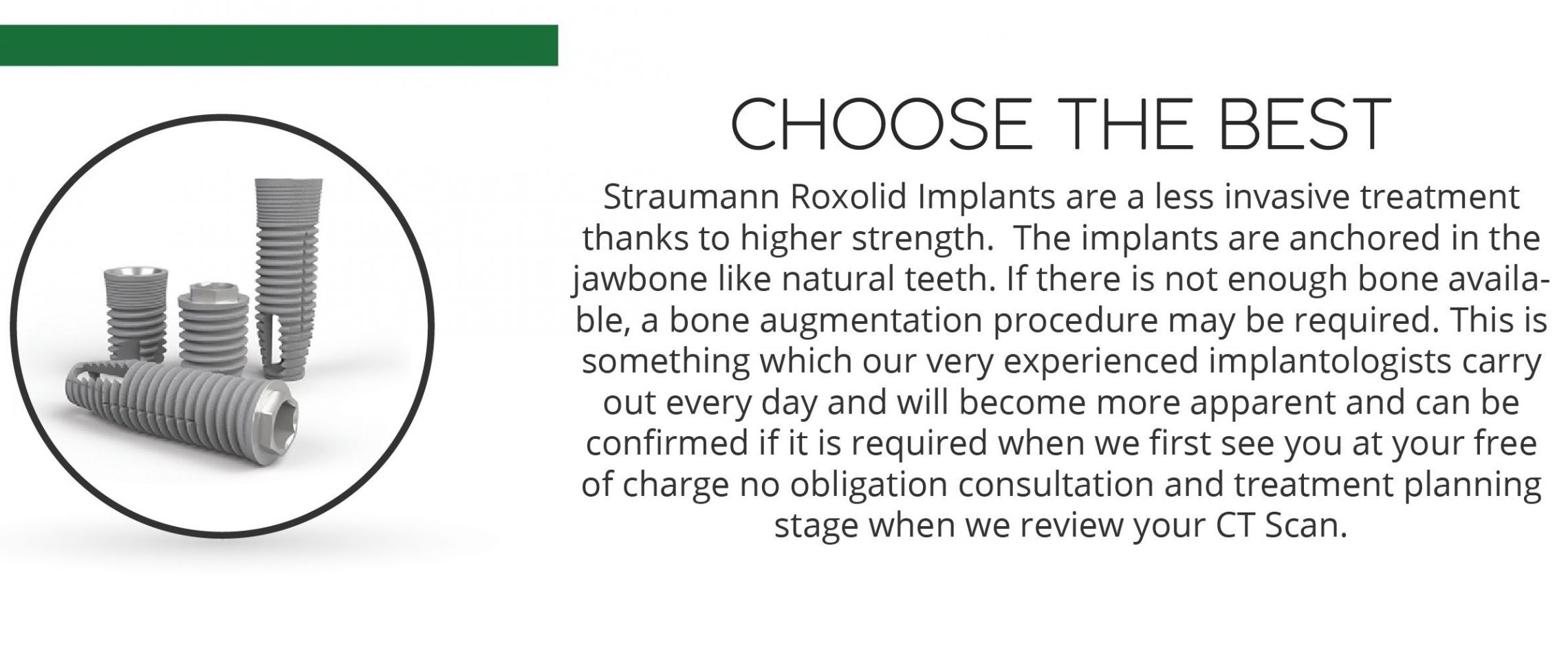 WHAT ARE IMPLANTS

Dental ImplantsDental Implants are a very stable and successful way of replacing missing teeth. They allow for a gap to be filled with a realistic looking ceramic tooth or teeth.
They are comprised of 3 parts:
A Titanium Post- This is inserted into the jawbone (the Implant itself, which acts like the root of a natural tooth).
Abutment- This provides structure for the restoration
Restoration- this can be a Crown, Bridge or Denture, which fits onto the abutment(s) and provides the visible part of the implant in your mouth.
Implant treatment normally has two stages.
First, the Titanium Implant is placed during a minor surgical procedure. This is done under Local Anaesthetic, the same as you would have for a filling for example. You can opt to have Sedation for this stage if you prefer as we have our own in-house Sedationist.
Approximately 8 weeks later, when the implant has healed into your jaw, the abutment and replacement teeth are attached to it.
In some situations it is possible for temporary teeth to be attached to an implant at the time of fitting.
WHAT ARE THE COSTS INVOLVED ?
As we know, prices widely vary from clinic to clinic. The quality and appearance of the treatment performed does too.
As an award-winning clinic our fees reflect our experience, dedication, exceptional standards of the work we provide and only the very best materials that we use. Nothing less will do.
We fully appreciate cost plays a big part when seeking treatment but it is also equally important to ensure you are receiving exceptional quality that not only looks good but lasts !
Here at TwentyOneDental you will receive just that. Exceptional quality with long-lasting results.
Wherever you may decide to be treated, NEVER compromise on cost. The cheapest option is not always the best option.
Only you can decide whether the costs involved to achieve the smile you have ALWAYS wanted is worth it. Think about it. If you are reading this then you have already thought about making the first step about something that will change your life for the better!
Sometimes the cost of such treatment may not be affordable for everyone straight away. We listen to our patients and to ensure they can achieve the smile they have always wanted, we offer several finance options including 0%.
HOW DO I FIND OUT MORE INFORMATION ?

Call now to arrange your FREE no obligation consultation and when one of our experienced friendly dentists will talk you through the process in more depth, answer any questions you may have about the treatment and to discuss our finance options available to you.
At your FREE consultation we will also be able to show you examples of our work that we have undertaken and explain in detail why we will only use the very best quality of implants by STRAUMANN #swissmade #qualitymaterial #rankedastheverybest

Related Treatments
Similar Articles