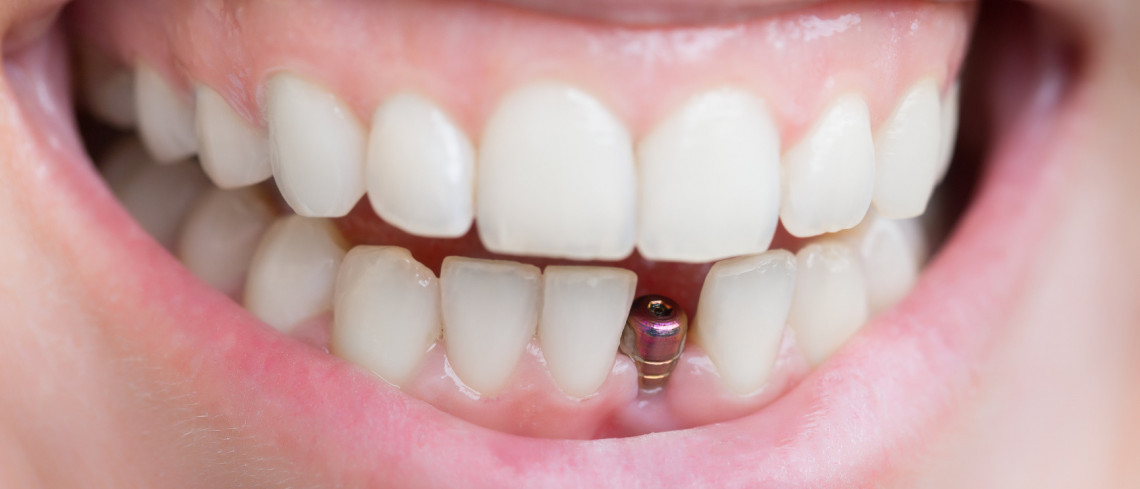 Cosmetic dental treatments can work wonders for those of us with less than perfect smiles – and, these days, the creative solutions of cutting edge 21st-century dentistry go way beyond a little teeth whitening and a polish.
Dentistry has come a long way from the silver fillings of yesteryear – and, as a consequence, the innovative aesthetic treatments now open to us are amazingly effective.
According to statistics from the Oral Health Foundation, nearly half of us are unhappy with our teeth (48%), with discoloured teeth (64%) the main reason disliking our smile.
But for those of us who have lost teeth for one reason or another, dental technology means we no longer have to settle for a set of dentures or a bridge.
We lose teeth for many reasons – serious gum disease, illness, teeth clenching due to stress, or trauma, such as a sports accident or using our teeth to open a bottle top (yes, really!) are all guilty – but there is no reason to leave the gap as it is.
In fact, it's important that you do fix that smile – from a functional point of view as well as to improve your overall appearance.
Historically, dentures are renowned for bridging any gaps in our smile line, but they are notorious for causing discomfort and can rub and irritate because they rely on the gums for support.
They can also make it difficult to eat and can slip, causing embarrassment to the wearer. Over time, gums and bones change the shape of our mouth and this means the denture will no longer fit so well.
The other options are crowns that can only be placed over existing healthy tooth structure, which means they are limited in what they can remedy – and can also very often have a negative impact on the teeth either side.
Dental bridges can fill the gap where teeth are missing. A bridge is made up of two or more crowns for the teeth on either side of the gap. The anchoring teeth either side are called abutment teeth and a false tooth/teeth is held in between.
However, these too come with their own set of problems; they are tricky to clean and limit the wearer to certain foods – so, don't even think about going near toffee!
Which leaves us with dental implants. These can be a life-changing miracle cure for those of us who have been suffering unsightly gaps where teeth should be or have settled for the other treatments but now wish to change up.
Dental implants are, quite simply, the most aesthetically pleasing replacement for natural teeth. They act as an artificial replacement for a tooth root, are usually made from biocompatible titanium, enabling bone to eventually grow onto the surface, making it more stable.
So what are your options when it comes to choosing the system? Dentists are very often loyal to a particular manufacturer and will fit what they systems they have trained in. But, whatever dental implant you have placed, they all work on a similar principle – and have an internal screw thread or post space that allows a variety of components to be fitted. Once fitted, they provide an excellent foundation for any replacement for teeth.
You need to understand that the placing of dental implants require you to be a patient patient! You will need to wait for a period of time from when the implants are placed until the final replacement teeth are placed. This could mean wearing a temporary denture for a while.
Of course, it's also important to realise that not all solutions suit every patient.
Also, be aware that good oral hygiene is essential post treatment. You've invested much time and money into this high-end complex dental treatment and you don't want the results ruined thanks to your failure to maintain a clean, healthy mouth.
It might be a good idea to speak to your dental hygienist about the best cleaning tools to use with your dental implants and make sure you keep up those regular routine hygiene appointments to ensure they last for many years.
Different systems
Bicon dental implants are suitable for patients with one or more teeth missing and do not require the surgeon or dentist to perform any additional grafting procedures. They are compatible with temporary prosthetic teeth and one can usually be fixed when the dental implant is placed in the mouth.
Biohorizons are finished with Laser-Lok technology – this involves a laser that creates grooves or channels on the implant that help to create stronger connective tissue links so lengthening their life.
Biomet Zimmer manufacturers the Eztetic implant range, which is proven to be around 43% stronger than other similar conical implants and is suitable for use with a range of bone types.
Megagen offers a range of specialist implant solutions for full and partial mouth restoration, internal and external sinus lifting and removable over dentures.
Nobel Biocare makes a number of dental implants; its flagship, the NobelActive implant system, can be used in cases where the bone the implants attach to is soft or weak. It also has an All-on-4 system, which means the implants and replacement teeth are placed at the same time and using four implants to support the arch.
Southern implants are made from grade 4 titanium and are designed to provide durability and strength. They offer five types of connections to help with specific requirements such as very short implants and complex angles. Its External Hex Series implant offers treatment options for patients with bone loss.
Straumann is a Swiss dental implants brand, with a reputation for producing a range of dental implants and associated tools and products with signature Swiss precision and accuracy. Created from extensive scientific research and development, Straumann implants have both surgical and prosthetic parts for both tooth replacement and oral tissue regeneration. The Straumann dental implant creation process includes state-of-the-art computer imaging and design, for superior quality solutions used by dentists around the world.
Ask an Expert
Find a dental practitioner