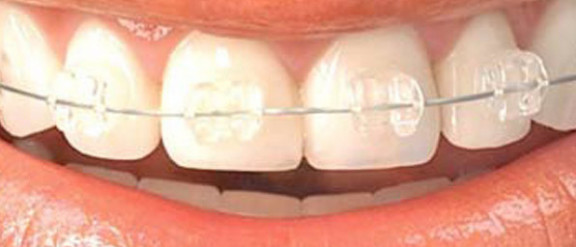 What are ceramic braces?
Ceramic braces are tooth-coloured brackets that are more subtle than metal, whilst providing the same orthodontic performance. Using a colour matching technology, ceramic braces are able to blend in with your own teeth colouring, resulting in virtually invisible braces. These do not stain and there are no additional metal parts on show.
How do ceramic braces work?
By using low profile brackets and innovative injection-moulding technology, ceramic braces aim to create the greatest amount of comfort. Ceramic braces provide a smooth surface to ensure your mouth slides over each bracket and doesn't get caught on anything. They give the strength of metal brackets with additional comfort and desired results.
What are the benefits of ceramic braces?
The brackets used for ceramic braces are made from a translucent material that blends in with your natural tooth colour. With this, you are able to carry on your day to day life without many people noticing you're wearing a brace. Ceramic brackets have the lowest profile on the market which means they are the most comfortable, safe and aesthetically pleasing.
How long does treatment take?
Even though this depends on the individual, the normal period for this treatment is anything from 18 months to three years. You will need to go for orthodontic check ups every 4-8 weeks to ensure that everything is going well and your treatment finishes on time.
How will ceramic braces change my daily life?
Speech: Usually speech is not effected at all by fixed ceramic braces. However if your condition requires an expander appliance to be fitted in the roof of your mouth then this may interfere. It may take some time to adjust to braces so speaking lessons can be provided by your orthodontist.

Playing musical instruments: After starting ceramic brace treatment, it is advised that it may take one or two weeks before you regain full ability.
Brushing your teeth: With braces, you may find that your teeth are more difficult to clean. It is advised that brushing your teeth after every snack and meal will reduce the risk of decay and gum disease. Five minutes brushing is required twice a day.
Eating and drinking limitations: Hard food and biting on large pieces can dislodge brackets or bands and damage wires. Avoiding nuts, biting on nails and pencils, drinks with high sugar content and cutting hard fruit into small chunks is advised.
Related Treatments
Similar Articles