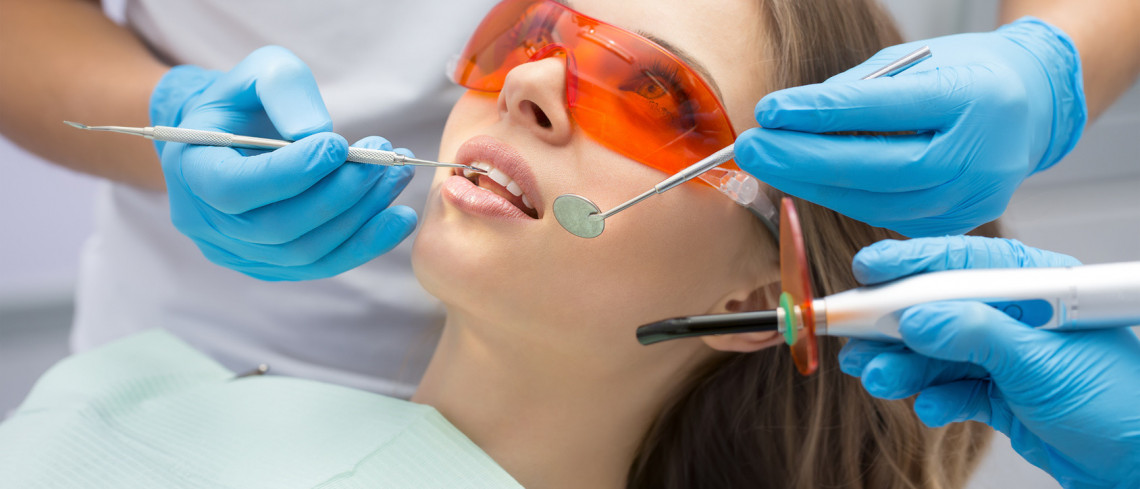 Here at Aesthetic Dental Studio we are all very passionate about what we do. We believe the dentist shouldn't be a daunting experience as it may have been persevered in past years. We believe the patient journey from start to finish should be an enjoyable one, one which is individual for a patient and helps a patient to become orally fit and have the smile they have always wanted.. It is important to us to build a patients confidence, make the experience a pleasant one and see a great end result. By doing this and seeing the difference we have made we get a real sense of achievement and this in turn makes us love what we do. We see how dental problems can affect peoples lives whether it be self confidence issues or more physical ones with eating or speech and it is important to us to show people there are solutions and by using preventive dentistry we can help prevent the need for future dental treatments .
What is your clinic's USP?
Our unique selling points are;
Our building itself is modern, inviting, the latest equipment and materials used. We have digital x-rays and Cone Beam Computerised Tomography, we have a microscope for endodontics, we are best practice in our decontamination facilities and have an open window for patients to see our nurses performing sterilisation procedures.The practice is located in a beautiful location.
We are paperless with a dental system (Software of Excellence, Exact) which automatically sends reminders for appointments and makes communication with our patients easy and trouble free.
Our team includes dentists, hygienist, nurses. treatment coordinators who all play a part in the patients journey to make sure our patients get the time and care they need from each team. We offer free consultations with our treatment coordinators and free oral health checks with our oral health educator.
Our practice prices are very competitive
We can offer a range of services under the same roof. Hygiene, implants, Endodontics, Invisalign, Pain Management, Orofacial Pain, Facial Aesthetics (botox and fillers)
We have different finance options such as 0% interest free credit, Denplan care and Denplan essentials as well as Denplan hygiene plans.
Who is in your practice team?
Dr Dimitrios Iliadis, DDS, MClinDent in Prosthodontics (Dentist owner/principal, DWSI in endodontics, aesthetic dentistry and Invisalign)
Dr Anika Chatziioannidou, DEAA, Msc (Pain), DO, DM-SMed (Medical Doctor owner/Principal, Consultant in Pain management)
Dr Miguel Farran, LMD ISCS, Pg Dipl in Aesthetics Implantology (associate dentist DWSI in implantology)
Mrs Vicki Earnden, EDT, EDH (Hygienist/Therapist)
Miss Anne Marie Saxton, (Practice manager, treatment coordinator, Oral Health Educator)
Miss Kerry Gregory (Nurse, receptionist)
Miss Jade Cross (Nurse, receptionist)
Miss Charlotte Wheeldon, (trainee nurse)
What is your practice ethos?
Patients needs and expectations are at the centre of our services
What are your three most popular treatments?
Whitening, Invisalign, Implants
As a nervous patient, what can you do to make my dental visit a pleasant one?
We can start by inviting you to see our treatment coordinator whom will show you our practice before visiting the dentist. This way your first appointment you will be familiar with the surroundings and have already meet some of our team. The treatment coordinator can explain exactly what will happen on your first visit and show you any instruments which may be used. We can find out at this visit what it is exactly you are nervous about and see if we can do anything to help. This may be you don't like the noise we could therefore invite you to listen to music during a procedure.
Do you have any on-going offers on any particular treatments?
We have various offers throughout the year, Current offers include Valentines promotions on dental whitening and the airflow stain removal system with our dental hygienist. Our offers tend to be seasonal.
What do you recommend to sustain treatment – oral hygiene/diet etc?
OH, regular visits to the dentist
From a patient point of view they can:
Brush teeth twice daily with a fluoride tooth paste, clean in between teeth
Cut down on sugary snacks, use a straw for fizzy or acidic drinks
Attend the dentist regular.
At the Aesthetic Dental Studio we offer free oral health checks for our patients so they can have a plan tailored to them individually to help sustain treatment. As well as general advice listed above it will also include any specific post treatment instructions. For example how to care for your implant, fillings etc
book a consultation with Aesthetic Dental Studio
Related Treatments
Similar Articles