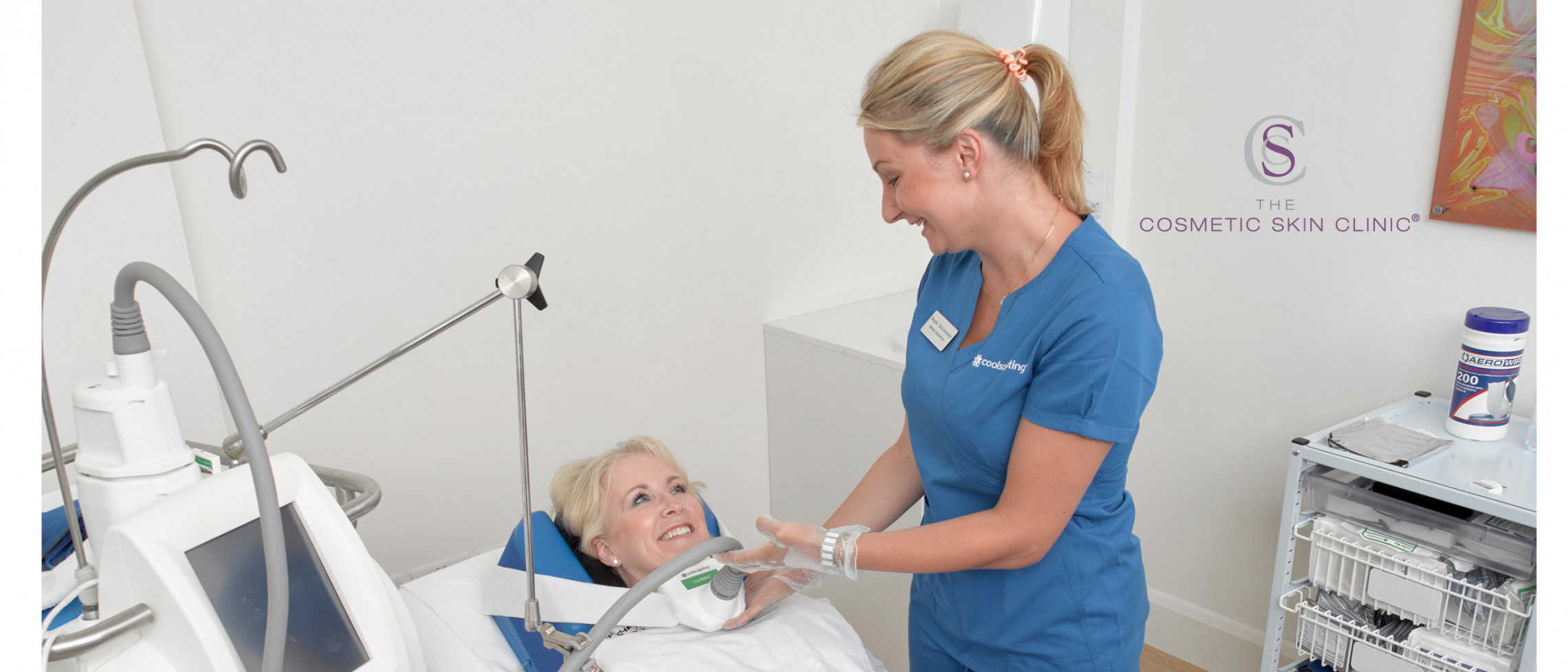 Stubborn love handles that destroy our confidence – despite many reps in the gym – can often upset even the most dedicated gym bunny.
But the good news is that there is a solution – CoolSculpting.
Loved by celebs, this treatment uses controlled cooling to freeze off stubborn fat cells most commonly found in the lower belly, arms, the dreaded love handles, as well as the inner and outer thighs.
So, we got some insider knowledge from the experts. Dr Tracy Mountford is founder and medical director of The Cosmetic Skin Clinic and is a great advocate of the treatment. In fact, The Cosmetic Skin Clinic is the highest user of the CoolSculpting procedure in Europe.

The clinic has two CoolSculpting centres – one in Buckinghamshire and the other in Upper Wimpole Street in London – they even have the first trained CoolSculpting practitioner in the UK; medical aesthetician Magda Szczukiewicz, who works out of their London clinic.

Ria Murch is the clinic's CoolSculpting expert in Buckinghamshire who has an unrivalled attention to detail and artistic flair. The clinic's Coolsculpting team has performed more than 8,000 CoolSculpting procedures to date, making them the most experienced practitioners in Western Europe.
So, If you've ever wondered about fat freezing but were too nervous to ask, then you've come to the right place. Here we get the skinny on fat freezing from the team.
Can it get rid of all fat pockets?
CoolSculpting is effective on targeted areas of fat. You may need a number of treatments on particular areas depending upon how much fat is present. Your CoolSculpting practitioner will conduct a thorough consultation pre-treatment and will be able to advise accordingly.
What areas of the body does it address?
CoolSculpting can be used to treat the following areas of the body:
Submentum (double chin)
Axillary puff (armpit)
Bingo wings
Bra fat
Back fat
Underbust fat
Abdomen
Flanks
Suprapubic 'pouch'
Fat under buttocks
Inner thighs
Outer thighs
Knee fat pad
Ankles (sometimes referred to as 'cankles')
Does it leave scarring?
CoolSculpting side effects are very rare and minor. It does not run any risk of scarring.
What are the risks?
CoolSculpting is the only FDA-cleared cryolipolysis fat reduction treatment. It safely delivers controlled cooling to gently and effectively target and eliminate unwanted fat cells beneath the skin's surface. With over four million CoolSculpting procedures worldwide, the treatment is proven to be safe and effective for non-surgical fat reduction. You may experience some temporary side-effects (see below) following treatment, which will be explained to you by the CoolSculpting practitioner.
Are there any side effects?
During the procedure, you may experience sensations of pulling, tugging, mild pinching, tingling and stinging, at the treatment site. These sensations subside within a few minutes as the area becomes numb. Following the procedure, typical side effects include temporary redness, swelling, possible bruising, firmness, tenderness or itching. These effects are temporary and generally resolve within a week or so.
Do we need to lose weight before treatment?
CoolSculpting is not meant as a weight loss treatment. Whilst fat is reduced, you may not lose weight following the procedure, but you will lose inches. Even though a patient has a healthy diet and lifestyle, it is sometimes hard to shift specific areas of fat. CoolSculpting can target those stubborn areas of fat.
Please talk me through the process

During your consultation, your CoolSculpting practitioner will discuss your concerns in detail, looking at your whole body and at your specific areas of concern. We will detail how to reshape your body with a bespoke treatment plan for the results you want to achieve. This may mean the need for more than one CoolSculpting body sculpting treatment, such as to eliminate fat bulges from your thighs as well as love handles or tummy fat.
During the CoolSculpting procedure, controlled cooling is applied to targeted fat bulges without the need for surgery, needles or downtime. We will apply a gel pad and applicator to the area or areas identified. The cooling process should numb the area after a few minutes and you will experience a firm pulling sensation on the specific fat being treated, but it is otherwise comfortable.
How many treatments will it take?
The number of treatments depends on the amount of fat in the area(s) to be treated and the patient's goals. Often only one treatment in a specific area is necessary.
Is there a limit to the amount of treatment we can have?
As long as there is residual fat, repeat treatments can be performed. However, your CoolSculpting practitioner will be able to advise on further treatments if required.
Can CoolSculpting address the lumps and bumps that sometimes occur with liposuction?
CoolSculpting is a proven procedure for reducing fat in target areas. However, it cannot correct hollows left by liposuction where too much fat has been remove. For excess fat, as long as you can 'pinch' an area that can be drawn up into the applicator, it can improve things.
When will I see results?
It takes a little while for full results to show as the fat cells need time to be naturally processed from your body. Most patients should start noticing a difference after just three weeks, with the most dramatic results after two months. This is because the body continues to flush out the fat cells for up to three to six months after being treated.
Do I need to keep off fat?
Many people, after seeing the results from their CoolSculpting procedure, feel even more motivated to stay close to their ideal weight. However, if you do gain weight, you may gain it evenly all over your body as usual.
Can it address cellulite, too?
There is no definitive procedure available to permanently treat cellulite. CoolSculpting treats fat bulges on various areas of the body and when fat is removed, the appearance of cellulite may be improved. It is worth noting that even very slim people with very little body fat can also suffer with cellulite.
Related Treatment
Similar Articles