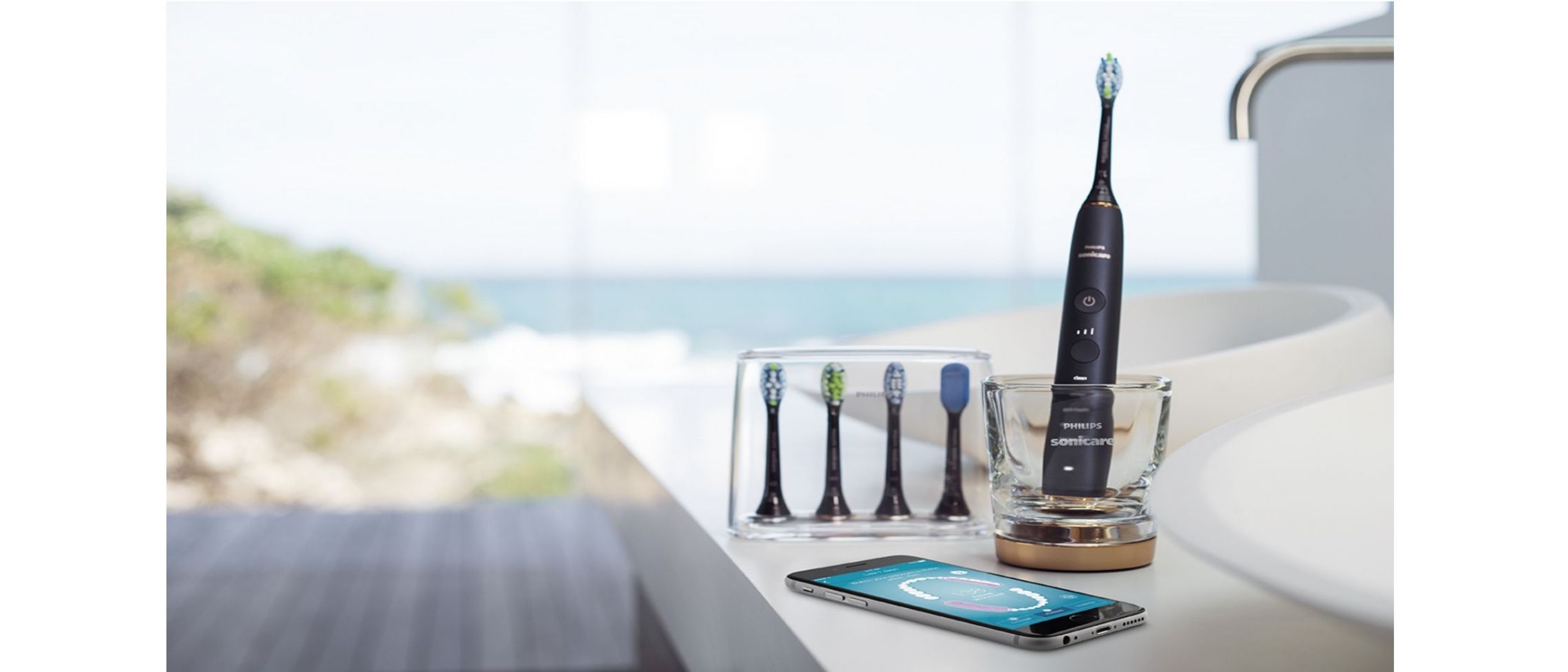 On 12th May 2017 at the Dentistry Show 2017 Philips announced the UK launch of its latest digital innovation, an AirFloss refresh and some compelling comparative clinical research findings.
The most intelligent toothbrush – which looks as smart as it performs.
Philips Sonicare revealed a new flagship innovation – the DiamondClean Smart – dubbed the world's most intelligent toothbrush. The new brush uses unique connected technology to inspire and motivate patients to take better care of their oral health. It delivers exceptional oral care results by harnessing built-in smart sensor technology in both the toothbrush and brush heads and personalised coaching within the platform to help improve patient's brushing technique and ultimately achieve a healthier mouth. The new brush seamlessly syncs with the Philips Sonicare app, giving users real time data, feedback and guidance to empower them to proactively manage and improve their oral health.
DiamondClean Smart is smart in more ways than one – it also has dramatic bathroom appeal with its matt black handle, black brush head and charge-in-a-glass technology. The brush can also be charged using a computer USB to top up whilst travelling.
"At Philips our mission is to improve people's lives, as a true healthcare partner and leader in digital innovation. With over a century of healthcare expertise and twenty five years in oral health care we are committed to delivering complete and cutting-edge oral care solutions. With the Philips Sonicare new DiamondClean Smart and the complete oral care platform, we are empowering dental professionals and patients to make positive and transformative changes to their oral health," said Hetty Couzens, Philips Oral Healthcare Professional Marketing Manager .
No in-between measures
Philips interproximal cleaning device, the AirFloss, has been upgraded with a new Charge and Fill docking station. The new add-on allows users to automatically refill their AirFloss with water or mouthwash in less than ten seconds without worrying about juggling bottles or spills. It is 25% smaller than Waterpik*, yet the compact docking station filler holds enough liquid for two weeks' worth of cleaning, without the faff. At the end of the one minute, full mouth clean the AirFloss can then re-dock to keep the device charged and ready to use (although it holds two weeks charge for people on the go).
Special issue of The Journal of Clinical Dentistry® to supports Philips' portfolio
Unveiled today in the UK is a Special Issue of The Journal of Clinical Dentistry® (Vol XXVIII, No.1, Spec Iss A), titled Philips Sonicare: An Evidence-based Approach to Daily Plaque Control and Gingival Health. In five full manuscripts, Philips provides insights into the efficacy of the Philips Sonicare AirFloss Ultra interdental cleaning device compared with string floss; comparisons of the performance of Philips Sonicare power toothbrushing versus manual toothbrushing; and a head-to-head study comparing the effect of Philips Sonicare's high-frequency, high-amplitude mechanism of action DiamondClean product to the oscillating-rotating action of Oral-B 7000.
As Hetty Couzens added "Our new clinical research results demonstrates our commitment to dental professionals and supports the benefits and results our new connected devices can bring; ultimately to achieve better longer-term care for patients, leading to a healthier life."