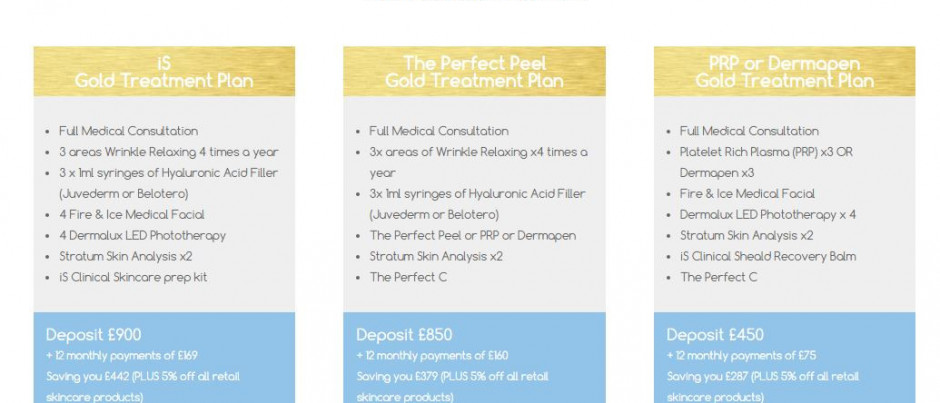 We have recently put together a range of new 'treatment plans' for our Appearance Based Medicine customers – you may have already seen them on our website (https://www.ab-med.co.uk/treatments/treatment-plans/), but if you haven't, it's well worth taking a few minutes to have a look at them!
Although we have devised these packages in time for Christmas (meaning that our patients can invest in them as the perfect present – whether for them or a loved one!), the real reason that we have developed these unique packages it to help our patients see enhanced results than they may if they had chosen to undergo a single variety of Aesthetic Treatment. This is due to the fact that, just like 'Gin and Tonic', 'Bangers and Mash' and 'Cheese and Wine', various aesthetic procedures actually complement one another, helping to increase the effectiveness of an individual procedure or speed up recovery time.
See the image for more details about our Gold Treatment Plan (PRP or Dermapen). In this Plan, Clare McLoughlin RGN INP has made sure to include 4 x Dermalux LED Phototherapy Treatments, as well as 'iS Clinical Sheald Recovery Balm' within the package price, as from experience she has found that the natural healing process of a patient's body can be accelerated with the help of Dermalux LED Phototherapy – something particularly important after a PRP or Dermapen session where the skin has been 'damaged', in a controlled and precise way, to encourage the production of new collagen and elastin in the treatment area.
Of course, as with any non-surgical aesthetic treatment, Clare McLoughlin RGN INP insists on a compulsory consultation with a patient prior to carrying out any aesthetic treatment. Therefore, if you purchase one of our Skincare Plans, Clare will carry out a detailed assessment of your physical and skin health in order to ensure that the treatment proposed will be safe and effective for you. If given her extensive knowledge and experience, she determines that another treatment may be more effective, Clare will suggest this and help you devise a more appropriate treatment plan.
If you are interested in purchasing one of our brand new 'Treatment Plans', please don't hesitate to get in touch. Phone us today on 01628 303020, or email: info@ab-med.co.uk.
We look forward to hearing from you!