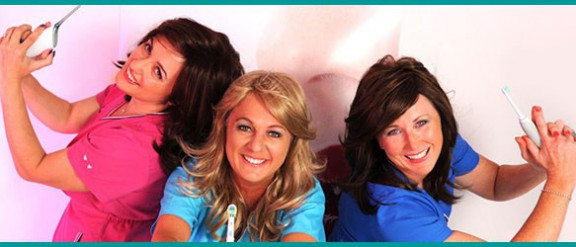 'As someone who hates the idea of going to the dentist, Christine, Annie and the gang at Dental Health Spa have single-handedly been responsible for overhauling my dental health, sorting out all my dental worries and giving me confidence in my teeth.'
'I've been going for about six years now and always leave feeling good, even euphoric at points. For something that concerned me so much, I now feel that their help has taken away the fear, reluctance and discomfort that used to prevent me from getting dental help for so many years. Highly recommended!'
This patient testimonial is the latest in a long line of fantastic feedback online that Brighton's Dental Health Spa has received since it opened.
Situated in the trendy coastal town in the busy Queen's Road, its owner, Christina Chatfield, is a dental hygienist whose number one desire is to change the way we look at our mouths.
As she explains: 'I had a vision to open a new hygiene-led oral health care clinic on the high street, where oral health care could become both accessible and demystified. That vision is Dental Health Spa.'
So passionate is she about her role to look after the health of our teeth that she walked 500 miles from her hometown in Scotland to Brighton to raise awareness of mouth cancer.
So, why is dental care so important to Christina and the team?
She says: 'We are all passionate about what we do, delivery of care and oral health. Regardless of our patients' current or previous dental history, it is paramount.
'To be able to help and encourage someone back into dental care, and take the first step on their journey is so empowering. I used to hear all the time: "I have not been to the dentist for years. I do not have a problem with my teeth."
'But, our mouth is so much more than teeth; it is the gateway to our body. Knowledge and information are so important in engaging, even before a person has walked through our door. Dental care is not about drilling and filling; it's about prevention, education and treatment in all areas – decay, gum disease, systemic disease and mouth cancer. We enjoy working with the patient to help make that journey achievable and manageable at their pace, taking into account what they want and what they need.'
Direct access opened up a new route to oral health care and it means we can see a dental hygienist without having to be referred by our dentist. Christina believes this has improved access to dental care to those who are nervous of the dentist or feel that finance is an issue.
She says: 'It will also give patients the freedom to book dental hygiene treatment when desired as well as when advised. In Sussex, more than 85,000 do not go to the dentist because of anxiety and fear – people are more frightened of the dentist than they are of snakes or spiders!
'We also use dental therapists who treat the hygiene side of treatment but also see children and adults for dental treatment. Dental disease is preventable and a therapist's area of expertise is with children. Catch them young and we can help create a generation of healthy mouths who are not afraid to come in.'
Helen is Dental Health Spa's practice manager and front of house – Christina says: 'We worked together in Scotland 27 years ago, She came down for a sabbatical 2 years ago and stayed!'
Annie and Peter are the dentists, Yogi is a periodontist and implantologist, Jade and Emma are hygienists, and Maddie and Tania are hygiene/therapists.
Mike and Cindy are the clinic's qualified nurses and Kitty and Hannah are its trainees – 'we have trained all our nurses. I myself started on the YTS apprenticeship in Scotland in the 1980s', says Christina.
'Carol is my business partner, commercial director and lawyer. We have Dave, our seditionist, and last but not least, Liz who works our accounts and has know me since the age of nine.'
Because of its unique set up, the Dental Health Spa prides itself on welcoming nervous patients.
Christina says: 'I believe from our location – five minutes walk from the sea – we have a very open and inviting space when you walk in, with a friendly empathetic team.
'Our open-plan design means all clinics are situated off from the waiting room so it is easy to have chat with people while they are waiting and help put them at ease, so that they feel inclusive and welcomed.
'It can take years for someone to have the courage to walk through the door, that courage can be destroyed in a moment, and we are determined for that not to happen.
'When we think about why people are nervous, it's a past experience – a fear of pain or a fear of being told off or even a fear of cost, which is why our website is an extension of this approach to care and is very informative and open, with prices fully displayed. We can spend time just talking with patients over a tea or coffee, out of the treatment rooms. We can work with them and hep then take control and move forward.'
Christina adds: 'We offer sedation but we can also acclimatise patients with their hygiene appointments even if it's with Airflow to gently remove stain to begin with. We offer needle free aesthetic for hygiene appointments of wanted. They can have headphones for music/talking books, stress balls and so on – whatever it takes we will try to give them. There are so many things we can do but, ultimately, we want to build trust, and allow their confidence to eventually take over. We introduce very nervous patients to the dentists in their hygiene appointments and will dual book an appointment when they are ready, so they do not go to the appointment alone. After 10 years, with a high proportion of nervous patients coming on recommendation from existing clients, I hope and believe we are delivering that.'
At Dental Health Spa, this close-knit, hugely experienced and friendly team strive to offer you the very best in contemporary dental care. As Christina promises: 'We pride ourselves in making your experience at Dental Health Spa as relaxing as possible.'
Top 3 most popular treatments

Maintenance therapy with Airflow
Teeth Whitening
Bonding


book a consultation with Brighton's Dental Health Spa
Related Treatments
Similar Articles