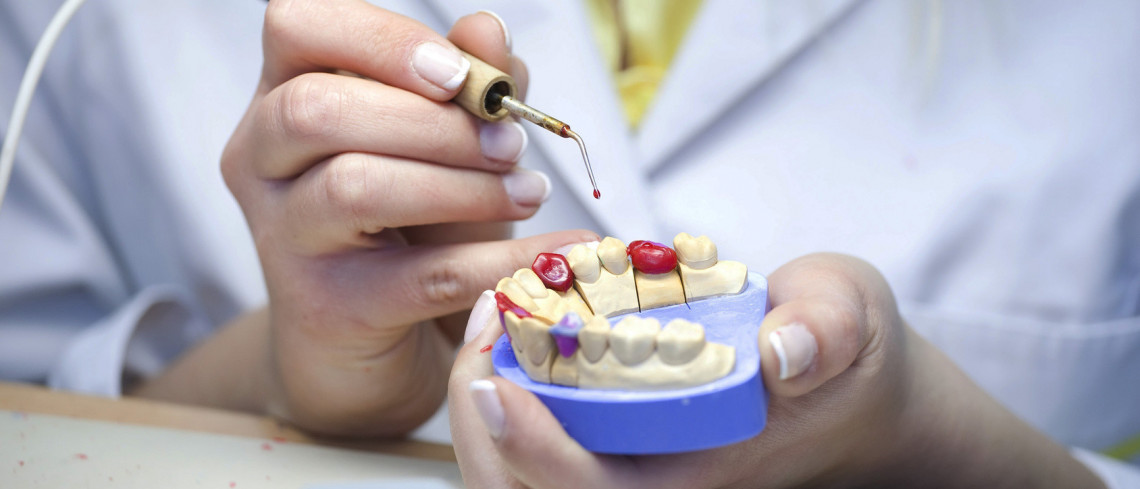 The secret to a confident smile often lies in the aesthetics of our teeth and gums – straight, clean teeth without unsightly gaps or cracks and pinkish gums not only make for a better-looking smile, it also means our mouth is healthy.

But what if we have a niggling missing tooth or one that's cracked, if it's hidden at the back of the mouth – does it really matter what it looks liked?
Attractive and natural-looking teeth help us to feel good about ourselves. So if we have a missing tooth, should we opt for implants rather than a bridge?
We may have lost a tooth thanks to an injury, playing sport and even through illness. But, whatever the cause, missing teeth can impact negatively on our quality of life – socially as well as in our high and wellbeing.
With the gap filled, we can eat what we want, smile and laugh without embarrassment and speak without hiding our mouth.
Luckily, cosmetic dentistry offers numerous solutions to suit all pockets and problems.
Bridges are replacement teeth that are individually designed to match your natural teeth in look and feel. These are placed on natural teeth and anchored by the teeth either side of the gap.
Dental implants are artificial roots firmly anchored into the jawbone onto which dental crowns are place. Crowns may also be placed on top of natural teeth.
Joe Bhat is a specialist oral surgeon and prosthodontist at Moor Park Dental Centre.
He explains: 'Implants have shown to have one of the highest success rates in all of fixed reconstructions for missing teeth. One of the major advantages of providing dental implants is that there is no need for unnecessary tooth destruction of the adjacent teeth to provide bridgework.
'Once any tooth preparation is undertaken, it is causing a permanent and irreversible destruction of the tooth which has long-term implications. A significant number of these teeth tend to become non-vital and require root canal treatment at a later date. This reduces the long-term success of bridgework and the replacement tends to involve utilising more teeth for the construction of a longer-span bridge.
'Construction of such fixed bridgework can also lead to difficulty in cleaning as it will be no longer possible to pass dental floss between the teeth, making cleaning more challenging. Patients who have bridgework also require specific brushing techniques. This is taught to them by the dental team and involves specific use of interproximal brushing aids and regular checks to make sure that the surrounding gums around the bridgework remains healthy.
'Patients do have the choice of a Maryland bridge, which does not involve removing precious tooth structure for the construction of the bridge. However, this tends to be more successful for the anterior (front) teeth and has very limited success for the posterior (back) teeth.'
Dental implants, on the other hand, produce a near like-for-like replacement for a missing tooth. A dental implant is placed carefully within a jawbone in exactly the same position as the previous root of the tooth that is missing and, after a period of three months, the implant can be successfully restored with a fully functioning and aesthetically pleasing crown.
As it is a stand-alone structure, it is relatively easy to clean and maintain and, most importantly, there is no damage to the adjacent teeth.
Dr Bhat says: 'A dentist is fully qualified to provide you with the best advice for any type of dental reconstruction. The most non-invasive dental treatment currently available in the dental market is the use of a removable partial denture.
'Understandably, a number of patients are reluctant to wear a removable prosthesis. Therefore, patients tend to opt for a fixed reconstruction and, in such cases, wherever possible dental implants have certainly become the first choice replacement option.
'Sometimes, dentist will seek the help of a registered specialist for the implant reconstruction. Although, more and more dentists are placing and restoring straightforward dental implants within their own practice.'
Dr Bhat stresses, however, that it is important we are given all the options and the cost implications prior to the onset of any treatment – 'so that patients have a clear understanding of what they are taking on,' he adds.
Cost
Cost of dental implants varies depending on three main factors:
Treatment undertaken by a registered specialist tends to be in (but not always) more expensive than general dental practitioners who undertake the same treatment
The cost of dental implant itself varies depending upon the manufacturer.
Where the final crown is manufactured. UK-based dental laboratories are more expensive than dental laboratory work that is outsourced. In my opinion, the quality of the dental laboratory can only be guaranteed when it is undertaken in a UK-based laboratory.
Cost comparisons
When comparing cost of dental implants to bridgework, we are not necessarily comparing like-for-like.
Although construction of the bridgework and a dental implant both involves replacement of the missing tooth, the comfort and chewing ability associated with the dental implant, ease of cleaning and long-term consequences of destruction of healthy tooth structure makes implants one of the most cost-effective dental treatment currently available in the dental market.
Dr Bhat explains: 'As with all dental treatment, longevity depends entirely on how well it is undertaken and how well it is maintained. There is a lot of clinical evidence to show that a well-constructed dental implant replacement of the missing tooth will far outlive a well-made, fixed bridgework.
'Therefore, the net cost of providing a dental implant is surprisingly lower than a fixed bridgework in the long run. Historically, dental implants had little research behind them. However, in the past 25 years, there has been considerable amount of scientific literature, which shows the great success that implants have achieved over any other conventional dentistry.
'Failure of a dental implant invariably results due to poor surgical technique or improper brushing technique after the treatment has been completed. There is significant amount of clinical evidence to show that continued heavy smoking also contributes to the early implant failure just as smoking would contribute to periodontal disease around natural teeth.'
Aesthetics
Dental implants achieve better aesthetics as it gives the clinical picture of a tooth emerging from within the gum. This appearance is not possible with any bridgework, no matter how well it is made.
Hygiene
Dental implants are certainly easy to clean compared to complex bridgework and it is far less destructive on the adjacent healthy teeth.
However, dental implants do require specific cleaning, which the clinician should be able to discuss with you and educate you in the specific brushing technique. Poor maintenance in the long run will lead to failure – whether it is a dental implant or bridgework.
In this day and age, the placement of dental implants is considered routine dental treatment. Therefore, regular dental check-ups on a six monthly basis would be considered mandatory for any comprehensive dental management, such as dental implants. Along with visits to the dentist, it is very important that patients undertake regular visits to the dental hygienist.
Hygienist are specifically trained in not only cleaning teeth, but also in educating patients in how best to maintain good oral health and maintain dental implants. Such an education is an on-going process and the techniques of brushing needs to be revised as and when the complexity of the mouth grows. Patients undergoing complex dental reconstructions are advised to see a hygienist on a two-monthly basis to begin with until their brushing techniques are refined and suitable for long-term maintenance.
Once this is achieved, patients can then go on three- or four-monthly visits to the dental hygienist.
This article was updated on 8th Feb 2021.
Related Treatments
Similar Articles