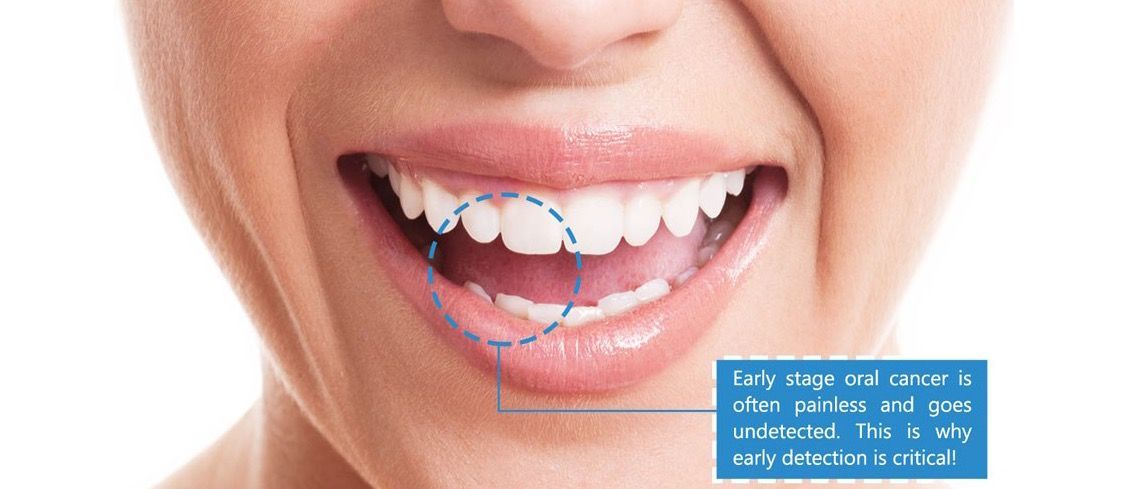 Mouth Cancer dramatically rises
Mouth Cancer is a type of cancer that is relatively unknown but with a dramatic rise in the numbers of people being diagnosed, more of us than ever before are having a very personal experience with mouth cancer. Latest figures reveal there are more than 7,500 new cases of mouth cancer in the United Kingdom a year. The number of diagnoses has increased by more than two-thirds (68%) in the last 20 years, with experts projecting a further rise of a third (33%) by 2035. It means a growing number of us may know somebody who has been given the news they have mouth cancer.
Devastating affect mouth cancer can have on a person's life
On Boxing day ten years ago, Tim Parson's wife Rachel was diagnosed with mouth cancer. Tim, a firefighter from Coventry recalls the day his wife gave him the life-changing news and the affect it had on the whole family. Tim says: "People say firefighters save lives and are brave but I didn't feel very brave when I got the phone call from my wife to tell me "I have mouth cancer"."I hadn't even heard of mouth cancer before. In those few seconds, our lives fell apart. All our plans for the future disappeared in an instant. "In the months following Rachel's operation, I held things together - looking after Rachel, our children, work, and normality itself. But we didn't talk about how we felt. We avoided our emotions for three months until our world began spinning out of control. Rachel thought I didn't care. "I practically had a breakdown at which point a doctor ordered time alone, just the two of us. We shared feelings. Our commitment to each other and our love was renewed. We began the process of rebuilding the life that had been shattered by cancer." Rachel beat mouth cancer and today the family is stronger than ever."Today, life is good - and tomorrow is another day," Tim adds. "We will forever live in the shadow of cancer; every pain, ulcer, or fatigue will bring worry and fear. But now, life is so much richer than before. Our love is deeper, we cherish time with family, and we seize each day given to us. "It's perceived that firefighters are all brave but I can honestly say it's those who survived mouth cancer, and bear their scars with courage and fortitude and dignity - they are the bravest of the brave.
"Father of one David Shakesby, from Loughborough, lost his fight with mouth cancer in February. David was diagnosed in 2015, weeks before his 40th birthday. His sister, Karen Chapple, speaks about the need for greater awareness of mouth cancer.Karen says: "We didn't know anything about mouth cancer before David was referred to the hospital by his dentist and that view was shared by nearly all of our family and friends."I will never forget the reaction of a stranger we met at Rushcliffe Country Park for a sponsored walk we all did to raise awareness of the disease. He said "where is it? I have never heard of that!". It really hit home that this is a disease which very little is known about."Cancer can occur anywhere, including the mouth. It's so important that more is known about mouth cancer and what we should all be looking for."The early warning signs of mouth cancer, include mouth ulcers which do not heal within three weeks, red or white patches in the mouth and any unusual lumps or bumps in the mouth, lips head and neck.If you notice any of the above symptoms, visit your dentist or doctor immediately.

Advice from Dr Asani
Dr Adyl Asani and his experienced team are seeing many more people who haven't been seen by a dentist for a long time are now registering and being seen to identify any early signs and symptoms. "Mouth cancer is on the increase and its effects can be devastating but with greater awareness we can beat the disease and live a good quality of life. Noticing unusual changes in the mouth and taking action on anything out of the ordinary is crucial. Do not leave any symptoms unchecked. Spotting mouth cancer early transforms the chances of beating the disease from 50% to 90%.
Smoking and drinking alcohol to excess remain the largest risk factors associated with mouth cancer, however, more cases are being attributed to the human papillomavirus (HPV), an infection caused by oral sex.
Mouth cancer kills thousands of people every year but if caught early survival rates can be as high as 90%.

At TwentyOneDental we carry out a mouth cancer check at every examination appointment.
Take a look at our very own mouth cancer video filmed at TwentyOneDental below.
Dr Adyl Asani is also known for his television appearances over the years, including the well known Sensodyne commercial