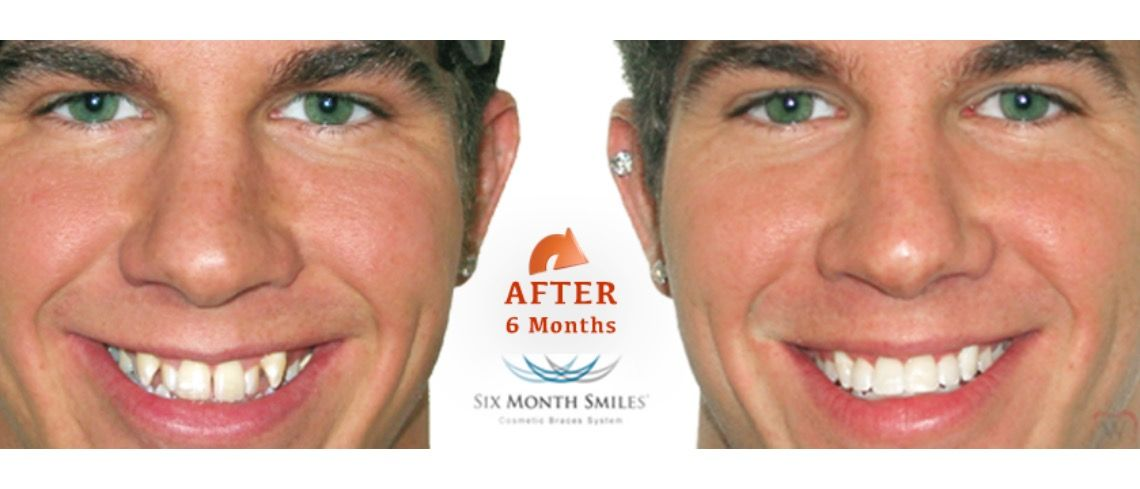 AS A MULTI AWARD WINNING DIGITAL DENTAL CLINIC, WE ARE PROUD PROVIDERS OF SIX MONTH SMILES

In view of recent advances in Orthodontic Dentistry, adults no longer have to feel embarrassed about wearing braces. Six Month Smiles is a great solution if you have crowded, uneven, crooked, or over lapping teeth. This cosmetic tooth straightening solution for adults borrows the best aspects of orthodontics to create a treatment which is fast and provides a reliable alternative to conventional braces.
Six Month Smiles can alleviate stigma often associated with traditional braces. Adults can enjoy wearing Lucid-Lok clear brackets and tooth coloured wires that are barely visible. These low impact wires also increase comfort, safety and hygiene.
As the name suggests, the average treatment time is six months only – this is a 75% reduction on traditional orthodontic treatment time. Still, Six Month Smiles is safe and not just a "quick fix" treatment. Patients can rest assured that Six Month Smiles is a modern twist on traditional orthodontics, using innovative techniques and modern materials. There are no more risks associated with this treatment than with traditional braces. Teeth are gently repositioned, and discomfort is kept to a minimum.
WHAT ARE THE COSTS INVOLVED ?
As we know, prices widely vary from clinic to clinic. The quality and appearance of the treatment performed does too.
As an award-winning clinic our fees reflect our experience, dedication, exceptional standards of the work we provide and only the very best materials that we use. Nothing less will do.
We fully appreciate cost plays a big part when seeking treatment but it is also equally important to ensure you are receiving exceptional quality that not only looks good but lasts !
Here at TwentyOneDental you will receive just that. Exceptional quality with long-lasting results.
Wherever you may decide to be treated, NEVER compromise on cost. The cheapest option is not always the best option.
Only you can decide whether the costs involved to achieve the smile you have ALWAYS wanted is worth it. Think about it. If you are reading this then you have already thought about making the first step about something that will change your life for the better!
Sometimes the cost of such treatment may not be affordable for everyone straight away. We listen to our patients and to ensure they can achieve the smile they have always wanted, we offer several finance options including 0%.
WANT TO BE SEEN BY AN ACTUAL DENTIST BEFORE YOU MAKE A DECISION? (Yes, a Dentist and not a co-ordinator !)
Unlike most clinics you will be seen here by one of our highly experienced, friendly dentists – right from the start. This not only gives YOU the opportunity to meet with who would be working with you to achieve the outcome you are looking for but is also an opportunity to:
• Learn about the process
• Explore the options available to you
• Be given an idea of likely costs
Call us now for a FREE no obligation consultation to go through the process in more depth, ask any questions you may have about the treatment and to discuss our finance options available to you.
Please share our FREE no obligation consultation promotion and tell your friends!
Related Treatments
Similar Articles